Both NAS devices are very similar in many ways. Hence, choosing one of these two can be tricky. The only aspect one needs to focus on is to think over which device is most suitable. This depends on your preferences.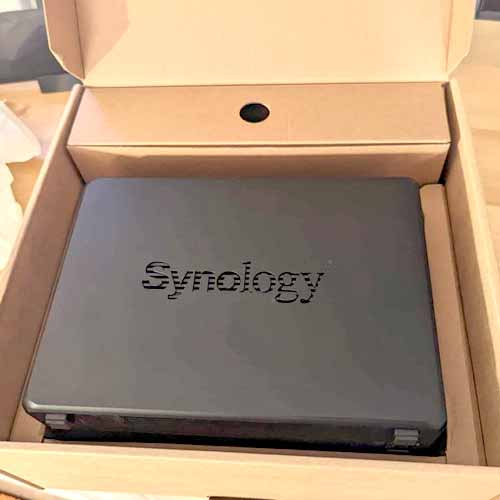 DS220+ is right for individuals who are not too demanding. But if you require a NAS device for the office use with excellent storage capacity and better performance then DS720+ is the one for you.
Jump to the: price difference between these devices.
Setup of these Devices:
The Synology DS220+ and DS720+ both come with two local area network (LAN) cables, a power adapter, and a quick installation guide.
The setup process is simple and easy to follow. The set up instructions are the same for both the NAS device models. 
Below are the instructions for the set up:
Install the hard drives securely in the drive tray and secure it
Connect the AC adapter to the power port of the NAS 
Use the LAN cable and connect the NAS to your router or hub.
Switch on the power button
Your device will automatically connect to the NAS
A DSM installation page will appear and click on the set up to install now
You are now connected to your NAS.
Noise Levels They Produce: 
Synology DS220+ consumes less power because it is energy efficient. DS220+ produces 19.3 Db sound while DS720+ produces 18.4 dB sound. 
Synology DS720+ produces less noise as compared to DS220+ which makes it a better option for placement in offices. A louder NAS device will have to be placed by keeping in mind its noise level. 
Comparing Both NAS Devices:
DS220+
DS720+
Processor
2.0GHz (2.9Ghz Burst)
64-bit Intel Celeron J4025
Dual-core
2.0GHz (2.7Ghz Burst)
64-bit Intel Celeron J4125
Quad-core
Installed memory
2 GB DDR4 2666Mhz Memory but expandable to 6 GB
2 GB DDR4 2666Mhz Memory but expandable to 6 GB
RAW capacity
Up to 32 TB
Up to 32 TB (expandable)
Drives included
Two (maximum 16TB each bay)
3.5-inch HDD
2.5-inch HDD/SSD (Drivers not included)
Two (maximum 16TB each bay)
3.5-inch HDD
2.5-inch HDD/SSD (drivers not included)
Interface
Serial ATA III
SATA III
Number of bays
2  x 2.5"/3.5" SATA Storage Bays
2  x 2.5"/3.5" SATA Storage Bays but expandable up to 7 (2+5) drives with a DX517 expansion unit
Ports
2 x USB Type-A
2 x Gigabit Ethernet LAN
2 x USB Type-A
1 x eSATA port to add 5 x HDDs in the DX517
2 x Gigabit Ethernet LAN
Physical Dimensions
4.25 x 6.5 x 9.14″ / 108 x 165 x 232.2 mm
4.17 x 6.54 x 8.78″ / 106 x 166 x 223 mm
Weight
2.9 lbs / 1.3 kg
3.3 lbs / 1.5 kg
Warranty period
Limited 2-Year Warranty
Limited 3-Year Warranty
Performance and Features Comparison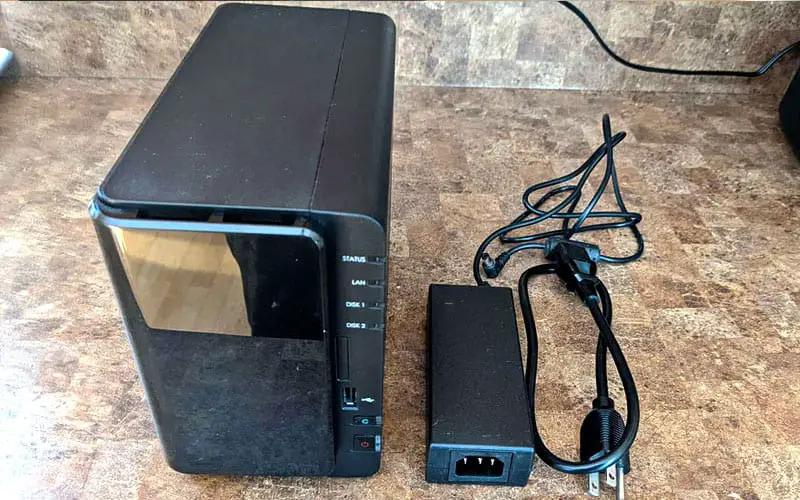 The reading speed of both devices is the same, i.e. 225 Mbps.
The writing speed however vary, where Synology 220+ has 192 Mbps, and the 720+ has 195 Mbps.
So the speed is almost the same for both devices. Although same is not true when it comes to CPU.
Here DS720+ offers better processing speeds as it has more no. of cores.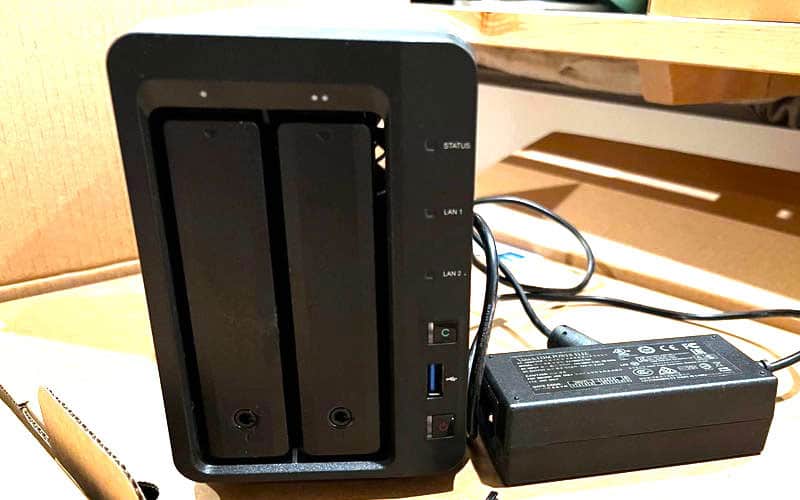 With better power, Synology DS720+ is a better choice of NAS device if you want to download and stream multimedia quickly. In addition, if you are looking to expand your storage or use it with multiple individuals then this device should be considered more.
Just like DS220+, DS720+ has 2 slots for hard drives. One of the main differences considering the model's performance is that the 720+ model has a Quad-Core processor. This processor ensures that the NAS device can handle heft tasks like streaming a 4k video or opening various heavy software. 
Another major difference between the two models is that the DS720+ has 2 M.2 slots. These slots are useful for creating cache SSD which makes the performance of your NAS device faster.
Because of the Quad Core processor and the Synology SSD Cache M.2 slots, DS720+ performs tasks 20 times faster than DS220+. 
And although 220+ is slower in comparison here, it is still faster than other Dual-Core NAS systems because it has 2 GB RAM with a clock speed of 2.9 GHz. This makes multitasking highly efficient. You can not only upload pictures but also stream movies, simultaneously. The device has space for two hard drives.
In addition, the Synology DS220+ offers a Btrfs file system optimized by Synology.
This file system offers better reliability and high performance. Besides, it also offers prevention of data corruption and reduces the maintenance overall. Along with recovery tools, data protection, and strong data integrity. 
Design/Hardware of these Devices: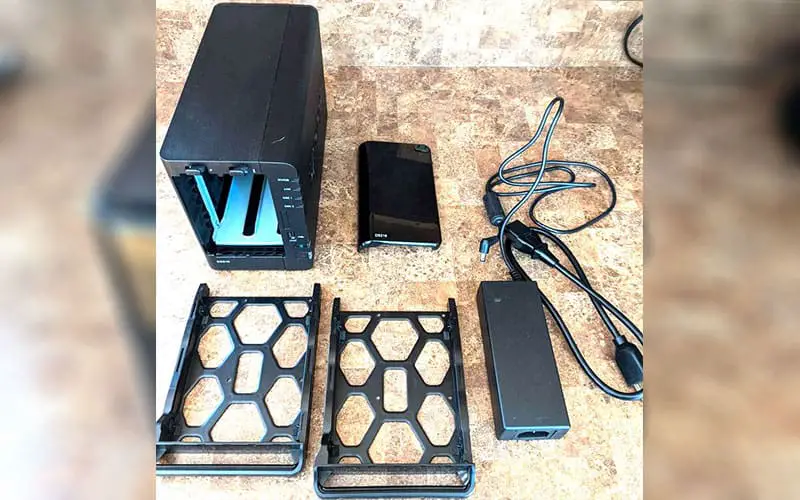 The front space of DS220+ is mainly taken up by the two non-lockable 3.5" drive bays that slide into the main SATA connected PCB inside. The front panel is removable, and it covers bays.
The bays are hidden when the panel is in place.
The right side has the indicator lights present on it. Along with the lights, you will see a USB 3.0 port and a power button.
The rear end of the DS220+ model has a ventilation fan which takes up most of the back space.
Below the fan, two 1GbE RJ-45 ports, a reset button, a power port, and the Kensington Security slot is present. 
The two USB ports allow uncomplicated and effortless connection to external storage. The two ethernet cables make it easier to create a Link Aggregation.
The link combines the speed of two cables, which allows a faster internet facility to stream and download files quicker. The dual 1GbE LAN ports support network failover with Link Aggregation. 
The DS720+ on the other hand has a similar port and bays placement. It is almost the same size as the DS220+.
It models two 3.5" drive bays that are lockable in their trays. These trays also take up a majority of the front of the device.
However, this model lacks a front panel. But the position of the indicator lights, USB 3.0 port, and the power button is on the right side, the same as the DS220+.
Lastly, the sides of the NAS have Synology branding which doubles as ventilation.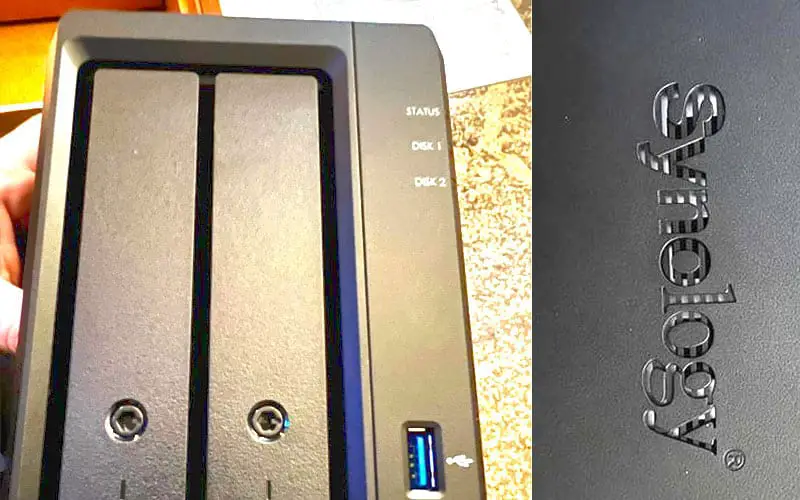 Although both the NAS devices have similar designs, the DS720+ has a classier look which gives it a more office or professional look. But looks are subjective.
DS220+ has a more rounded shape which seems to appear more angular shaped.
In terms of ventilation, the DS720+ also seems to have more ventilation on the front and base too.
This may be likely because of the SSD caching bays and because since this model works harder and faster than the DS220+ it will produce more heat. Hence, the larger amount of heat needs to be dissipated well.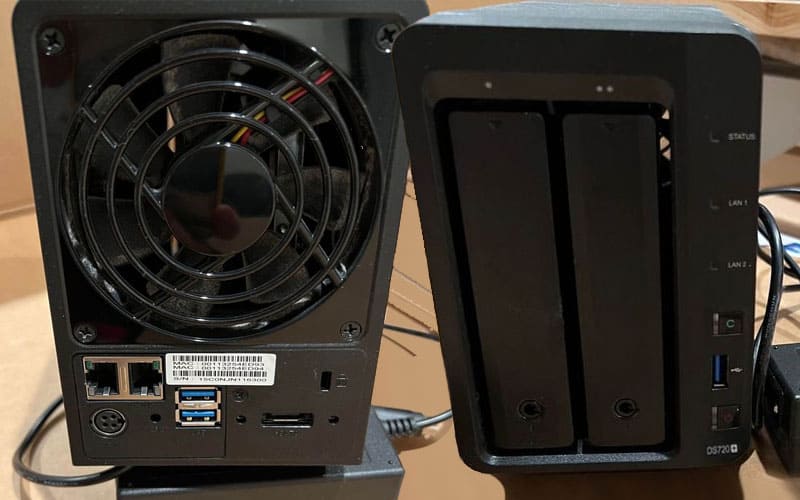 Moving to the back side of the DS720+, we see dual Ethernet ports and two USB ports.
We also see an eSATA port at the back which the DS220+ model dosen't have. The eSATA port connects an extra internal hard drive or SSD through an eSATA cable. This allows for storage capacity to be increased as per convenience. 
Features of these devices in Backup And Sharing:
The DS220+ NAS device model has various cloud and physical back up options. All of the options are effortless and streamlined for ease of use. 
Through the DS220+ and DS720+ devices you can back up your cloud data. The Synology Hyper Backup and Synology Active Backup are supported on both the DS220+ and DS720+.
The Synology Drive Client present on both the devices also backs up the server and desktops to protect any important files present on the computer. Furthermore, for extra safeguard, Hyper Backup allows various backup destinations that include both on cloud and premises.
In addition, data can also be protected with the help of RAID 1 disk mirroring.
The mirroring of the disk prevents sudden drive failure, thus, protecting the data. 
Synology DS220+ and DS720+ offer a built in Synologys Quick Connect feature that lets you form a connection with the NAS device. The connection allows you to share or access your data anytime, anywhere.
Not only can you access it, but you can also share and manage your data across different operating systems such as Windows, macOS, and Linux. 
Synology's mobile app allows you to access your data library wherever you are.
The mobile app is supported by Android and Apple. The DS files let you access the multimedia library through various stations such as File Station, Photo Station, Video Station, and Audio Station. 
The Video Station present on both the NAS devices helps you organize your video library. You can stream videos and movies to Apple TV, Samsung TV, Chromecast, or on a mobile phone.
The Audio Station plays a similar role but, instead of streaming videos, you can play music through AirPlay devices. The devices come with an audio format that supports lossless and internet radio. 
DS220+ and DS720+ make managing photos easier. The auto creates albums to manage all the videos and photos. You can further share the images and videos with other users using the NAS device. This feature is helpful for professional photographers or individuals who like capturing moments. 
While the DS220+ and DS720+ have similar backup and sharing options. DS720+ is equipped with a quad core processor which enhances its overall performance. It will do a much better job than DS220+.
It will run the system more smoothly and support demanding tasks better. 
The DS720+ has Synology Office which offers public clouds access with data privacy and security by private clouds. This package allows work on documents and spreadsheets to be done in a protected environment.
The Synology Chat feature of the office lets you communicate during the editing of documents or spreadsheets. 
Which Device is less Expensive here?
Talking in terms of price, DS220+ is sold at a lower price.
But the extra price offers faster and better performance, expandable hard drives through eSATA, M.2 SSD Cache, and an extra year of warranty. 
Hence, if your budget can afford the extra, then opting for the DS720+ is not a bad option.
It will fulfill the needs for house usage or if you except your NAS needs to grow over the years.