In a nutshell, Synology DS220+ performs better here as it has more reading and writing speed than its competitor. You can can out the speed in the table below.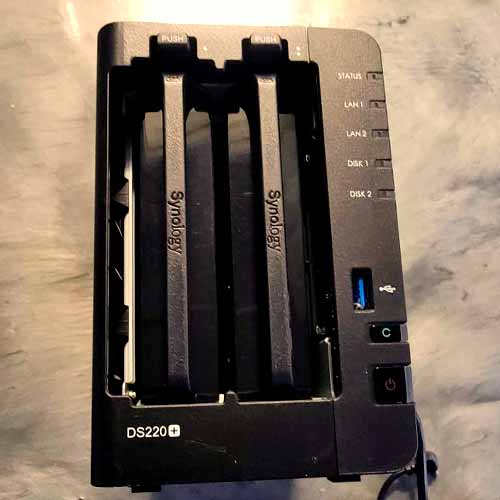 Both of these devices have a limited 2-year warranty. And both of these have the same number of bays and storage capacity. But DS218J is cheaper.
Let's check out these devices side by side.
Side By Side Comparison:
Synology 220+ has a reading speed of 225MB/s and a writing speed of 192MB/s whereas DS218play has 112MB/s of sequential reading and writing speed which is slower than its competitor.
More speed is due to the fact that the 220+ has a SATA III, a better CPU, and more RAM.
With 220+ you get the maximum clock speed of 2.7Ghz. And a 2 GB of RAM which is expandable to up to 6 GB. So you get 6 times more RAM than the 218play.
But in the end, it's simply your choice, if you just want storage, go for 218play, otherwise don't miss out on the other for some bucks.
Synology DS218 Play
| | | |
| --- | --- | --- |
| | DS220+   |  DS218play       |
| Processor | Celeron J4025 Dual-core 2.0GHz [Can go up to 2.9GHz] | RealTek RTD1296 quad-core 1.4GHz |
| Installed memory | 6GB | 1GB DDR4 |
| Number of bays | 2-Bay | 2-Bay |
| USB Ports | 2×USB 3.0 1× Rear USB 3.0 1×Front USB 3.0 | 2×USB 3.0 |
| Speed | Reading of 225MB/s and writing of 192MB/s | 112MB/s sequential reading and writing |
| Warranty | 2-year Warranty | 2-year Warranty |
| Noise level | 19.3 dB | 19.9 dB |
| Drive bays | 3.5" and 2.5" SATA hard drives | 2˚3.5 or 2.5˚SATA SSD/HDD |
| Drive interface | SATA III | SATA |
| Ports | 2 USB Type-A (USB 3.1/ USB 3.2 GEN 1) 2 RJ45 (Gigabit Ethernet) | 2 USB Type-A( USB 3.1/USB 3.2 GEN1)  Gigabit RJ-45×1 |
Noise Levels of these Devices:
Noise level plays an important role as customers usually prefer devices with lesser or no noise.
DS218play is slightly noisier, with levels reaching up to 20 decibels, where 220+ reaches up to 19.3 dB.
Its a tiny detail, but we try to cover up everything.
Which has better Backup/sharing?
Synology has multiple backup solutions to backup your files to different locations.
Synology hyper backup allows backing up of data to different locations such as rsync servers, external hard drives, local shared folders, and public cloud services.
It delivers multiple-version backup and allows you to backup from different and multiple devices through cloud station backup.
Synology DS220+ offers various ways to backup your data.
One of which is cloud sync, it helps in backing up cloud data and allows backup between NAS and cloud services. Then comes hyper backup which backs up Synology NAS and provides a destination for cloud and NAS backup.
There is also Synology Drive Client which backs up Mac, Linux, and Windows to protect your files.
Considering Design
On the front of DS218play is a LAN indicator, power button, status indicator, and Drive status indicator and on the back, we have a USB 3.0 port, power port, fan, Kensington security slot, and a reset button.
It not only protects data but is designed for all-around storage and delivers video streaming and stores Ultra HD content.
The NAS allows you to share and store multiple files such as photos, videos, music, and documents by using two drive bays. It allows sharing with up to 200 concurrent connections and 2048 user accounts.
You will see a USB 3.0 port, a power button, two drive bays on the front, and LED lights. Synology also has a 92mm fan at the back to keep everything cool, a Kensington lock, one more USB port, and power input.
This NAS has a CPU with a speed of 2.9GHz and runs at 2.0GHz.
It is used to manage multimedia and streamline data. Moreover, it allows video streaming, data sharing, protection and recovers data.
Setting up these devices:
SYNOLOGY DS218PLAY:
Unwrap the Synology ds218play and keep it on the surface.
One end of the AC power adapter should be connected to power port and the other end should be connected to power outlet.
By using the LAN cable, connect your diskstation to the switch, hub or router.
The diskStation will be turned on by pressing the power button.
 Once your hardware is all set up, install Synology browser-based operating system called DiskStation manager (DSM) on your diskStation.
SYNOLOGY DS220+:
It is quite easy to setup Synology ds220+ and it hardly takes 10 minutes making it easier and better.
Unwrap the given Synology ds220+ and place it on the surface making sure its flat.
Pull the drives out and install the hard drive(s).
Now, one end of the LAN cable is to be connected to WiFi router and the other end to NAS.
With the help of adapter, power up the NAS carefully.
Now press the power button in order to start the NAS.
After setting up and properly connecting the NAS and router, search find.synology.com on any web browser.
This helps you in seeing details about IP address, model number, MAC address, and status.
There is also an app called Synology assistant which is used to set up the NAS.
One of the major things to take care is that NAS and you should be connected to same WiFi. You can connect your laptop to PC by using WiFi or LAN cable. It is suggested to use LAN cable because WiFi has less speed.
What about Warranty?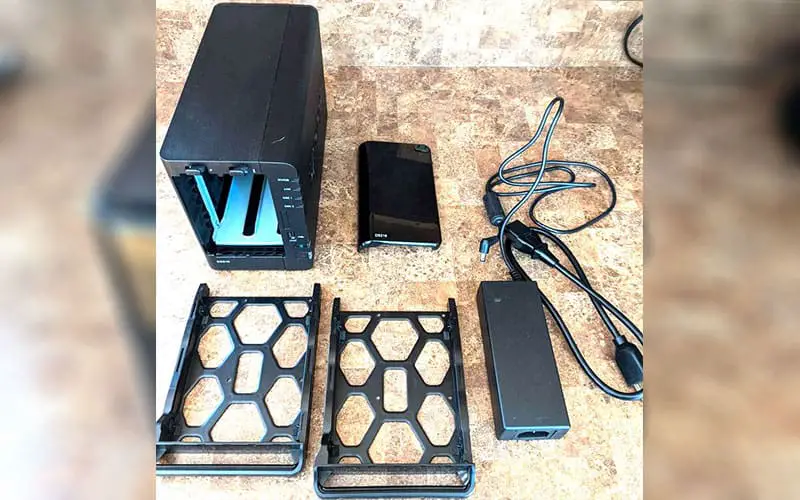 Both have a 2-year limited warranty but Synology also offers an extended warranty for better coverage and performance but this extended warranty must be bought at the time of purchase and should be registered within 30 days from purchase on the Synology account.