In comparison to Synology DS220J, the Synology DS218 play has a greater installed RAM, supports a higher number of RAID types, and has higher VPN Server connections. However, it supports fewer operating systems and has a higher power consumption compared to its peer.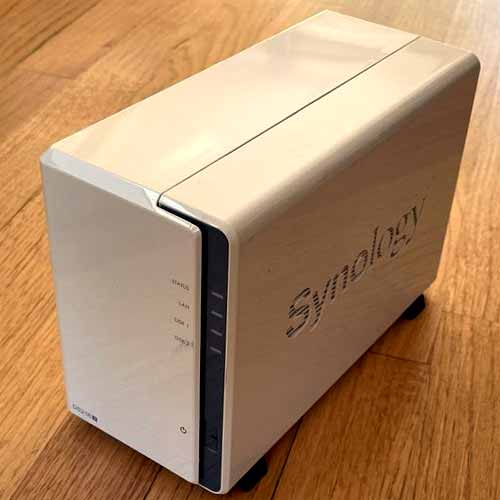 Some bullet points to make things clearer:
Where these devices are same:
The data transferring speeds of both storage devices are equal.
These devices come in with identical warranties.
Both these devices can be set up in a similar manner.
The Synology DS218 Play:
comes in with a greater inserted RAM.
has a lower weight so its portable.
but has a higher operational noise.
Here the Synology DS220j:
supports marginally more operating systems.
has superior sharing and backup because of higher storage capacity.
has a lower cost.
Let's talk about these devices before moving on to their comparison.
The Synology DS220J has a 1.4 GHz Realtek RTD 1296 64-bit Quad-core processor. Its DiskStation Manager OS provides commendable data shielding as well as a better user interface experience. It comes in with an installed memory of 512 MB to ensure decent working.
On the other hand, Synology DS218 has a 64-bit 1.4 GHz Quad-core processor.
Like its competitor, it has DiskStation Manager operating system. The installed memory of 1 GB provides superb performance overall. It has two drive bays and supports several different sizes of hard drives.
Two 3.0 USB slots and one Ethernet port is available on the rear panel. QuickConnect allows easy and quick access through a secure and customizable address.
Comparing Both Devices:
Synology DS218 Play
| | | |
| --- | --- | --- |
| Cloud Storage | Synology DS220J | Synology DS218 play |
| Processor | 1.4 GHz Realtek RTD1296 64bit Quad-Core   | 1.4 GHz Realtek RTD 1296 64bit Quad-Core   |
| Installed memory | 512 MB | 1 GB   |
| Number of bays | Two-bay | Two-bay |
| Compatible Drive Interface | SATA 3 | SATA |
| Ports | 1 x GbE RJ-45   2 x USB 3.0   | 1 x GbE RJ-45   2 x USB 3.0     |
| VPN Server Connections | 10 | 15 |
| Power Consumption | 12.46 W (Typical) 5.06 W (Standby) | 16.79W (Typical) 5.16 W (Idle) |
Does DS220j has a better Speed? 
The data sharing speed of these storage devices is similar.
As both of them exhibit similar processors with identical frequencies enabling them to process the same number of threads concurrently.
The file transferring speed provided by these devices is 112 Mb/s for both reading and writing thus giving a faster rate of data transfer.
Hardware and Design Differences
Synology DS220J possesses a sleeky design and comes in a white plastic rectangular shape. Four LED status lights are present on the front side of the product to show power status, one for Ethernet connectivity and two LEDs for hard disks status along with a power button.
The backside of this product provides housing to two 3.0 USB slots and one RJ-45 Gigabit Ethernet port for connecting television or computer. It also contains a power jack and reset button on its rear panel.
The screw system to insert or detach the hard disks allow extra reliability.
Hard drives between 2.5 and 3.5 inches can be installed in this storage device.
To minimize the heating issues, a cooling fan is available on the backside to eliminate excessive heating out of the device.
Synology DS218 is enclosed in a plastic body and possesses a desktop design with the company name written on both sides of the device.
Likewise, it contains four LEDs and one power button on the front panel.
The rear side contains one LAN port and two USB 3.0 ports. Kensington Security Slot and a power port along with a reset button are present on the backside as well.
A similar cooling fan is also present on its rear side just like its counterpart.
Both these cloud storage devices have identical sizes with a faint difference in weight.
Synology DS218 is slightly less heavy making it slightly easier to handle.
The dimensions of the inserted fan of both competitors are also similar.  
| | | |
| --- | --- | --- |
| | DS220J | DS218 play |
| Depth (mm) | 225.5 | 225.5 |
| Width (mm) | 100 | 100 |
| Height (mm) | 165 | 165 |
| Weight (kg) | 0.88 | 0.87 |
| Fan height (mm) | 92 | 92 |
System Requirements
In terms of MAC operating systems, both devices are equally compatible as both of them support MAC 10.11 or later versions.
For Windows, DS220J requires any version above Windows 7 that are 8, 8.1, 10, 11.
However, in the case of DS218, it is operatable for only Windows 7, 8.1, or 10.
Backup and sharing Differences
Due to greater file storage capacity and more OS support, provides an edge to DS 220J over its counterpart in terms of data backups and security.
Synology gives a mobile application for accessing and sharing data or personalized information at any time.
On the contrary, DS218 is behind its counterpart for backing up information because of its lower capacity for storing data and lower operating system compatibility.
Just like its peer, its data can be accessed and transferred from any place through its mobile app.
Let's set up these devices:
Both these products have a similar parent company; therefore, their setup process is also similar.
Connect the device with a Wi-Fi router after inserting the hard disks.
Power the device on and open the browser for initiating its installation.
Open the device's official website, firstly select connect, and then click the setup option.
Click the download option for downloading the latest DSM OS.
Not only their start-up procedure is similar but these devices working conditions are also familiar.
They possess the same operating and storage temperatures.
On the other hand, the relative humidity at which they work is identical as well. 
| | | |
| --- | --- | --- |
| Cloud Storage Devices | DS220J | DS218 play |
| Operating Temperature | 0 to 40 °C | 0 to 40 °C |
| Operating Humidity | 5 to 95 % RH noncondensing | 5 to 95 % RH noncondensing |
| Storage Temperature | -21 to -60 °C | -21 to -60 °C |
How much Noise do you get with them?
Sound is generated by both these products as both comprise a built-in cooling fan.
Although the dimension of both these fans is same, the noise level produced by DS220J is less thus making it more quite. Meanwhile, its counterpart produces more sound.
| | | |
| --- | --- | --- |
| Cloud Storage Devices | DS220J | DS218 play |
| Noise Level | 18.2 dB | 19.9 dB |
Differences in their Warranty?
The manufacturing company of both these products provides a similar limited-time warranty.
These devices have a warranty of two years. RoHS certification for both these cloud storage devices proves that they are not harmful to the environment and are eco-friendly.
Price
DS220J takes the lead in terms of pricing due to its lower price.
The superior backups and easy sharing of data at any time make this device more economical and budget-friendly.
Meanwhile, the price of DS218 play is relatively more expensive.
This high pricing is however compensated by the higher installed RAM.