Compared to Asustor, Synology DiskStation is faster and has better transfer rates than its competitor. While the Asustor has a larger capacity, and it can hold large volumes of data.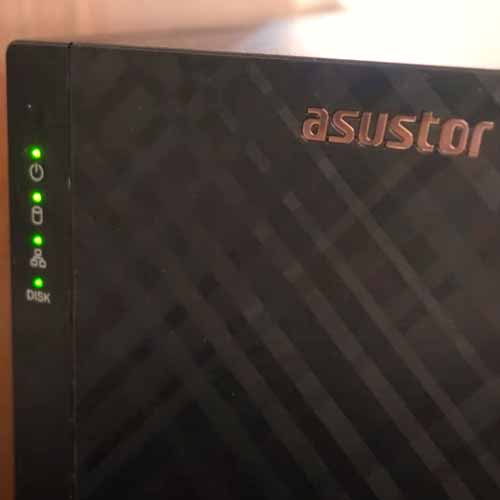 Both of the NAS provide an adequate protection to the system files.
Differences and Similarities of both NAS Devices:
Both the NAS have equal RAM installed but Synology has DDR-4 type ram which has a higher frequency.
Maximum Storage Volume of Asustor is higher than its contender.
Synology has marginally better transfer speed in terms of both read and write.
Asustor has a more elegant and aesthetic design while both contain similar components.
Higher number of operating systems are compatible with Asustor.
Synology produces slightly higher noise than Asustor.
Asustor has a longer warranty period than Synology.
Synology comes with a lower price which makes it cost-effective.
Synology DS220J Overview:
Synology 220J is a two-bay Network Attached Storage (NAS).
It supports storage volume of up to 16 TB and possesses a 1.4 GHz, 4-core processor for an efficient and smooth performance.
This device can procure data from LAN/WAN, cloud, USB or RAID 1 according to what the user wants.
FTP protocols include FTP, FTP SSL/TLS and SFTP, at the same time it can boot over the network with TFLP and also supports PXE and transfer logs.
Two USB 3.1 ports are provided with an external port to transfer and manage data directly with the device.
It contains RAID 1 protection to safeguard the device from an unexpected drive failure. DSM configuration backup, synology drive client support and mac-os time machine support protects the data on mac or windows from encryption-based ransomware and other similar malicious attacks from outside.
Its maximum storage volume is 16TB which lacks behind its rival but is good enough for a lot of applications.
Asustor as1002t v2 Overview:
Meanwhile, Asustor is a high-capacity NAS that not only provides a large storage capacity but also gives a good performance.
It has maximum internal storage volume of 64 TB while its maximum single storage unit is 108TB, which is one of the highest storage capacity available in the market.
It encompasses a 1.6 GHz Marvell ARMADA-385 Dual-Core Processor that is not as good as its competitor but gets the job done effortlessly.
It supports network backup, local backup and public cloud data backup.
It is equipped with AES 256-bit Encryption along with firewall that protects digital assets.
Comparing Both Devices:
| | | |
| --- | --- | --- |
| Cloud Storage | Synology DiskStation DS220j | Asustor as1002t v2 |
| Processor | 1.4 GHz Realtek RTD1296 4-core | 1.6GHz Marvell ARMADA-385 Dual-Core |
| Installed memory | 512 MB DDR4 | 512MB DDR3 |
| LAN | 1 x RJ-45 1GbE LAN | 1 x Gigabit Ethernet (1G/100M) |
| Number of bays | Two-bay | Two-bay |
| External Ports | 1 x USB 3.2 Gen 1 1 x USB 3.2 Gen 1 | 1 x USB 3.1 Gen 1 1 x USB 3.1 Gen 1 |
Which NAS has a better Speed?
Synology DiskStation offers a slightly higher transfer speed in terms of both reading and writing when compared to its competitor.
This is because of it possesses a 4-core processor that can manage large amounts of data better than its competitor since it has more channels (cores) to process the same amount of data, allowing the device to transfer data at a higher rate.
It can achieve speeds up to 112 MBs while both reading and writing data.
Contra vise, Asustor has a lower transfer rate, with reading speeds of up to 110 MBs and writing speeds of up to 96 MBs.
It has a 2-core processor but with a higher frequency that allows it to almost make up to its contender, but it ends up with a lower transfer rate in both reading and writing.
| | | |
| --- | --- | --- |
| Cloud Storage Devices | Synology | Asustor |
| Read | 112 MBs | 110 MBs |
| Write | 112 MBs | 96 MBs |
Design of both devices:
Synology DiskStation is an entry-level two bay NAS that comes in the medium-sized tower case. Its front side contains 4 LEDs in total, one for the indication of status, one for LAN and the last two for the status of drive.
A power button is also located in the front side. On the back, it contains a large fan, two USB 3.1 ports, one 1GbE RJ-45 LAN port, a reset button, a power port and lastly, a Kensington security slot.
USB ports are provided to attach external storage devices to the NAS while LAN port is there to connect to a network though a modem or router.
It's opening lid is provided on its right side to access the internal parts of the device if you want to increase the storage capacity or for any other application.
It comes in white as the default color.
On the other hand, the Asustor has a similar structure of a medium-sized tower, but it has an aesthetic and elegant look owning to its diamond plate finish cover that adds in its beauty.
Another unique thing about its design is that hard disks can be installed or removed without any tools due to hand screws that are provided both inside and outside the device.
In the front panel, 4 LEDs are present just like its contender, one for system status, one for power status, one for network status and one for hard disk status.
Unlike Synology DiskStation, it also has a USB 3.1 port in the front while the power button is located in the back side.
Moreover, the back panel contains a relatively smaller fan, reset button, LAN port, DC input, K-Lock and another USB 3.1 Port.
The dimensions of both devices (length, width, and depth) are almost the same but Asustor weights more than Synology DiskStation.
| | | |
| --- | --- | --- |
| Cloud Storage Devices | Synology | Asustor |
| Depth (mm) | 225.5 | 218 |
| Width (mm) | 100 | 102 |
| Height (mm) | 165 | 165 |
| Weight (kg) | 0.88 | 0.99 |
Maximum Storage Volume
Synology has a much lower storage capacity than Asustor.
It has a maximum single storage volume of 16 TB only.
Therefore, it can store less data and cannot be used where large storage of data is required.
On the flip side, Asustor has maximum single storage volume of 108 TB which is significantly higher than its rival.
It can be used for wide range of applications from home to offices where you need to store large capacities of data on daily basis.
| | | |
| --- | --- | --- |
| Cloud Storage Devices | Synology DiskStation  | Asustor |
| Maximum Single Storage Volume | 16 TB | 108 TB |
System Requirements
Synology is compatible with Windows 7 onwards, Max OS X 10.11 onwards and Linux operating systems.
It requires DLNA and Air Play devices for streaming of videos and various multimedia. For internet connection, a router or modem is necessary.
While, Asustor supports Windows XP, Vista, 7, 8, 10 and 11 along with Server 2003, Server 2008, Server 2012, Server 2016 and Server 2019.
Moreover, Mac OS, UNIX, Linux and BSD can also be linked with this NAS. Just like synology, it requires DLNA/UPnP for streaming videos.
It also needs a router to connect to a network just like its peer.
Backup and sharing Ability of these devices:
Synology exhibits a vitreous operation and performance but when it comes to versatility in terms of compatibility with operating systems, this NAS falls behind its rival.
Likewise, it also contains exceptionally less storage capacity than its competitor.
It contains hyper backup which uses storage optimization and makes it possible to back up data to local/network shared folder, rsync servers and public cloud servers.
Moreover, Synology Drive Client allows important folders to be backed up in real time and on schedule.
File sharing and data synchronization across different platforms is made possible with Cloud Sync and Synology Drive that keeps google drive, one drive and related virtual storages in link with each other.
It also syncs data across different computer and mobile platforms.
Moving forward, Asustor takes the lead over its contender by offering a greater compatibility with various operating systems as well as by providing a larger storage capacity for its users.
It provides a seamless cross platform access that allows it to connect to different operating systems like Mac and windows across several devices including mobiles and computers.
Furthermore, it has a variety of backup options and permits it to connect to Google drive, OneDrive and HiDrive etc. across diverse platforms.
It Cloud Connect technology lets it connect to this NAS just from the touch of mobile. 
Setting up these devies:
Setting up of both of these NAS is easy and straight forward.
Adhere to the following the steps to get started:
First of all, a power supply is connected to the NAS.
Then you need to wait for the LED light turn to blue.
After the NAS is up and running, you need to install the software form the official website and complete the installation.
Operating temperature of both these devices lie between 0 to 40 Degree Celsius which make them work effectively at both high and low temperature environments. 
| | | |
| --- | --- | --- |
| Cloud Storage Devices | Synology DiskStation  | Asustor |
| Operating Temperature | 0°C to 40°C (32°F to 104°F) | 0°C to 40°C (32°F to 104°F) |
Noise Comparison:
Synology is equipped with a large cooling fan, due to which it generates more noise during both standby and operation.
While, the Asustor has a relatively smaller cooling fan and produces less noise.
It has noise of only 19 decibels during standby which is as feeble as the sound of a pin drop and 32 decibels during operation.