In comparison to DS220J, TS-230 possesses greater RAM, provides better data backups and file sharing, and produces lower noise. However, it is costlier, provides a similar warranty, and consumes more power than its counterpart.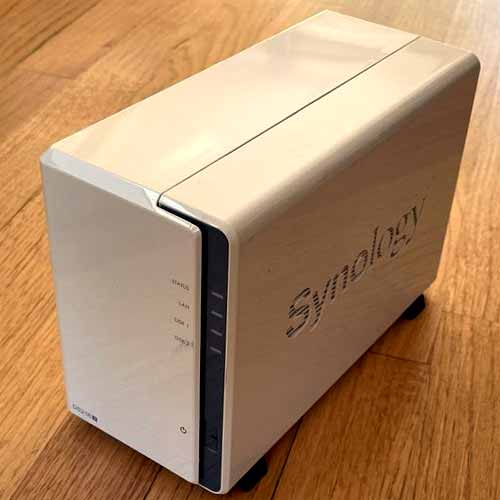 Differences and Similarities of both NAS Devices:
The data transferring speeds of both these devices are similar due to their similar processor.
The setup procedure of both these devices is simple and easy.
Both these devices have similar warranties.
For QNAP TS230:
It's comparatively comes in with a higher RAM (about 4 times its counterpart).
It supports more operating systems compared to its rival.
The greater storage capacity as well as supporting more OS allows this device to provide better data backups and file transfers.
For Synology DS220j:
The handling is easier due to its lower weight.
It produces more sound.
The cost of it is lower proving to be more budget-friendly than its peer.
Synology DS220J has a Realtek RTD1296 64-bit 1.4 GHz Quadcore processor.
It is a two-bay NAS device that contains a DiskStation Manager operating system providing a friendly user interface and giving higher data protection.
The centralized multi-version backup shields user's data on computers and smartphones in case of malicious attacks. The 512 MB RAM of this device provides satisfactory performance.
It has a total maximum capacity of 32 TB and it supports EXT4 file systems.
LED indicator is present for status monitoring and a cooling fan is also available in this device. 
Firewall and SMB encryption give further security to personalized data.
Likewise, QNAP TS-230 is also a two-bay NAS storage device possessing a Realtek RTD1296 64-bit 1.4 GHz Quadcore processor.
This product has almost four times more RAM which is 2 GB enabling it to deliver more commendable performance.
The fan present for cooling purposes generates lower noise during its functioning.
This device possesses a maximum storage capacity of 36 TB.
The snapshot protection provided by this product helps in reducing the deletions of files accidentally and also shields this device from any malware attacks.
Two-step verification further enhances data security.
Comparison of both Devices:
| | | |
| --- | --- | --- |
| Cloud Storage | Synology DS 220J | Qnap TS-230 |
| Processor | 1.4 GHz Realtek RTD1296 64bit Quad-Core   | 1.4 GHz Realtek RTD 1296 64bit Quad-Core   |
| Installed memory | 512 MB | 2 GB   |
| Design | Desktop | Desktop |
| Number of bays | Two-bay | Two-bay |
| Compatible Drive Interface | SATA 3 | SATA 3 |
| Ports | 1 x GbE RJ-45   2 x USB 3.0     | 1 x GbE RJ-45   1 x USB 2.0   2 x USB 3.0 |
| PSU Wattage | 1×60 W | 1×65 W |
Which NAS has a better Speed?
These two cloud storage devices provide almost equal data transferring speed.
This is due to the reason that both devices come in with a similar frequency quadcore CPU which enables them to process simultaneously, an equal number of threads.
These devices provide a data transfer Gbe speed of about 113 MB/s.
Design of both devices:
Synology DJ-220J has a glossy white plastic rectangular desktop design.
The front panel possesses a power button along with four LEDs for status depiction one is for device power, one for LAN connectivity, and two for hard drives.
The back panel of the device contains two 3.0 USB ports and also exhibits one 1 Gbe RJ-45 slot for LAN connectivity.
A power jack and reset button are also present on its backside.
The hard drives are inserted or detached after removing two screws which provide extra security for the drives bay. It can only insert SATA drives of 2.5 inches and 3.5 inches.
The back panel of the product features a cooling fan for its cooling.
On the contrary, QNAP TS-230 possesses a unique sleeky, toolless desktop design.
The forefront contains five LEDs for system status, LAN connectivity, two for hard drives, and one for USB one-touch copy activity.
There is also a power button situated on its front side and a one-touch copy activity button for copying backups of data from USB to NAS and vice versa.
The back panel is a housing for a power jack, two USB ports, a reset button, and one port for Ethernet connection.
Just like its peer, a fan is also located on its side panel for reducing heat and cooling down the device.
A buzzer is present in this device in case of any emergency.
QNAP TS-230 has an overall short dimension and its fan is also shorter compared to its peer.
However, the weight of Synology DS 220J is much lesser which makes this device easier to handle. Both devices are available in only one color.
| | | |
| --- | --- | --- |
| Cloud Storage Devices | DS 220J | TS-230 |
| Depth (mm) | 225.5 | 156.26 |
| Width (mm) | 100 | 90.18 |
| Height (mm) | 165 | 188.64 |
| Weight (kg) | 0.88 | 1.98 |
| Fan height (mm) | 92 | 80 |
System Requirements
For operating system compatibility, Synology DS220j needs Windows 7, 8, 10, and 11.
It also can be operated on the MAC operating system of 10.11 or the later versions.
QNAP TS-230 also requires a MAC operating system of 10.10 version or later and for computers it needs Windows 7, 8, 10, and 11 or Windows Server 2008 R2, 2012, 2012 R2, 2016, and 2019.
It works on Windows Server 2003 or above as well as UNIX and Linux.
Supported File System
Following files systems are supported by these products:
| | | |
| --- | --- | --- |
| Cloud Storage Devices | DS 220J | TS-230 |
| Internal | EXT 4 | EXT 4 |
| External | EXT 3, EXT 4, FAT, HFS+, NTFS, exFAT | EXT 3, EXT 4, FAT 32, HFS+, NTFS, exFAT |
Backup and sharing
DS 220J due to its lower storage for accommodating files and fewer operating systems supporting makes it second to that of its rival in terms of data backup.
Synology provides a mobile app for accessing and sharing data at any time and any place.
The higher file storing capacity along with a greater number of OS support causes TS-230 to be ahead of its twin.
Hyper Backup Sync (HBS) allows better data synchronization and transferring of personalized data from this device to another cloud storage device.
Plex Media Server app allows streaming of NAS data on the mobile phone at any time.
Let's set up these devices:
The installation of DS 220J requires the following steps:
Attach the hard drives.
After inserting hard disks, connect the device to a Wi-Fi router.
Turn on the device and open the web browser.
Go to the official website of the device then press connect then set up and download the up-to-date DSM OS.
TS-230 can be set up in the following steps:
Insert hard disks in TS-230 and then connect the device with a router.
Power up the device.
Open the web browser and download Qnap Qfinder Pro Utility.
Open this utility and then click Start Smart Installation.
So, the setting up procedure of these devices is quite simple and easy.
The temperature and relative humidity at which both these devices can work are identical.
TS-230 can be stored at a lower temperature compared to its counterpart.
| | | |
| --- | --- | --- |
| Cloud Storage Devices | DS 220J | TS-230 |
| Operating Temperature | 0 to 40 °C | 0 to 40 °C |
| Operating Humidity | 5 to 95 % RH noncondensing | 5 to 95 % RH noncondensing |
| Storage Temperature | -21 to -60 °C | -20 to -70 °C |
Do they produce Noise?
Both the devices comprise a cooling fan so both generate sound during their functioning.
Synology DS 220J contains a larger fan in dimension in comparison therefore the noise level of this product is greater.
Conversely, the smaller size cooling fan of QNAP TS-230 produces lesser noise than that of its peer and is hence more effective in this regard.
| | | |
| --- | --- | --- |
| Cloud Storage Devices | DS 220J | TS-230 |
| Noise Level | 18.2 dB | 15 dB |
Which offers better Warranty?
In terms of warranty, both these products are equally competitive as their manufacturers provide similar warranties.
These devices are available at a limited warranty of 2 years.
DS 220J has several certifications including BSMI, CCC, CE, EAC, and many more, meanwhile TS-230 does not has any kind of certification yet.
Price
There is a great difference between both these products in terms of pricing.
DS 220J is cheaper and thus is more economical than its counterpart.
The lower price provides better value for the invested money.
On the other hand, the price of its counterpart is relatively on the higher side due to its overall dominant performance.