Here's what's really going on with these devices. The QNAP TS 231k has a higher processing frequency and faster data transfer speed, but it also makes a lot more noise as well, these are the two main things you are going to notice here when comparing.
In case of Qnap TS230, you'll appreciate the cleaner outlook and if not that, you'll definitely like it being cheaper off the two.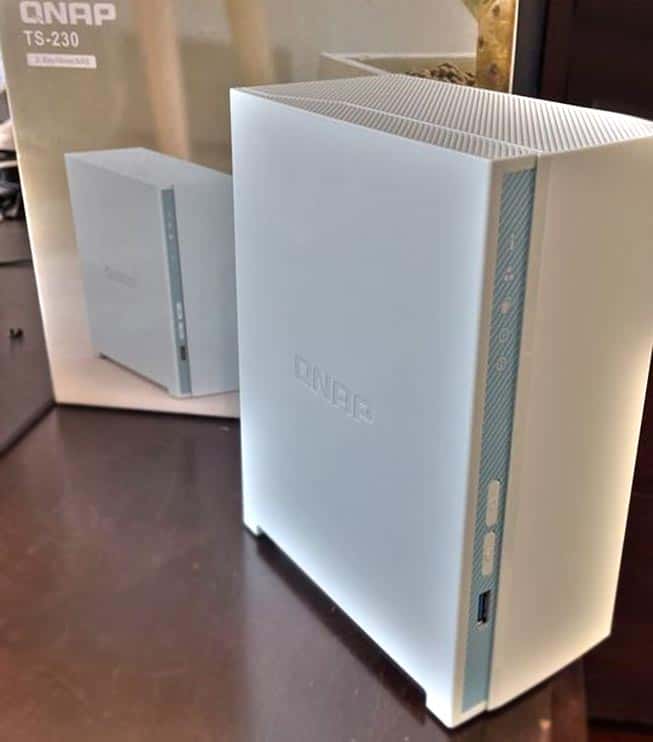 Qnap TS 230 is a smart NAS appliance with a contemporary design and quieter functioning.
It carries a 4-core strong processor and efficiently handles a vast amount of data.
This data can be easily shared with others through cloud services and can be accessed on all the devices connected to the network either locally or via the internet.
The Qnap TS 231k on the other side, is a two-bay Quad-core NAS, working at a faster pace and higher processing frequency.
With its faster writing and data transfer speed, it quickly stores the data and shares it with multiple network users.
It provides high-performance cloud storage because not only does it works with all major operating systems but also supports a wide variety of web browsers.
What their Design Tell Us?
The QNAP TS230 specifies a tower-form hardware with a sky blue colored, sleek design.
It is relatively taller but occupies less width on the table than its competitor.
The front side gives a sophisticated, cleaner look where a marginal bar contains indicators, buttons, and a USB port while the rest is the plain surface of the covering.
Nevertheless, this modest design has a disadvantage when it comes to setting up and changing drives because the covering has to be removed in order to displace drives in the drive trays.
QNAP 231k is also designed in the tower form but it characterizes a typical hardware look that carries indicators, buttons, USB ports, and sliding drives as well.
Both of its drive bays open at the front side and can be unlocked and removed easily in two simple steps, hence, this design gains more points for ease of management. 

Let's Compare These Devices in Detail:
 
QNAP TS 230
QNAP TS 231k
Processor
Realtek RTD1296 4-core 1.4GHz processor
Annapurna Labs Alpine AL-214 ARMv7, 4-core 1.7 GHz
Installed memory
2 GB DDR4
1GB DDR3
RAW capacity
36 TB (2 x18 TB HDD)
36 TB (2 x 18 TB HDD)
Interface
Serial ATA
Serial ATA
Speed
5400 rpm
7200rpm
Ports
1 x GbE RJ45
2 x USB 3.0 Type-A
1 x USB 2.0 Type-A
2 x GbE RJ45
2 x USB 3.2 Gen 1
Physical Dimensions
188 x 90 x 156 mm
169 x 102 x 219 mm
Weight
1.98 kg
1.46 kg
Which device is faster here?
Both devices integrate a Quad-core processor which allows them to swift through the vast database quickly and provide efficient processing by dealing with four threads of information at the same time.
However, 231k specifies the speed limit of 7200 rpm. It also shows a faster data transfer performance than its competitor because its CPU works with higher frequency (1.7 giga-hertz). Its upload-download speed is recorded 255-260 MB per second.
On the other side, TS230 has a 1.4 GHz Realtek processor which works with comparatively lesser speed. It works at the rate of 5400 rotations per minute while its data transferring speed is 113 Mbps.
Is QNAP's Cloud storage interface efficient?
MyQNAPcloud enables these products to store, sync, and share data via the internet and allow backing up NAS files on remote servers and other cloud storage services.
Data syncing and sharing is also possible with other QNAP network-attached systems. Qsync easily synchronizes multimedia files across Windows, macOS, Ubuntu, Android, and iOS platforms.
However, QNAP 231ktakes the lead in this respect owing to its ability to process files at a higher frequency and a better data transfer performance.
Although QNAP TS230 has the same storage interface yet it takes some extra time to store and sync data through the whole network.
Which Device offers Better Backup?
QNAP systems rank as efficient storage databases to keep your data safe and share it effortlessly with friends anywhere you want.
Being RAID enabled with the capacity of 2 bays these devices create a copy of the data by mirroring from one drive to the other automatically, when both drives are installed.
MyQNAPcloud store the NAS content online while the Qsync facility makes sure that it is synced from time to time.
This data can be easily accessed on other devices, even at remote places by logging into the QNAP apps and cloud service.
Through the QNAP file station, a user can access documents, photos, audio, and video files stored in the NAS database.
On mobile devices Qfile app allows uploading, downloading, and streaming of NAS files.
These products come with various multimedia applications like photo station, video station, music station, and Plex media server to provide real-time streaming of multimedia content.
How to Set Up These Devices?
NAS devices need a proper set up of storage drives and installation of associated software before they could be utilized for storage or sharing purposes. QNAP provides a detailed installation manual to guide its users step by step about the configuration of their devices.
QNAP TS231kis relatively easy to set up because the drive bays are located on the front side of the appliance.
Drive tray can be easily unlocked and removed from the system, then it is loaded with a compatible drive and mounted back.
QTS (operating system) can be installed in a few steps following the tutorial given in the guide.
Setting upTS230is a bit trickier because the outer cover has to be removed first to access the drive bays then comes the turn of loading-up the drive and QTS installation.
Operational Noise Levels of Both:
QNAP TS231k operates with louder sound as compared to its competitor.
More noise production is caused by the higher speed of the CPU because faster processing leads to a noticeable mechanical "hum" arising from the device. Its noise level is measured at 22.1dB.
Conversely, the QNAP TS230 marks 15dB at the decibel scale for noise measurement. Relatively slower processing speed is credited for its quieter functioning.
What Warranty you get with them?
QNAP offers a limited warranty against defects in materials and workmanship for up to 2 years for both these gadgets and provides the assurance of refund or maintenance according to terms and conditions.
Moreover, you can also buy an extended coverage warranty up to 3 years for a few extra bucks.
Speaking of price, the QNAP TS231k is a relatively expensive NAS device.
This buying expense, however, brings the benefit of faster speed and easy drive setup and management.