Asustor AS5304T is a much better option in the case of operating speed and storage. This device has multiple RAID modes and has a greater memory installed in it. Moreover, the longer warranty span of this device makes it much preferable to its opponent.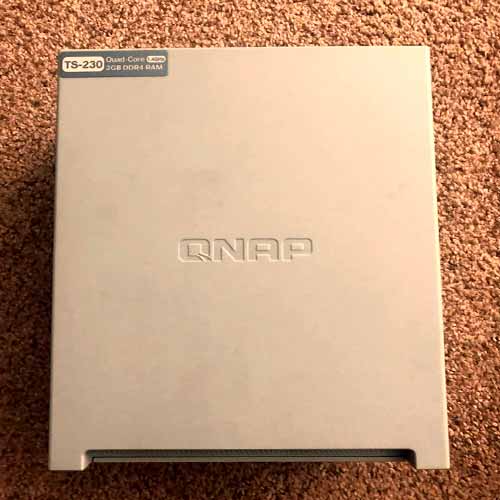 So what's going on with these devices:
Asustor AS5304T is overall better in its operating speed.
It has more memory installed in it.
It comes with a greater raw capacity.
And has more RAID modes.
On the other side…
The QNAP TS 230 is quieter as compared to its counterpart.
And the device is lighter in weight.
Both are highly efficient cloud storage devices. Whether it's about security or accessibility the user can fully rely upon the two.
The Asustor AS5305T features a 1.5 GHz Celeron J4105 Quad-Core processor whereas a 1.4 GHz Realtek RTD 1296 Quad-Core processor is found in QNAP TS 230.
Here, the Memory installed is 4GB compared to QNAP TS-230's limited 2GB.
Asustor AS5304T also has 4 bays, 2 USB ports, and 1 GBE port. It offers multiple RAID modes and is certified with FCC, CE, VCCI, BSMI, and C-TICK.
We also think that QNAP TS-230, having 4 RAID modes and an attractive rectangular design, still leads many other cloud devices.
It still offers excellent backup storage and RAID can be expanded by using wires but its raw capacity is limited to 36TB.
Recommended: Main difference between Qnap 230 and 231.
Let's Compare These Devices in Detail:
Asustor AS5304T
Features and Particulars
Asustor AS5304T
QNAP TS 230
Processor
1.5 GHZ Intel Gemini Lake Celeron J4105 Quad-Core
1.4 GHZ Realtek RTD 1296 Quad Core 
Installed Memory
4GB DDR4
2GB DDR4  
Raw Capacity
Up to 72TB
Up to 36TB
Drives Included
4 × 2.5"/ 3.5" SATA
3 HDD/SSD
2.5" SATA HDD
3.5" SATA HDD
2.5" SATA SSD
Number of Bays
4 × 2.5"/ 3.5"
2 × 3.5"
Ports
1 × GB Ethernet Port
2 × USB Ports
1 × GB LAN Port
2 × USB Ports
Physical Dimensions
170 × 174 × 230 mm
188.64 × 90.18 × 156.26 mm
What their Design Tell Us?
Asustor AS2304T is highly attractive by its outlook.
It is a polished black box-shaped device and its dimensions give it a square shape. It weighs only 2.2 kg.
From the upper right corner of its back, three ports (USB 3.2 Gen1, HDMI, 2.5 GB RJ-45) run vertically downwards.
Below these ports a reset button is present and at the lower right corner, DC input is installed. More than half-space is occupied by the fan.
Moreover, a K-Lock is present at the lower-left corner. Its interior is designed in such a way that you can use it 24/7 without any disturbance.
QNAP TS-230 is a rectangular box-shaped device shaded with an attractive baby blue color. However, this device is taller than its counterpart but weighs only 2 kg.
Its front panel features a strip on the right side that runs along its length and contains a status LED, LAN LED, USB one-touch copy LED, Drive 1 and 2 LEDs, a power button, and a USB one-touch copy button and port.
The rear panel has a system fan that occupies the upper half and below that on the left side a reset button, Ethernet port, GB Ethernet activity LED, GB Ethernet speed LED, USB ports, and power input is installed.
Which device is faster here?
In the case of speed, Asustor AS5304T is outstanding as its single port features a read speed of 283 Mbps and write speed of 282 Mbps.
The CPU is operated at a speed of almost 283 Mbps.
If you are not satisfied with the speed of your device, then it is the best option available.
QNAP TS-230 is not as good as its opponent in the case of speed.
It delivers an operating speed of 113 Mbps.
Its read speed is limited to 113 Mbps and write speed comes out to be 112 Mbps only.
However, this device is not bad in the terms of speed but is unable to satisfy most of its users.
Available Models of Asustor & QNAP:
Asustor offers 16 different models out of which 4 are designed for personal home use, 2 for small office use, 6 are for medium business and the remaining 4 are enterprise models.
These models have different RAID modes and space variants.
For example, AS5304T comes with a 72TB raw capacity and AS5202T features a raw capacity of 36TB.
In the terms of number of bays, this device has six different models having 2, 4, 6, 8, 10, and 12 bays.
There are a large number of available models of QNAP having different space variants.
The majority are enterprise models.
There are 4 SMB-Thunderbolt NAS models, 17 SMB-High-End models, 18 SMB-Middle-Range models, and 11 SMB-Entry-Level models.
For personal use 7 Home-High-End, 6 Home-Middle-Range, and 2 Home-Entry-Level models i-e TS 130 and TS 230 are available.
The maximum raw capacities of both are 18TB and 36TB respectively.
Cloud Storage Interface
Possessing the SATA III interface Asustor AS5304T is a highly demanded cloud storage device.
By connecting a 60Hz monitor with its HDMI 2.0 port, you enjoy oppressive 4k graphics.
Moreover, its storage capacity can be increased to 216 TB by using three AS6004U expansion units.
QNAP TS-230 also features a user-friendly SATA III interface.
Its H.264 hardware decrypting and concurrent transcoding brings an effective 4K audiovisual experience.
Furthermore, its raw capacity of 36TB can be increased to 252TB by using 12-drive expansion units.
What browsers and OS do they support?
AS5304T features Asustor's Data Master (ADM) operating system with Intel Celeron Quad-Core processor which is 30% faster than its predecessor.
This device also supports Windows Vista, 7, 8, 10, and Server 2008/12.
The browsers supported by this device include Safari, Firefox, Windows Edge, and Chrome.
QNAP TS-230 runs the QTS 5.0.0 operating system which is highly suitable for the users in the case of storage and transport.
Some common client OS supported by this device are Apple Mac OS 10.10, Ubuntu 14.04, IBM AIX 7, MS Windows 7, 8, 10, and 11.
The most favored browsers in its case are Apple Safari, Google Chrome, Mozilla Firefox, and MS Edge.
Which Device offers Better Backup?
You can easily access and backup your data by using Asustor AS5304T.
It gives you an edge to restore your files just with a single click.
This device offers 16 different backup plans but if your data is lost between the expected backups then it is unsecured.
Moreover, the ADM OS of this device promotes the fast sharing of large files through web browsers.
The reliability of QNAP TS 230 in the case of backup and sharing is also up to the mark.
You simply have to create a backup job and once it is created, the backup station always copies the chosen files from the external drive to the desirable NAS folder.
The NAS aids the scheduled backup of data between the internal drives and the external USB or data storage devices.
For fast sharing of files, share links are created on the file station.
How to Set Up These Devices?
Asustor AS5304T can be installed just within minutes by following the steps listed in its manual guide.
First of all, you simply have to push the button on the lower end of the hard disk drive to release the latch. Then pull the disk tray out by pulling the latch.
After that, put the hard disk into the disk tray and then close the disk bay.
Once your hard disk is secured into the disk tray, you can lock it by using its lock.
QNAP TS 230 also follows an easy installation.
Firstly, you have to detach all the cables and remove the cover of the case.
Afterwards, place the drive on the tray, load the tray into the bay, and recover the case.
At last, attach all the external cables and turn on the NAS.
Noise Comparison
The majority of the noise produced by the cloud device is due to its moving parts such as the system fan.
The fan in Asustor AS5304T rotates at a higher speed and produces greater noise as compared to its counterpart. The average noise production in its case is 19.7 Db.
QNAP TS 230 is much quieter as compared to its opponent.
The system fans and other moving parts run more smoothly and produce less noise.
The noise production in its case is limited to only 15 Db.