Overall, in comparison the TerraMaster F4-422 has faster speed, greater memory, and stronger backup while Drivestor 2 Pro offers better sharing ability, a more efficient cloud interface, and lesser noise.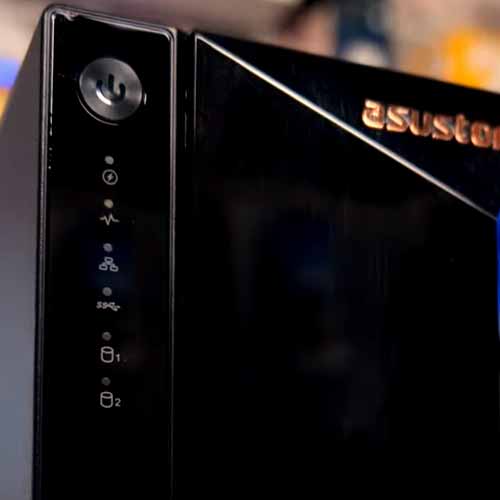 So what's going on with these devices:
The TerraMaster F4-422:
has a better read-write speed and a higher Gigabit Ethernet bandwidth.
has a Installed memory which is higher.
And is priced lower.
And on the other hand, the Asustor Driverstor 2 Pro:
has a modern look and provides easier drive installation.
has better Cloud management and sharing ability.
is backed by a longer manufacturer's warranty.
is priced higher than its competitor.
Terramaster F4-422 carries 4GB installed memory and processes information at high frequency and speed. 10 Gigabit Ethernet offers supreme bandwidth and many RAID modes provide enhanced data safety. Snapshot and AES-NI encryption safeguard data against damage and attacks.
While the Asustor Drivestor Pro employs a powerful 64-bit quad-core processor. Its design is not only sleek and stylish but also very user-friendly due to easy drive installation. It has the merits of quieter working, lesser weight, and greater sharing ability as well.
Let's Compare These Devices in Detail:
TerraMaster F4-422
Asustor Drivestor 2 Pro
 
F4-422
Drivestor 2 Pro
Processor
Intel Celeron Quad-core 1.5 GHz, burst up to 2.3 GHz
Realtek RTD1296 ARM 64 bit, Quad-core 1.4 GHz
Installed memory
4 GB DDR3
2 GB DDR4  
RAW capacity
4 x72 TB HDD
2 x 18 TB
Drives included
3.5-inch SATA HDD 2.5-inch SATA HDD 2.5-inch SATA SSD
3.5-inch SATA HDD 2.5-inch SATA HDD 2.5-inch SATA SSD
Interface
 SATA
SATA
Speed
610 Mb/s read 650 Mb/s write
216 Mb/s read 275 Mb/s write
Number of bays
4
2
Ports
2 x RJ45 1GbE LAN Port
1 x RJ45 10GbE LAN Port   USB 3.0 port
1 x 2.5 Gigabit Ethernet port 3 x USB 3.2 Gen 1 Port
Physical Dimensions
227 x 225 x 136 mm
170 x 114 x 230 mm
Weight
2.30 kg
1.6 kg
What their Design Tell Us?
Both devices are easy to use owing to their unique design features. Terramaster F4-422 is white-colored hardware with size 227 x 225 x 136 mm and 2.30 kg weight and occupies a good space.
The front-side opening of drive bays gives it a classic look and also makes this design user-friendly in terms of drive replacement.
Drive trays slide out easily from the front and disks can be loaded or replaced within a few minutes.
USB port, LED indicators and buttons are present on the front side while the power inlet, security slot, fan slits, and other ports are located on the backside.
Asustor Driverstor gives a contemporary outlook characterizing a sleek, black design with a rose gold emblem of the Asustor logo.
With the size 170 x 114 x 230 mm, it weighs about one and a half kilograms and can be conveniently placed over a small desk.
The front view carries indicator LEDs, a power button, and a USB port. It provides the advantage of tool-free installment of disks on drive trays.
Which device is faster here?
Terramaster F4-422 takes the lead in terms of processing speed because its 4-core CPU works with a higher frequency.
It can analyze the data with a reading speed of 610 MB/s and inscribe new information quickly with 650 Mb/s writing speed.
It shows a higher GbE transfer speed as well, owing to its 10-Gigabit Ethernet system.
On the flip side, the Asustor Driverstor can process data quickly with its Quad-core processing unit but its read-write speed is less in comparison as its CPU operates at a lower frequency.
It shows a reading speed of 216 Mb/s while its writing speed has been measured up to 275 Mb/s.
Its GbE transfer speed is also comparatively lesser as it contains 2.5-Gigabit Ethernet.
Available models and space variants
Terramaster F4-422 is available in 2-bay, 4-bay, 5-bay, and 8-bay variants.
Similarly, the Drivestor series by Asustor includes 2-bay (2 Pro) and 4-bay (4 Pro) NAS devices.
These variants have all features the same but differ in their raw capacity due to differences in their drive holding capacities.
Cloud storage interface Comparison
A private cloud can be easily created through TerraMaster, it offers various routes like TNAS cloud, Own Cloud, DDNS, VPN, and NextCloud to store and share data via the internet.
Rsync option ensures synchronization and backup of data remotely.
It can share files with many commercial cloud services like OneDrive, Google Drive, Amazon S3, Dropbox, Alibaba Cloud OS, Megadisk, etc. Users have cross-platform access to TNAS data through desktop and mobile apps without the restriction of IP address.
Cloud Backup Center of Asustor Pro provides centralized cloud storage to enable online data transmission and storage.
This hybrid cloud offers instant as well as scheduled backup options, moreover, it can collaborate with other cloud services like Amazon S3, Backblaze B2, Baidu, Microsoft Azure, and Alibaba Cloud.
Its cloud system becomes superior due to its ability to provide various cloud services into the single app of DataSync Center which supports its Cloud Backup Center, Google Drive, OneDrive, and Dropbox.
What browsers and OS do they support?
Terramaster F4-422 is a suitable NAS for team projects when members work through different OS devices.
And remote access is required along with local networking because it supports all major OS like Windows, Linux, Mac iOS, Android and allows cross-platform access to NAS data.
Likewise, Android 6.0/later and iOS 8.2 versions are also supported for streaming over mobile devices.
For web browsing, it works with Google Chrome 48, Apple Safari 4.5 or later, Mozilla Firefox 30, Microsoft Internet Explorer 9, however, the company does not recommend using Microsoft Edge.
Asustor Driverstor also supports a wide range of operating systems comprising Windows XP, Vista, 7, 8, 10, macOS, Linux, UNIX, and BSD. This equipment works efficiently with Mainstream web browsers including Chrome, Safari, Firefox, and Microsoft Edge as well.
Sharing Capabilities of these Devices:
Cloud services linked with Terramaster F4-422 allow storage, syncing, and streaming network contents.
It offers multiple tools to retrieve files including centralized backup, Time machine, AOMEI Backupper, and Duple backup. It not only provides a good backup but also employs the latest snapshot technology to reduce data damage.
However, its sharing efficiency is slightly lesser than the competitor as it allows 500 FTP concurrent connections on the whole.
Drivestor exhibits a sound share-and-backup system with its Cloud Backup Center and DataSync Center.
Rsync and Asustor EZ Sync further add to its ability to synchronize and backup important NAS files.
The data stored over this system can be easily shared and accessed across different devices and platforms, through cloud and multimedia apps.
It has an enhanced sharing ability and permits 512 concurrent connections simultaneously.
Setup of these devies:
The setup procedure of TerraMaster NAS is quite easy. Its drive trays easily come off from the front side and compatible HDD or SSD can be loaded or replaced.
With suitable drives installed, the device operates when connected with a power supply and router.
Cloud storage is enabled via registering the device on the web portal.
An installation guide included in the package describes the whole setup procedure step-by-step.
Asustor Driverstor also comes with an installation guide and can be set up easily.
Its drive trays are swappable and drives can be loaded over them without using any tool.
Software setup can be performed following the tutorial provided. 
Noise Levels of these devices:
In comparison, Terramaster F4-422 ranks as a nosier device with its 19.8 dB score on the decibel scale.
The high-frequency processor causes more mechanical sound due to faster rotations.
Conversely, Asustor Driverstor operates with low frequency, producing lesser noise than its competitor. Its noise level is measured at 18.6dB.
Warranty they offer:
Terramaster F4-422 stands below the contestant in terms of longevity.
Its manufacturer provides the guarantee of its optimized functioning with a 2-year refund or replacement warranty.
On the other side, Drivestor Pro is supported by Asustor 3 year warranty and consumers can claim a refund in case of faults or damages, or get their equipment replaced or repaired.