Compared with TerraMaster F4-220, the other variant, the F4-210 shows a larger storage capacity, high-core CPU, faster read/write speed, and contains better USB ports but it stands relatively expensive as well.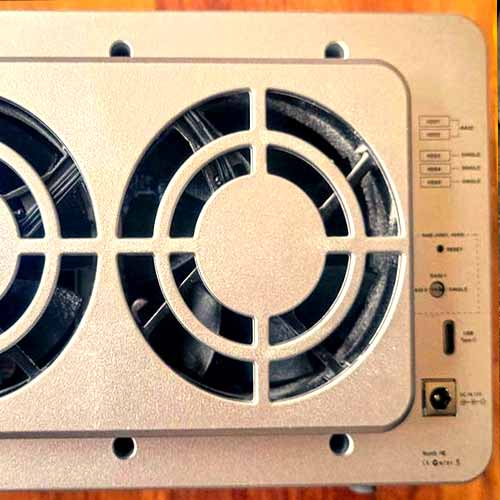 What you should know before:
TerraMaster F4-210 has a quad-core processor and offers comparatively faster reading and writing speeds.
Design elements like color, number of drive bays, and indicator panel are similar for both devices.
F4-210 has a comparatively larger capacity to hold data.
Both systems rank the same for noise production and convenience of usage.
Data security mechanism of F4-220 is superior to its competitor due to enhanced Btrfs technology.
TerraMaster back both these products with a warranty for 2 years.
F4-220 is a relatively expensive cloud storage device
The TerraMaster F4-220 integrates a dual-core processor, it works at 2.41 GHz frequency and presents adept NAS functioning.
It employs RAID technology with 0, 1, 5, 6, and 10 modes, offering a foolproof local backup through mirroring.
Enhanced snapshot and Btrfs technology makes it a highly secured and well-encrypted device to store and sync multimedia files.
On the other side, the TerraMaster F4-210 provides a well-integrated system to store, back up, and access data remotely from the TNAS cloud.
It shows a relatively faster read/write speed and stands user-friendly with its swappable drive trays and hassle-free interface.
Let's see these devices in detail.
Comparing Both Devices:
Terramaster F4-220
Terramaster F4-210
 
TerraMaster F4-220
TerraMaster F4-210
CPU
Intel Celeron J1800, 64-bit, Dual-core 2.41 Gigahertz
Realtek RTD1296 4-core 1.4 GHz
Installed storage
2 GB RAM
2 GB  
Storage capacity
64 TB (4 x 16)
72 TB (4 x 18)
Drives supported
2.5-inch SATA Hard Disk Drive
3.5-inch SATA Hard disk drive   2.5-inch SATA SSD
SATA HDD (3.5-inch)
SATA HDD (2.5-inch)                    SATA SSD (2.5-inch)  
Interface
 SATA
SATA III
Speed
113 Mbps read 112 Mbps write
124 Mbps read-write
Ports
1 x RJ45 1Gigabit Ethernet LAN Port 1 x USB 3.2 Gen 1 Type-A port
1 x USB 2.0 port  
1 x RJ45 1GbE LAN Port
2 x USB Type-A 3.2 Gen 1 Ports  
Size
8.9 x 8.9 x 5.3 inches
8.94 x 8.86 x 5.35 inches
Weight
5.5 Ibs
5 Ibs


Which device offers better Cloud services?
TerraMaster cloud devices offer a similar cloud storage interface that lets the users store, sync, and access data remotely.
They provide a facility to create a personal cloud with TNAS online, DDNS, VPN, Next Cloud, or OwnCloud services.
Users can easily transfer their TNAS data to many commercial services like pCloud, Amazon S3, OneDrive, Dropbox, etc. Rsync function not only provides scheduled syncing but can be used to synchronize folders instantly, keeping its remote databank up-to-date. TNAS files are easily accessible through mobile or desktop apps.
Nonetheless, TerraMaster F4-210 is compatible with 18 TB hard disks making its storage capacity higher in comparison.
The TerraMaster F4-220 can operate well with disks up to 16 TB capacity, thus, it offers 64 TB at maximum.
Supported browsers and Operating Systems:
Both systems operate efficiently with all major web browsers as well as operating systems. They provide cross-platform support on Mac 10.9/higher, Windows Vista, 7, 8, 10/higher, and Linux systems.
Text and multimedia content can be mutually shared and synced from these OS. These NAS operate with mobile devices having Android or iOS systems as well.
When it comes to web surfing, these support Google Chrome 48, Mozilla Firefox 30, Internet Explorer 9, and Apple Safari 4.5.
However, the usage of Microsoft Edge is not recommended by TerraMaster.
Does F4-220 has a better Speed? 
TerraMaster F4-210 shows faster performance than its competitor because it integrates a quad-core processor that can sift through the data quickly by running multiple function threads at the same time.
It can work with a speed up to 124 Mb per second for read/write functions.
In contrast, the CPU of TerraMaster F4-220 is a 2-core unit that maximally allows working on two information threads at a time.
This reduction in processing efficiency leads to a decrease in the reading and writing speed of the NAS.
It has reported 113 Mbps reading and 112 Mbps writing speeds.
However, both devices show the same GbE transfer rate of 1000 Mbps as both utilize the same Gigabit Ethernet interface.
Hardware design
These TNAS devices have an identical appearance; greyish-white cloud systems characterizing four drive bays and a side bar with LED pointers and power switch, made up of Aluminum alloy material.
Both devices have very similar dimensions as well; nearly 8.9 x 8.9 x 5.3 inches and 5 pounds weight.
Each of these carries two fans and one RJ-45 Gigabit Ethernet port. Security slot, external ports, and fan exhaust open at the rear side of the hardware.
However, these devices have different USB ports; TerraMaster F4-210 has two 3.0 Type-A ports while F4-220 has one USB 2.0 and one 3.0 Type-A port.
Data Backup ability of these devices:
As these devices enable RAID technology, the data stored on these systems is mirrored and a copy of each file is created over the other HDD, creating a local backup system.
Both these NAS have 4 drive bays thus, enabling mirrored backup for two disks.
Moreover, an online and remote backup can also be created for TNAS files in multiple ways like Duple Backup, Time Machine, AOMEI Backupper, and Centralized Backup.
F4-210 has a relatively larger volume available to store and back up data as it shows compatibility with higher capacity disks.
Which offers better Security?
Multiple layers of data protection systems are incorporated in both these systems to keep the stored files secure from thefts and damages.
AES and transport encryption maintains the privacy of the cloud network, preventing data breaches.
Scheduled backup mechanism synchronizes TNAS disks with cloud storage from time to time, keeping the cloud backup updated.
 Moreover, T-RAID array security protects the data locally without a requirement of online backup.
The security mechanisms are further enhanced by the file cluster system, Btrfs system, and snapshot technology.
F4-220 shows better protection systems than its competitor as its snapshot technology is advanced in comparison.
It can generate 71,680 system snapshots maximally and up to 1024 snapshots for every shared folder.
Conversely, F4-210 stands below the competitor for Btrfs technology, enabling only 256 snapshots for a single shared folder and 8192 overall system snapshots at maximum.
How to set them up?
Due to similar designs and online interfaces, both devices employ nearly identical setup procedures.
Hot-swappable drive bays and convenient installation mechanisms make these tools user-friendly.
Storage HDDs and SDDs can be easily installed or replaced.
Swap out the drive tray from the drive bay of the NAS.
Use a screwdriver to mount up the hard disk onto the drive tray.
Slide in the tray into the drive bay to fix it in the position.
After installing drives, plug-in an AC supply to power up the device.
Connect a computer via Ethernet port to access the TNAS interface through a quick login process then set up the configurations to personal choices for building a private cloud storage.
How much Noise do you get with them?
Two cooling fans are present in both of these gadgets to dissipate heat and safeguard the processing units from damages due to high temperature.
But this safety feature comes with the disadvantage of mechanical noise production.
As the number and size of fans as well as the design of exhaust slits is the same for both devices, these show a similar sound level, marking the noise scale at 19.8 dB.
What Warranty do you get with them?
These TNAS devices stay functional for a long duration owing the benefit from their robust Aluminum casing and well-built processing units.
The company offers a replacement or refund warranty for these products spanning up to 2 years.
If consumer receives damaged material or malfunctioning device due to workmanship defects, TerraMaster will either refund, repair or replace the device with a functional one.
Are they expensive?
F4-210 provides a financial benefit over the competitor with its lower price range.
Users can enjoy reliable storage and networking services with high processing speeds.
It costs more to buy F4-220 in comparison but it also offers high data security.