Compared to TerraMaster F4-210, Synology DS418 provides better read and write speed. However, it is slightly heavier and expensive than F4-210.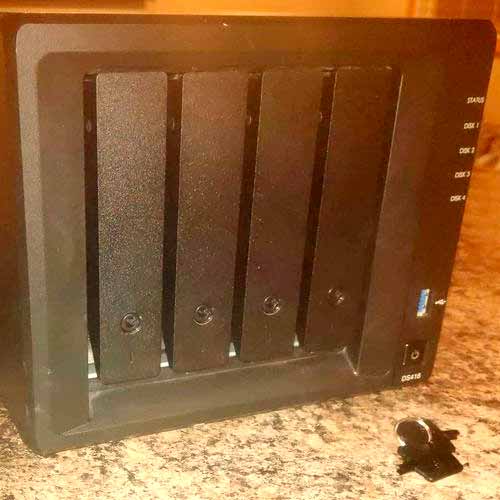 Lets take a look at their differences and similarities before discussing them further:
Both have four drive bays.
Raw storage capacity of F4-210 is higher.
Among both devices, F4-210 is more cost-efficient.
DS418 has relatively higher speed.
DS418 produces more noise.
TerraMaster F4-210 is an effective NAS device that doesn't cost you much. It has several features, such as four drive bays and working at a speed of 124 MB /s.
Terramaster is also known for using chip technology along with Linux based operating system in order to provide the users with affordable storage solutions.
DS418 includes 4 drive bays and works at a speed of 226 MB/s.
It helps in storing and transferring the data without losing it in the process.
This NAS device has a quad-core processer that makes it substantial from its predecessors.
Speed
Synology NAS has higher read and write speed as compared to that of its counterpart.
It has reading speed over 224 MB/s while writing speed is over 170 MB/s. However, Terramaster F4-210 has both read and write speed of 124 MB/s. This was also approved by operating a video of 1.5 GBs from both NAS devices.
Moreover, Synology produces more than 7200 rpm, enabling users to access the Disk Station manager interface within a few seconds.
Comparing Both NAS:
Synology DS418
Terramaster F4-210
Features and Particulars
Terramaster F4-210
Synology DS418
CPU
ARM V8 64-bit, 4-core 1.4 GHz
64-bit, 4-core 1.4 GHz
Processor
Realtek RTD1296 
Realtek RTD1296 
Installed memory
2GB
2 GB DDR4
RAW capacity
72 TB
40 TB
Drives included
4 x 3.5-inch SATA 6Gb/s, 3Gb/s
4 x 3.5-inch SATA 6Gb/s, 3Gb/s
Speed
124 MB/s
226 MB/s.
Noise Levels
19.8 dB (A)
20.9 dB (A)
Number of bays
4 x 2.5″ / 3.5″
4 x 2.5″ / 3.5″
Ports
1 x RJ45 (Gigabit Ethernet)
2 x USB Type-A
2 x USB Type-A
2 x RJ45 (Gigabit Ethernet)
Physical Dimensions
8.9 x 8.9 x 5.4″ / 227 x 225 x 136 mm
6.5 x 7.8 x 8.8″ / 166 x 199 x 223 mm
Weight
4.9 lb / 2.2 kg
5.0 lb / 2.3 kg
Differences in their Design
Both devices are designed for home and SOHO users to effectively manage, store and share data.
Their boxes are made of plastic like most of the NAS devices and they consist of 4 drive bays as discussed above.
DS418 has two LAN ports and measures around 8.9 x 8.9 x 5.4″ / 227 x 225 x 136 mm while Terramaster F4-210 has only one LAN port and measures around 6.5 x 7.8 x 8.8″ / 166 x 199 x 223 mm.
These both devices have a power button, 4 drive bays and LED indicators on front of the box while cooling fan is located on the back.
Available Models and Space Variants
Terramaster F4 series has 2 models available i.e., F4-210 and F4-221 both have four drive bays. However, DS418 comes in value series of Synology.
Other models available in this series are DS118, DS218 Play, DS218, and DS418.
Major differences in these models are their performance, read and write speed.
Does Synology provide better Cloud Storage Interface?
Both devices offer its users a smooth cloud storage interface.
But a lot of apps are present in the Terramaster OS Application Center.
These apps include several businesses, security, backup, and multimedia tools along with storage servers, web servers, mail servers, MySQL databases, Java virtual machines CRM systems, FTP servers, etc.
Its maximum storage raw capacity is 70 TB and supports different RAID Modes including RAID 0, 1, 10, 5, 6, JBOD.
You can set read and write permissions as required, and you can allocate space for storing videos, photos, music, documents, etc.
Synology DS418, on the other side, has a separate IOS and Android app for managing files, downloading and syncing data.
It also includes several other apps such as DS Audio, DS Video, DS Mail and DS Note, etc.
This NAS device has maximum raw capacity of 40 TB and you can easily backup and share your data. It also supports RAID 0, 1, 10, 5, 6, Synology Hybrid Raid and Basic Raid.
Supported OS and Browsers
Coming towards software, these devices support several Operating Systems and Browsers.
Terramaster F4-210 supports OS like Linux, Windows, Android 6 or later, macOS, IOS 8.2 or later, and browsers like Chrome, Internet Explorer, Safari, and Firefox.
Synology DS418 supports several OS such as Windows 10, Windows 8.1, Windows 7, and MacOS 10.11 while in browsers it supports same as F4-210 i.e. Chrome, Firefox, Internet Explorer, Safari
Backup and Sharing
These devices support syncing of your file with the help of various drives such as One Drive, Google Drive and Dropbox.
This also helps you transfer your data quickly from your cloud drive to another drive and vice versa.
Terramaster F4-210 supports the most recent version of TOS i.e., 4.1.X.
With this TOS version, you can easily manage, backup and share your data and files in a very user-friendly way.
Synology DS418 supports Windows AD and LDAP that lets the NAS to fit in any environment without creating user account.
It supports Cloud Sync that keeps your Google Drive, Microsoft OneDrive, Baidu, and Dropbox synced with the DiskStation in your home.
It helps in the quick synchronization of your data and safe backup and transfer of files.
Things to know during Set up:
Both of these NAS devices are easy to setup and install. Properly read and follow the manual and you will be good to go.
However, Synology devices are a bit complicated to setup as compared to the devices by TerraMaster.
Don't forget to download the software on both devices.
What are their Noise levels?
F4-210 produces a noise of 19.8 dB while DS418 produces a noise of 20.9 dB.
It is mainly because of the cooling fans located at the back of both devices.
Warranty of these devices:
Both NAS systems have a warranty of 2 years and it can be extended according to terms and conditions.