In comparison with F4-210, the Terramaster F4-422 provides a greater storage space, a faster speed and an extended sharing ability but it is priced higher.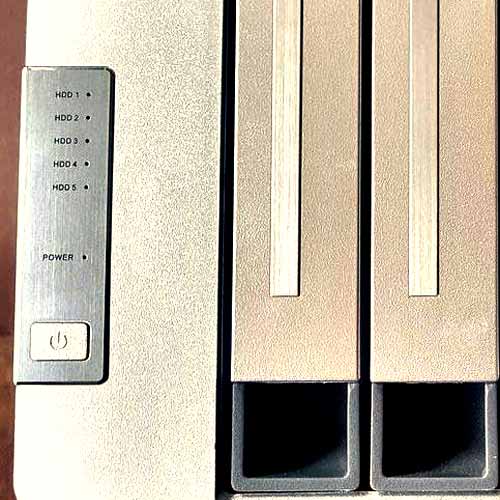 So what's going on with these devices:
The Terramaster F4-422 has a high frequency processor and shows a faster read-write speed in comparison.
It has greater installed memory as well as raw storage capacity.
Sharing and syncing capability is also better.
Here the Terramaster F4-210:
lacks 10 Gigabit Ethernet and presents ten times lesser bandwidth than its competitor.
and is more budget-friendly in comparison and comes for a lesser price.
At the same time, there are common things too.
Both devices have same design and casing structure.
Noise level and warranty period is also same as well.
And ofcourse, the setup procedure and cloud portal is also same for both of these devices.
The Terramaster F4-422 operates with a higher pace and offers superior bandwidth, it creates a local backup with various RAID models and safeguard data from malware attacks with snapshot technology. Massive storage capacity enables it to hold a huge volume of data.
Terramaster F4-210 is a multi-functional device providing an efficient system for storage, management, sharing, remote access and retrieval of data. This device is both, a user-friendly and a budget-friendly NAS.
Let's Compare These Devices in Detail:
TerraMaster F4-422
Terramaster F4-210
| | | |
| --- | --- | --- |
|   | F4-422 | F4-210 |
| Processor | Intel Celeron Quad-core 1.5 GHz, burst up to 2.3 GHz | Realtek RTD1296 Quad-core  1.4 GHz |
| Installed memory | 4 GB DDR3 | 2 GB RAM   |
| RAW capacity | 4 x72 TB HDD | 72 TB (4 x 18 TB HDD) |
| Interface |  SATA | SATA III |
| Speed | 610 Mb/s read 650 Mb/s write | 124 Mb/s read-write |
| Number of bays | 4 | 4 |
| Physical Dimensions | 227 x 225 x 136 mm | 165 x 108 x 232.2 mm |
| Weight | 2.30 kg | 2.25 kg |
Which device is faster here?
Taking the advantage of its high-frequency CPU and 10 gigabit Ethernet, Terramaster F4-422 performs at a faster pace as compared to its contestant.
Its powerful processor operates at 1.5 GHz and this frequency can burst even up to 2.3 GHz.
Reluctantly, it can quickly encode the input data and offers a faster streaming response. It shows 610 Mb/s reading and 650 MB/s writing speed.
Moreover, 10 Gigabit Ethernet maximizes bandwidth and provides a relatively faster transfer speed.
Terramaster F4-210 scores lower than its competitor due to its slower read-write speed and longer transfer intervals.
Its CPU works at a 1.4 GHz frequency and only supports a read-write speed of 124 Mb/s.
It also lacks 10 GbE ability, which further limits its speed.
What their Design Tell Us?
TerraMaster has designed both of these NAS appliances identically.
Both gadgets are enclosed within an elegant white colored Aluminum alloy casing.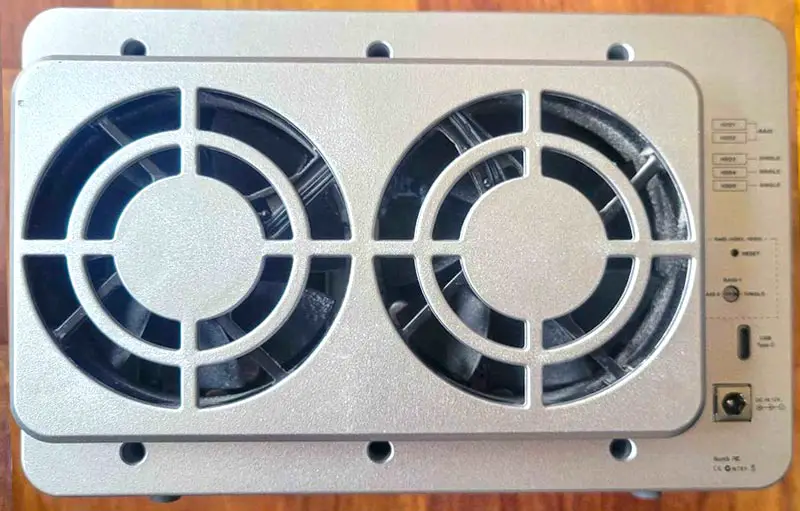 The front view displays drive bays with a marginal bar having LED indicators and a switch button.
Fan exhaust, external ports, and security slot are present on its posterior side.
Terramaster F4-422 is 227 x 225 x 136 mm in size and weighs 2.30 kg. It also has a 10 GbE slot along with USB 3.0 and two 1 GbE ports.
On the other hand, Terramaster F4-210 is sized 165 x 108 x 232.2 mm with a 2.25 kg weight. It lacks a 10 GbE port.
Available models of Terramaster:
Different space variants of Terramaster F4-422 are available in the market which differ with respect to their raw capacity to store files.
Its range includes 2-bay, 4-bay, 5-bay, and 8-bay variants. While F4-210 comes in 2-bay and 4-bay options.
interface of their cloud Storage:
These devices come from the same parent company, thus, utilize the same cloud service for storage, remote access, and network sync purposes.
They enable the user to build a private cloud via TNAS online, OwnCloud, VPN, DDNS, Next Cloud, and also allow data transmission to commercial cloud services like Google Drive, pCloud, Dropbox, OneDrive, Amazon S3, etc.
Rsync enables scheduled and instant synchronization and keeps the remote database updated. Remote users can access NAS files easily on mobile and desktop devices.
However, F4-422 has the benefit of 4x storage space as compared with F4-210.
What browsers and OS do they support?
Both devices are built with the same interface, hence, they support the same browser versions and operating systems.
These devices can operate in collaboration with Windows, Mac, Linux platforms allowing effective sharing and syncing with cross-platform access.
Cell phones or tablets with iOS 8.2 and Android 6.0/later systems are also supported.
Web browsers like Apple Safari 4.5, Google Chrome 48, Internet Explorer 9, and Mozilla Firefox 30 are supported on these NAS, however, TerraMaster does not recommend Microsoft Edge.
Which Device offers Better Backup?
Both devices provide multiple ways to backup NAS files such as AOMEI Backupper, Time Machine, Duple Backup, and Centralized Backup.
Various RAID modes and multiple drive bays allow mirroring of data from one drive to the other, creating an effective local backup as well.
However, F4-422 has four times more storage space resultantly, it offers backup for a larger amount of data in comparison.
It also has a better sharing capacity as it enables 512 shared folders on maximum and allows syncing of 8 shared folders simultaneously.
It has the ability of 500 simultaneous FTP concurrent connections.
Terramaster F4-210 can back up a lesser volume of data as its storage capacity is comparatively lesser.
It also scored lesser for sharing capability as it allows only 128 shared folders and can sync just 2 shared folders.
It only enables 100 FTP connections at a time.
How to Set Up These Devices?
Both devices have similar design and can be setup without any difficulty. As drive trays are swappable, storage disks can be handily installed and changed.
Once drives are mounted, hardware is ready to operate by power plug-in. Software and cloud setup include a simple login procedure and some basic settings.
Noise Comparison
These devices are ranked equal for noise production as similar design and fan systems lead to the same noise level.
Both of these show the sound level of 19.8 decibels.
What Warranty you get with them?
TerraMaster backs both of its NAS products with a replacement warranty for 2 years.
In case of workmanship faults or poor functioning, the company replaces the damaged NAS with a new one, however, terms and conditions do apply.
Which Device is less Expensive here?
Terramaster F4-422 sells for a higher price in comparison but it also offers additional storage space, high speed, and increased sharing ability in return.
F4-210 on the other side, is priced comparatively lower and offers a reliable substitute for its expensive competitor.
With it, low-on-budget consumers can enjoy sound networking, storage and cloud services for SOHO (small-office, home-office) without spending a lot.