Compared with Synology DS220+, the 920+ offers better writing speeds, better storage and better file sharing capability. But the device is heavier, nosier and more expensive.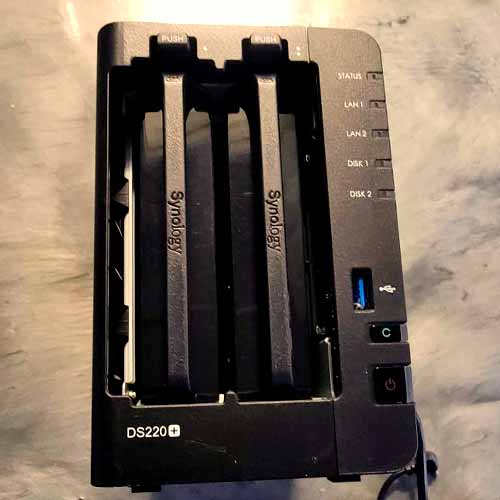 Here's the catch:
Synology DS 920+ has a better writing speed in comparison, leading to faster data storage.
It also has greater raw capacity than its competitor.
It also shows a cleaner look than its boxed-shaped contestant which shows drive trays on the front.
And it also has longer warranty for its optimized functionality.
Both provide cloud sync and efficient backup (but DS 220+ has better file sharing capability)
Synology DS 220+ is priced lower.
Synology DS220+ is an earlier model with the capacity to accommodate two hard drives of 16 TB each.
Its powerful dual-core 2.0 GHz processor enables it to manage a vast library of multimedia content without any hustle.
It can be easily placed and transported because it is a relatively lightweight device.
Owing to its minimalist front design, it gives a modest look.
On the other side, the Synology DS920+ owns a Quad-core CPU and has a larger raw capacity as well.
Its ability to store and protect data is maximized due to many available RAID modes and four drive bays.
It works with the same DiskStation Manager (DSM) as its competitor but allows more number of shared folders and concurrent connections, especially for PC clients.
Recommended: See difference between Synology DS920+ and Synology DS918+.
Let's Compare These Devices in Detail:
Synology DS920+
 
Synology DS920+
Synology DS220+
Processor
Intel Celeron J4125 Quad-core 2.0 GHz, burst up to 2.7 GHz
Intel Celeron J4025 Dual-core 2.0 GHz, burst up to 2.9 GHz
Installed memory
4 GB DDR4
2 GB DDR4  
RAW capacity
64 TB (4 x16 TB HDD)
32 TB (2 x 16 TB HDD)
Number of bays
4
2
Ports
2 x RJ45 1GbE LAN Port
2 x USB 3.2 Gen 1 Port
1x eSATA Port
2 x RJ45 1GbE LAN Port
2 x USB 3.2 Gen 1 Port USB/ Sd copy
Physical Dimensions
166 x 199 x 223 mm
165 x 108 x 232.2 mm
Weight
2.24 kg
1.3 kg
Speed Differences
Although both these NAS devices function at the rate of 7200 rotations per minute with a reading speed of 225 MB/s, yet, they differ in writing speeds which makes one functionally better than the other.
DS 920+ has a higher writing speed of 225 Mbps, hence, it can imprint and store the data faster than its competitor.
The credit goes to its multi-core processing unit as its Quad-core processor allows it to run four threads of a process at the same time.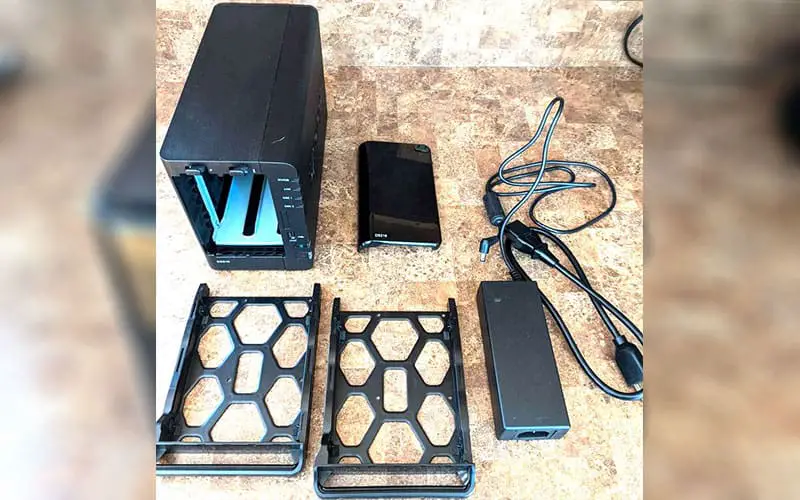 On the other side, DS 220+ can write at the speed of 195 Mbps i.e. it takes more time to process information and store it along with the drives because it has got a 2-core processing unit that only runs two threads of process at a time.
What their Design Tell Us?
DS 920+ occupies a good amount of space on the desk with its size of 166 x 199 x 223 mm and weighs more than the competitor. It looks like a contemporary device among other pieces of hardware due to its characteristic size and shape.
Four drive trays are mounted over the front side while a USB 3.0 port along with power and status indicators are also present beside them.
Drive bays are not covered by an extra layer, instead, these are fixed in place and a small circular tray lock is present over them for demounting. While the rear side shows system fans, reset button, power port, eSATA port, etc.
This design provides an optimum user experience as indicators and buttons are prominent and easily accessible.
Synology DS 220+ is 165 x 108 x 232.2 mm in size and shows a sleek design. Its drive bays are roofed with an overlying cover. The front view shows various indicators, power, and copy buttons as well as a USB 3.0 port along the marginal part while the rest of the front space gives a smooth plain look. System fan, other ports, and security slot are present on the rear side of the device.
interface of cloud Storage of both devices:
Synology has done a good job in making its NAS solutions worthy for massive storage and syncing.
Both DS devices are enabled for one or two-way synchronization with many public cloud storage providers like Dropbox, Onedrive, Amazon drive, Google Drive, and many others.
They also provide Synology drive, a web portal to store, sync, and share your files across Windows, macOS, Android, and Linux platforms. You can access your multimedia library through various DS mobile apps.
DS 920+, having 64 TB of raw capacity, provides more storage space in comparison. For PC clients it can handle even up to 600 concurrent connections simultaneously.
The other device contains two bays which allow 32 TB raw storage collectively. Its cloud portal can manage 350 PC concurrent connections.
What browsers and OS do they support?
Both of these DiskStation devices work with major operating systems in the market and support the lion's share of web browsers. These are operate-able with Windows 7 onwards and macOS 10.12 onwards, hence, the whole team can collaborate on a project through these NAS solutions irrespective of their different individual work-stations.
You can synchronize your files across Windows, macOS, Linux, Android, and iOS.
Both support various internet browsers like Chrome, Firefox, Edge, Internet Explorer 10 onwards, Safari 10 onwards while on tablets they can work with Safari (iOS 10 onwards) and Chrome (Android 6.0 onwards).
Which Device offers Better Backup?
Synology DiskStation models provide a centralized backup suite to safeguard your data from accidents, theft, and technical errors. It includes Cloud Sync, Synology drive, and hyper backup to ensure the safety of data on the local system as well as cloud files.
DS 920+ takes the lead in terms of sharing and backing up a large amount of data. Not only its raw capacity is greater but also its file-sharing capability is higher than its competitor.
It has up to 2-Disk Fault Tolerance due to 4 bays for storage drives and allows 1000 SMB/FTP connections with 512 shared folders on the whole. Increased number of RAID modes maximize its reliability as a storage device.
On the other hand, being a 2-bay equipment, DS 220+ offers less storage space than its competitor and can show 1-Disk Fault Tolerance only. It can maximally manage 500 SMB/FTP connections and 256 shared folders.
How to Set Up These Devices?
Synology provides an installation guide within the package, enlisting the whole setup procedure step by step and also the troubleshooting advice. This procedure is essentially similar for both models and includes the loading of drives in the drive tray and mounting it over the DiskStation. An in-built web assistant then helps in the installment and setup of its browser-based operating system –DiskStation Manager (DSM).
Operational Noise Levels of Both:
Synology Diskstations are a bit noisy because their casing includes cooling fans to ensure optimal functioning for longer periods without heating up, but this safety modification has the demerit of mechanic sound production.
Comparatively, DS920+ is a noisier device than its competitor in this respect because it has two in-built system fans and marks the noise scale at 19.8 dB.
DS220+ also produces notable noise but its decibel level is a few points lesser than its competitor. Its noise level is recorded at 19.3dB.
Which Device is less Expensive here?
Synology DS 920+ is more expensive than its contestant and why wouldn't it be. It offers double the amount of storage space and longer warranty as well, hence, the price is well justified.
On the other hand, the DS 220+ can provide a good amount of storage with excellent syncing and backup services from Synology without taking much from the budget.