In comparison between Synology DS-920 and QNAP TS-451, Synology provides a high-performance processor, clean cloud interface, and easy setup, while QNAP has better speed, backup facility, and warranty.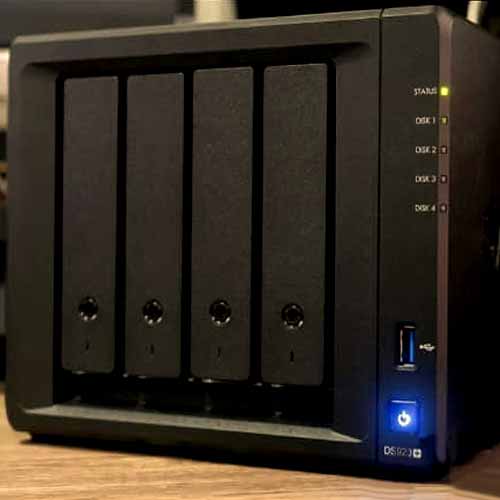 Some things you should know first:
In the context of high speed, QNAP (204mbps) should be given preference over Synology (200 Mbps).
Synology has a minimalist yet unique design, whereas QNAP here follows a traditional approach in its design
QNAP variants are more affordable, while Synology variants are significantly diverse but expensive.
Synology works better to level up the cloud storage interface than QNAP.
Synology offers compatibility to more OS and browsers than QNAP
QNAP has more potential for file sharing and backup with its distinct app center.
Synology has a lesser noise problem with noise-reducing mechanism compared to QNAP.
QNAP gives you a more flexible warranty of 5-years, than Synology having a limited 3-years warranty.
Synology amplifies your data processing by streamlining it with the latest SSD cache technology.
Also, the gigantic Synology processing unit (2.7GHz) boosts the application performance by 15%, resulting in seamless NAS performance.
QNAP TS-451, on the other hand, is based on the QST system, takes the crown in desktop compatibility, backing up, synchronization, and data accessibility.
Also, its 2-in-1 functionality as NAS and platform for machine virtualization makes it an incredible piece of personal cloud.
Design comparison:
QNAP TS 451+
Features and particulars
QNAP TS-451+
Synology DS-920+
processor
2 to 2.42 GHz Intel Celeron J4025 Dual Core
2 to 2.7 GHz Intel Celeron J4125 Quad-Core
Installed memory
2 GB DDR3L (max 8 GB)
2 GB DDR4 (max 8 GB)
RAW capacity
16 TB
64 TB (4X 16 TB)
speed
204mbps
200mbps
Number bays
4× 2.5"/3.5"
4× 2.5 /3.5 2× M.2 (2280)  
Ports
2 USB
2 × RJ45
2 × USB 2.0 Ports
eSATA Port
2 USB
2 × RJ45
Physical dimension
177 × 180 × 235 mm
166 ×199 ×233 mm
Weight
3 kg
2.24 kg
Synology DS920+ has a built-in Intel Quad-Core processor and AES-NI hardware encased in a sleek-edged black plastic chassis.
It features two integrated M.2 2280 NVMe SSD slots onto the base of this NAS device.
Moreover, the 4 hard drive bays locked in a screwless tray will support a maximum of 3.5" SATA drives.
The mesh design on the chassis side panel allows for proper ventilation.
The rear-faced cooling fan has automatic and manual adjustments to keep the system from overheating.
It also comes with alternate cycles to switch it on/off and hibernation mode for drives.
You will also get an accessory pack, power adapter, power cord, and two RJ45 LAN cables for rapid internet linking.
QNAP TS-451 is built of Intel Celeron Quad-core processor, DDRL3 RAM powered up to 8GB, dual LAN port, and last but not least, offers a high frequency of 2.42GHz for processor-intensive work.
Hard disk standby mode, wake on LAN, S3 sleep mode, and scheduled switch on/off are just a name of a few eco-friendly features of TS-451.
QNAP TS-451+also possess LED indicators having 3-level adjustment to change brightness occasionally as per the surroundings.
Is Synology DS920 faster here?
DS-920 brings you connectivity with a Gigabit Ethernet port having a sequential and encrypted write-read speed of 225.9 MB/s.
And guess what, you can multiply the storage capacity 9 times by adding up eSATA drives through Synology DX517.
Its Quad-Core processor has a frequency of 2.7GHz.
Users will observe maximum data balancing and transmission speed of 200mbps given the two ports of Synology.
QNAP also delivers the same read/write speed of 225 MB/s.
But as a plus point, its transfer speed goes up to 204mbps due to the support of AES-256 bit encryption.
Though Synology goes for a maximum CPU frequency of 2.7 GHz higher than QNAP, it still lies ahead with a high-speed transmission rate.
Available models and space variants
Coming from the versatility perspective, Synology offers more variants than QNAP devices. The varieties it offers are DS-220, DS420, DS 720, DS 920, and DS-1520.
Each has a different number of drive bays and storage capacity.
Following the same legacy, QNAP has many variations for this particular series called TS-230, TS-451, TS-431, and TS-932.
There is nothing much different among the diversity of variants, but yes, the money value differs. You will see QNAP making variants at reasonable prices compared to Synology.
Which device has a better Cloud storage interface?
You can make NAS TS-451 your cloud storage, so your android capacity virtually expands.
What's more, direct browsing and file sharing are easy by fusing your TS-451 with common cloud services such as google drive, OneDrive, Dropbox, etc.
You need to incorporate TS-451 with cloud storage gateways and caching to simplify your personal cloud experience.
However, one flaw side of the TS-451 is the complexity of its cloud interface.
On the other hand, Synology offers ease of use in designing the interface clean with more visible elements on the front.
The Synology office enhances the functionality of the public cloud, making it a more reliable and secure private cloud for users. 
Backup and sharing
The file station of QNAP TS-451 gives you the freedom to upload files, make folders, do data extraction, and share via mails, URLs, and so on.
You can access and share files in single-touch by installing QFile on your iOS or Apple TV.
Also, there is no need to run your PC as you can remotely manage TS-451 with Qmanager.
Furthermore, a one-unit configuration in TS-451 makes it easy to remove files from your compromised device.
Its cloud sync app can also be linked with Google Drive and Dropbox for the ultimate syncing experience.
With Synology universal portal, it's easy to access and synchronize data.
Not only does it synchronize and save, but the retrieval of files is also possible.
The DiskStation goes handy with protocols like CIFS, AFP, FTP, or NFS, allowing data collaboration across multiple remote locations and devices.
However, QNAP provides a more comprehensive solution for sharing and backup providing more diverse applications.
How to set them Up?
TS-451 provides you with an app center to facilitate the easy installation of on-demand applications and tools.
It provides tools for data sharing, business management, downloading, backup, and customized apps to boost your business potential.
It also comes with an installation guide for beginners.
Synology has a user-friendly setup that collaborates well with third-party applications to serve business needs.
But they also have an array of first-part tailored applications that conserve data the same way as third-party sources.
The exclusivity of its setup eliminates third-party interference making it more prominent than QNAP TS-451.
It's fair to say that QNAP has a better software side while Synology with simple hardware makes its setup more user-friendly.
How much Noise can you expect out of them?
Considering the noise level, both Synology and QNAP feature an exclusive cooling fan which means you hear a fanning sound while operating.
Synology has two 92mm cooling fans, but its special noise reduction phenomena make you experience no-noise operation.
However, QNAP with one 120mm cooling fan delivers a considerable sound.
Ignoring the slight difference in noise rating, Synology (with 19.5dBA) stands out with its noise moderating mechanism than QNAP.
Do they offer Warranty?
The QNAP TS-451 takes an edge with a 2-year standard warranty and even provides a 5-year warranty coverage on customer demand (with extra charges).
DS-920 comes with an ordinary 3-year limited warranty.