In comparison with DS718+, DS220+ is lightweight and operates on a higher processing frequency, shows faster rpm and writing speeds, and costs lesser but it also comes with lesser warranty period and fewer RAID modes. DS718+ has an extra USB 3.0 and eSATA port as well.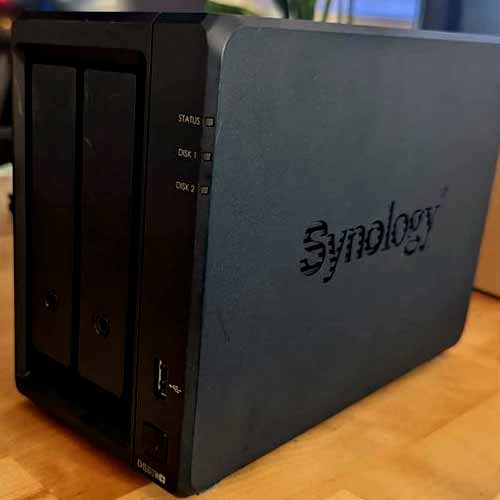 Let's start off by looking at their similarities and differences:
The DS220+
has a sleek look but DS718+ is more user friendly.
shows faster rpm and writing speed in comparison.
While the DS718+
is easier to configure than its competitor.
is comparatively expensive.
Also, the cloud networking efficiency is same for both but DS718+ takes the lead for local sharing and backup services.
Synology DS220+ is a modish looking, black NAS that provides quicker processing and writing functions. Raw capacity of 32 Terabytes along with Synology drive facility makes it an efficient resource for building a personal cloud network.
While the Synology DS718+ is also a 2-bay, tower form storage system but it offers ease of configuration with its swappable drive trays. It is a Quad core processor that run multiple information threads to ensure efficient responses.Three USB 3.0 and an eSATA port provide a high competency of data storage and transfers.
Lets check out these devices side by side.
Comparison of both devices:
| | | |
| --- | --- | --- |
|   |  DS220+ | DS718+ |
| Processor | Intel Celeron J4025 Dual-core 2.0 GHz, burst up to 2.9 GHz | Intel Celeron J3455 quad-core 1.5GHz, burst up to 2.3GHz |
| Installed memory | 2 GB DDR4   | 2 GB DDR3L |
| Compatible drive types | 2 x 3.5″ or 2.5″ SATA SSD / HDD | 2 x 3.5″ or 2.5″ SATA SSD / HDD |
| Interface | SATA III 3.5″ | SATA III |
| Number of bays | 2 | 2 |
| Ports | 2 x USB 3.0 ports 2 x 1GbE (RJ-45) | 3 x USB 3.0 ports   1 x eSATA port   2 x 1GbE (RJ-45) |
Which devices looks better?
Synology DS220+ shows a sleek and clean look in black color. Its dimensions are quite similar to the competitor's but it weighs lesser.
Front view is all plain with a marginal bar having a few LED indicators, buttons and a USB port.
The other USB 3.0 port and two RJ-45 GbE ports are located on the rear side along with power inlet, Kensington slot, reset button and fan exhaust.
It lacks eSATA port so it cannot be connected with external drives.
Another design feature that makes it stand behind in the competition is the lack of swappable drive trays. Instead rear cover has to be opened first to install or replace disks.
In contrast, Synology DS718+ is a tower-form, black colored NAS that has a similar size but larger weight.
It scores a higher position design-wise because three USB ports and eSATA socket allow the user to share data and expand storage through external drives very efficiently.
Components' layout is same though; front side with LED pointers, power and copy buttons and a USB inlet while other external sockets and fan exhaust are visible on the rear side.
Both devices can tolerate extreme environmental conditions alike but DS220+ can operate in relatively lower temperatures.
| | | |
| --- | --- | --- |
|   | DS220+ | DS718+ |
| Height (mm) | 165 | 157 |
| Width (mm) | 108 | 103.5 |
| Depth (mm) | 232.2 | 232 |
| Weight (kg) | 1.3 | 1.74 |
Cloud services comparison:
For cloud storage efficiency, both devices rank the same. Each of these tools enable mutual sync with other commercial cloud services like Dropbox, Onedrive, Google Drive etc.
You can link your accounts from these platforms with your personal NAS storage and keep all of your databases up-to-date.
Comparison of their speed:
DS718+ has a quad core CPU that can operate four processing threads at the same time even yet its sequential writing speed is lesser than its competitor because its processor works at a relatively lower frequency. 
Its rpm speed is 5400 and processing frequency is only 1.5 GHz which burst to 2.3 GHz at maximum.
This makes its ability to encode new data relatively slower thus it shows 184 MBps writing speed.
However, its reading speed (225 MBps) is nearly equal to its competitor.
In contrast, DS220+ takes the lead in the speed test as it works on a higher processing frequency.
Usually, its dual core processor works on 2.0 GHz but this frequency level can burst as high as 2.9 GHz. Its CPU performs 7200 rotations per minute.
Such faster processing allows it to store data very quickly on the NAS disks.
It shows a writing pace up to 192 MB per second. Reading speed is almost identical to the competitor; 225 Mbps.
| | | |
| --- | --- | --- |
|   | DS220+ | DS718+ |
| Rotations per minute | 7200 | 5400 |
| Read (Mbps) | 225 | 226                      |
| Write (Mbps) | 192 | 184 |
Supported OS and browsers of these NAS Devices:
Both of these work with majority of operating systems and internet browsers.
These allow proficient networking if a small team is working on a project and members have different operating systems on their devices.
Because they support both Windows (7 and onwards version) and macOS (10.12 and onwards).
Data can be easily synchronized across Linux, macOS, Windows platforms.
For tablets and mobiles, iOS and Android both are supported.
Similarly, DiskStation storage can be synced and accessed via numerous web browsers including Firefox, Edge, Internet Explorer, Google chrome, Safari while for smartphones Safari (iOS 10 or higher) and chrome (Android 6.0 or higher).
Backup and Sharing differences:
Due to hyper backup system of Synology, both these DiskStation models support a local backup, a network backup and external backup through public cloud services.
These devices use backup tools like DSM configuration backup, macOS Time Machine, and Synology Drive to ensure complete retrieval in case of any data loss.
Similarly, both devices allow sharing and synchronization of files and folders across multiple platforms.
However, DS718+ takes the lead in comparison because it provides a larger number of shared folders and higher snapshot replication efficiency.
Up to 512 folders can be shared via this system.
64 replications of snapshots provide a sound data protection and also speeds up backup process.
Its local backup is even stronger as it enables higher modes of RAID.
DS220+ ranks below in terms of sharing because it can share 256 folders maximally.
Its snapshot replications are half as compared with its competitor as on maximum it enables just 32 snapshot replicas.
Similarly, its support for RAID modes is limited as it only enables RAID 0 and 1.
Setting up these devies:
DS718+ is easier to setup as you can easily pop its drive trays out from the front side when you need to install a disk.
Press on the lower part of drive and pull it out via drive handle.
Mount the hard disk on tray, you may need a screwdriver if you are inserting 2.5'' disks.
Push the drive tray back into drive bay. Use tray key to lock it in its place.
Attach the router via LAN port and power up your device.
Use "web assistant" to install and configure Synology DSM (DiskStation Manager).
On the other side, setup of DS220+ involves an additional step of opening the rear cover to access the drive trays.
However, the rest of procedure is same.
Operational Noise of these NAS Devices:
DS718+ presents comparatively quieter functioning and marks 18.4 dB on the noise scale.
Both devices have same fan size so the difference in noise level is likely due to the difference in processing speeds.
As processing unit of DS718+ has to perform fewer rotations per minute, so it creates lesser sound.
But DS220+ has a faster processing unit that do over seven thousand rotations per minute thus, it produces a lot of mechanical sound, making the device noisier in competition.
Its noise intensity is measured at 19.8 dB.
Lets compare their Warranty:
DS718+ shows better longevity due to its hot swappable drives.
As consumers do not need to disassemble any part of the device for installing HDDs, the gadget is more likely to sustain its performance for a longer time.
Synology backs it with a 3 years' warranty.
Conversely, DS220+ ranks less durable as quick damage is suspected when users open hardware parts by themselves.
It carries a replacement warranty only for 2 years.