In comparison to Synology DS718+, the other variant DS720+ has a more powerful CPU, has slightly higher reading and writing speed, and provides better data backups as well as sharing. However, this device occupies greater space because of its larger size and generates more noise.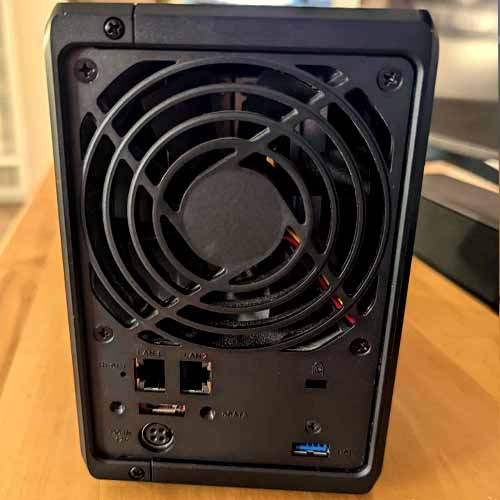 Lets take a look at their differences and similarities before discussing them further:
The Synology DS720+
has a more powerful processor.
provides faster reading and writing speed.
supports higher number of operating systems.
provides superior data sharing and backups.
has better performance at extreme temperature conditions.
The Synology DS718+
produces lesser noise.
has a lower cost.
and has a smaller size. So its more compact.
If we talk about the common things.
The warranty period of both these products is alike.
And both devices have similar browsers compatibility.
The Synology DS718+ exhibits an Intel Celeron J3455 quad-core processor with a frequency of 1.5 GHz that can burst up to 2.3 GHz.
It is a diskless cloud storage device. It comes in with AES-NI hardware encryption and can support 2×2.5 inches or 2×3.5 inches SATA SSD or HDD hard drives with a maximum capacity of 12 TB per drive.
On the other hand, the Synology DS 720+ has a 2.0 GHz bursting up to 2.7 GHz Intel Celeron J4125 quad-core CPU which enables it to provide superb reading and writing speed.
Likewise, it does not come in with pre-installed drives. SATA or HDD drives of size 3.5 or 2.5 inches are compatible with this device. Two M.2 2280 NVM-e SSD can also be attached in place of SATA or HDD hard drives. This device possesses a 2GB DDR3L RAM that can be expanded maximum up to 6 GB.
Comparing Both Devices:
| | | |
| --- | --- | --- |
| Cloud Storage | Synology DS 718+ | Synology DS 720+ |
| Processor | Intel Celeron J3455 quad-core processor 1.5GHz, burst up to 2.3 GHz. | Intel Celeron J4125 quad-core processor 2.0GHz, burst up to 2.7GHz.   |
| Installed memory | 2 GB DDR3L (expandable up to 6 GB) | 2 GB DDR4 onboard (expandable up to 6 GB) |
| Compatible Drive Type | SATA SSD/HDD | SATA SSD/HDD M.2 2280 NVM-e SSD |
| Ports | 2 x GbE RJ-45   3 x USB 3.0     | 2 x GbE RJ-45   2 x USB 3.0     |
Speed:
The reading and writing speed depend on the processor present in the device.
In this case, a more powerful processor is present in DS 720+ with a comparatively higher frequency.
On the other hand, the lower frequency CPU present in DS 718+ allows the processing of fewer threads comparatively.
This makes DS 720+ more effective in terms of speed.
| | | |
| --- | --- | --- |
| Cloud Storage Devices | DS 718+ | DS 720+ |
| Reading Speed | 226 MB/s | 225 MB/s |
| Writing Speed | 184 MB/s | 195 MB/s |
Comparison of Design:
DS 718+ has a sleeky plastic desktop-shaped outer casing.
The majority of the front side is covered by two tool-less exchangeable drive sleds along with two drive status indicators and two drive tray locks.
On the right side of these sleds, there is a power indicator LED, two LAN connectivity status LEDs, one 3.0 USB port, and one USB copy button for transferring data directly from the device to the USB.
A power button is present below the USB copy button with the device name engraved underneath this power button.
On its backside, it possesses a cooling fan, two 1GB LAN ports, a power port, and a reset button.
Two additional 3.0 USB ports are also present on the back panel along with a Kensington security slot. One e-SATA port is available as well.
The design of DS 720+ is almost similar to DS 720+. Just like its competitor, it is enclosed in a glossy plastic desktop shape body.
The front panel contains two hard drives slots along with a drives tray lock for fixing them firmly.
On the right-hand side, there is a power LED indicator and two LEDs for depicting drive status.
A 3.0 USB port is present beneath which a power button along with a status LED is available.
The two-third rear side area is occupied by the cooling fan with dual 1GB ethernet slots.
A power port, reset button, and a Kensington security slot are also present on the back panel in addition to an e-SATA port for connecting this NAS with other devices for expanding its storage capacity.
The DS 718+ possesses a more compact design compared to its peer which enables it to cover less space.
But in terms of device handling, DS 720+ is ahead as it has a lower weight in comparison. Both devices contain a cooling fan of identical dimensions.   
| | | |
| --- | --- | --- |
| Cloud Storage Devices | DS 718+ | DS 720+ |
| Depth (mm) | 232 | 223 |
| Width (mm) | 103.5 | 106 |
| Height (mm) | 157 | 166 |
| Weight (kg) | 1.74 | 1.51 |
| Fan dimensions (mm) | 92 ×92×25 | 92×92×25 |
Backup and sharing comparison:
In terms of storage, both devices are equally compatible as both have familiar RAM and storage capacity along with an e-SATA port which helps to further enhance their storage.
However, supporting a greater number of operating systems makes DS 720+ faintly ahead in terms of data backups and protection.
Both devices have a mobile app for accessing and transferring data anywhere at any time. USB copy button present on 718+ makes it easy to directly transfer the data from NAS to USB.
Setting up these devies:
The setup procedure of these devices is similar and quite easy:
Place the hard drives in the device sleds.
Attach the NAS with a Wi-Fi router.
Power up the device, open the browser, and visit its official website.
Download the latest DSM operating system and create an administrator account.
The maximum operating temperature of both these devices is identical however DS 720+ can work at extremely lower temperatures as well making it more favorable during colder conditions.
The operating humidity and storage temperature of both these devices are alike.
operational Noise of both:
Both these products generate sound as they exhibit a fan that produces certain noise during its working.
Besides possessing similar fan dimensions, the noise level generation of DS718+ is lower making it more effective than its rival in this regard.
| | | |
| --- | --- | --- |
| Cloud Storage Devices | DS 718+ | DS 720+ |
| Noise Level | 18.4 dB | 19.9 dB |