Compared to DS 718+, DS 918+ provides greater writing speed, superior data backups, and security, and is available at a more affordable price. But the device occupies more space, is relatively difficult to handle, and produces greater sound during its operation.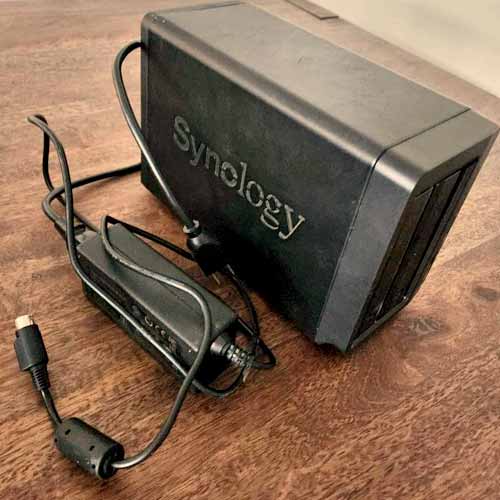 Let's check out the similarities and differences of both these devices:
The CPU of both these devices is identical.
The reading speed of these devices is similar however the writing speed of DS 918+ is greater than its rival.
DS 718+ has a small size allowing it to occupy less space.
The number of browsers and operating systems supported by these devices are alike.
DS 918+ provides superior data backups and sharing.
The setup procedure of these devices is identical and quite easy.
The functioning of DS918+ produces a greater noise level because of the presence of two fans.
The duration of warranty of these devices is alike.
DS 718+ has a greater price tag in comparison to its peer.
A powerful Intel Celeron J3455 four-core processor is available in Synology DS718+ with a frequency of 1.5 GHz that can burst up to 2.3 GHz with an AES-NI hardware encryption engine. 2GB RAM that is expandable up to 6GB present in the device provides satisfactory data backups and sharing. Two hard drives can be inserted into this product.
There are three 3.0 USB ports present in it along with an e-SATA port which allows it to connect with other Synology devices for further expansion of its storage. Two LAN ports of 1GB capacity are present in this product for connecting with other devices like Wi-Fi routers or directly to the computer.
On the flip side, the Synology DS 918+ exhibits a frequency of 1.5 GHz capable of bursting up to 2.3 GHz Intel Celeron J3455 quad-core CPU. A much superior data backup and sharing are seen in this device thanks to a compelling 4GB RAM installed in it which can be expanded to 8GB.
Two 3.0 USB ports and one e-SATA slot are present in it. It is a four-bay cloud storage device with no hard drives priorly installed. Any four SATA SDD or HDD drives or two M.2 NVM-e 2280 SDD drives can be inserted into it thus providing superior drive compatibility.
Comparing Both Devices:
Synology DS918+
| | | |
| --- | --- | --- |
| Cloud Storage | Synology DS718+ | Synology DS918+ |
| Processor | 1.5 GHz burst up to 2.3 GHz Intel Celeron J3455 Quad-core | 1.5 GHz burst up to 2.3 GHz Intel Celeron J3455 Quad-core |
| Inserted memory | 2 GB DDR4 (expandable up to 6 GB)                                  | 4 GB DDR4 onboard (expandable up to 8 GB) |
| Number of bays | Two-bay | Four-bay |
| Compatible Drive Type | SATA SSD/HDD | SATA SSD/HDD M.2 2280 NVM-e SSD |
| Ports | 2 x GbE RJ-45 3 x USB 3.0 1 x e-SATA       | 2 x GbE RJ-45 2 x USB 3.0 1 x e-SATA |
Which device is faster?
The file accessing speed that is reading plus writing speeds of the storage device is determined by the processor installed in it.
In this case, both devices possess similar CPUs allowing identical reading speeds however in terms of writing speed, DS 918+ is ahead as it provides a greater writing speed in comparison.
| | | |
| --- | --- | --- |
| Cloud Storage Devices | DS 718+ | DS 918+ |
| Reading Speed | 226 MB/s | 226 MB/s |
| Writing Speed | 188 MB/s | 222 MB/s |
Which device has a better design?
DS 718+ exhibits a desktop design with matte finishing supported by four legs.
The front panel contains two trays for the installation of two SATA SDD or HDD hard drives with drive status LED and tray lock present on each tray.
Just on the right side of the trays, three LEDs are present one for illustrating the device power status and two for LAN connectivity depiction.
Beneath these LEDs, there is a USB copy button for direct transfer of data from NAS to USB, a 3.0 USB port, and a power button with an indicator.
The backside of the device is covered maximum by the cooling fan. Two 1GB RJ-45 Ethernet ports are present on its rear side.
The left bottom corner contains a power port alongside a reset button.
There are two 3.0 slots for USB on the back panel as well.
Besides this, there is a Kensington security slot as well as an e-SATA slot for connecting several different Synology devices for further storage expansion.
The design type of DS 918+ is also desktop along with matte and glossy finishing.
Unlike its counterpart, the front panel exhibits four drive trays with locks as well for tightly fixing the hard drives.
Four LEDs are present to show the status of these drives' activation and one LED light for showing device power status (ON or OFF).
A 3.0 USB port and one power button along with an indicator LED are also present on the front side. However, a USB copy button is not available in this product.
On the rear panel, two cooling fans are present along with two 1GB RJ-45 ethernet ports. A reset button, power button, and Kensington security slot are available on the rear side as well.
This side also possesses an e-SATA slot and one 3.0 port for USB. The bottom side of this backside contains a separate slot for the installation of M.2 NVM-e SDD drives.
The larger size of DS 918+ makes it occupy a large space compared to its twin. Its weight is also greater than its rival making it slightly difficult to handle.
The overall fan dimensions of both of them are similar.
| | | |
| --- | --- | --- |
| Cloud Storage Devices | DS 718+ | DS 918+ |
| Depth (mm) | 232 | 223 |
| Width (mm) | 103.5 | 199 |
| Height (mm) | 157 | 166 |
| Weight (kg) | 1.74 | 2.28 |
| Fan dimensions (mm) | 92×92 | 92×92 |
System Requirements
The number of operating systems supported by these devices is identical. For MAC operating systems, both of them are compatible with any versions above X 10.11 meanwhile for Windows OS they are supported by Windows 10, 8, and 7.
Sharing/Backup Ability
The performance of data sharing and backup is decided by the device's memory and the number of operating systems supported.
Since both these devices have a similar operating systems compatibility.
However, the greater memory of DS 918+ helps to provide better data protection and sharing in comparison to its competitor.
The manufacturer of these products provides a mobile app to check and transfer data at any time.
DS 718+ also contains a USB copy button for quick and direct transfer of data from NAS to USB.
Set up
The procedure of setting up both of them is quite easy and is given as:
Place the SATA hard drives into the available trays.
Now connect the NAS device with the Wi-Fi router.
Boot up the device, open the web browser, and visit the website of the device.
Download the latest available DSM operating systems after which an administrator account is created for starting up the device.
The criteria for operating these devices are alike including storage temperature of the devices, and operating temperature alongside relatively humidity.
Are these devices Noisy?
During the working of NAS, sound generation is observed due to the fan operation.
Since there are two fans present in DS 918+ there is greater production of noise in it compared to its peer.
This makes DS 718+ more comfortable because of its lower noise generation.
Do they offer Warranty?
There is a certain warranty duration provided by the manufacturer of these devices.
Both these devices however come in with an identical warranty period.
The total warranty interval of these NAS is 3 years in case of any technical problem with the device.
On top of that RoHS certification further ensures that both products are extremely safe for the environment.
Are they expensive?
There is a big difference in the price of both these storage devices.
DS 718+ price is more on the higher side compared to its counterpart.
The highly compelling performance of Synology DS918+ in addition to this low price makes it one of the most preferred NAS devices available in the market.