In terms of performance, the My Cloud EX2 Ultra serves excellently both for home and small workplaces. The EX2 ultra outperforms the EX2 by offering 128K sequential functionality at rates of up to 116MB/s read as well as 112MB/s write.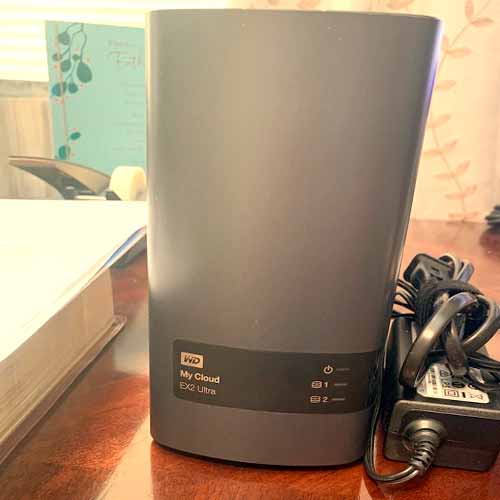 Where within the RAID 1 configuration, the DS218+ with AES-NI provides encrypted speed up to 113 Mbs reading as well as 112 Mbs writing. And the USB 3 provides a higher backup speed. 
Comparing Both:
BTW, you can also compare WD EX2 ultra with Synology DS218 here.
| | | |
| --- | --- | --- |
| | WD my cloud ex2 ultra   | Synology ds218+ |
| Processor | 1.3 GHZ MARVELL armada 385 dual core | 2.0 GHZ Intel Celeron j335 Dual-Core |
| Installed memory | 1GB DDR3 | 2GB 1866 mhz DDR3L |
| Raw capacity | 2, 8, 12TB | 16, 108, 200TB |
| Drives included | 2 x 6 tb red 5400 rpm SATA III 3.5" | 2 x 3.5 or 2.5 SATA SSD/HDD   |
| Interface | SATA III | SATA |
| Speed | 5400 rpm | 7200 rpm |
| Number of bays | 2 x 3.5 | 2 x 3.5 or 2.5 |
| Ports | 2 x USB 3.0 type A 1 X Gigabit Ethernet | 3 x USB 3.0 1 x Esata |
| Physical dimensions | 3.9 x 6.75 x 6.1"/9.91 x 17.14 x 15.49cm | 6.5 x 4.3 x 9.2"/165 x 108 x 233.2mm |
| Weight | 1.8lb or 0.8kg (without hard drives) | 2.9lb or 1.3kg |
Comparison of Design:
The WD EX2 Ultra features a simple, industrial style and measures 6.75 x 6.1 x 3.9 inches (HWD). Hence, this product is equally appealing as other WDs my cloud products.
It resembles a large Western Digital My Book.
The WD My Cloud EX2 (compared with Synology PR2100 here) includes three LEDs on front for power that indicate system and drive status and it has bays 1 and 2.
A black coating surrounds the sides and the front of the machine, offering it a unified and streamlined appearance.
The top and bottom are coated with a vented layer to distribute heat.
The power port, ethernet port, USB port as well as reset button is on the backside.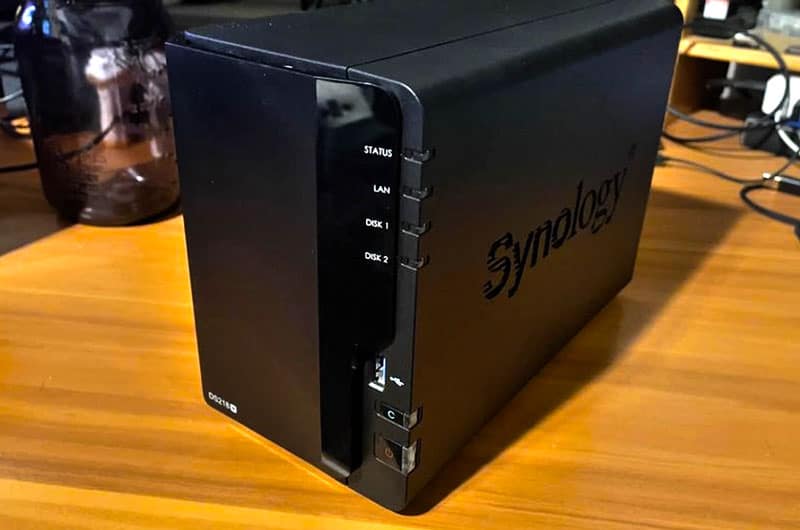 On the other hand the Synology DS218+ is an evolved product of DS218; therefore, the design is similar virtually while the distinction is from interior spec.
The DS218+ model has a dual-core Intel Celeron J3355 processor, which gives it more power.
The 2 drive bays are hidden behind a magnetic flap, and the drives come off effortlessly in tool-free plastic caddies attached with clip-on sidewalls instead of screws. It only takes five minutes to remove or fit the disk. 
In terms of connection, a single USB 3 connector is in front offering fast back up to an external HDD, and on the back, two additional USB 3 ports are present.
Difference b/w My Cloud EX2 Ultra and My Cloud Mirror
What models do they offer?
Four models are there for cloud ex2 ultra. Diskless, 4tb, 8tb, and 12tb.
If you want to make the model according to your wish, you can go for diskless and can add drives however you like while keeping compatibility in your mind.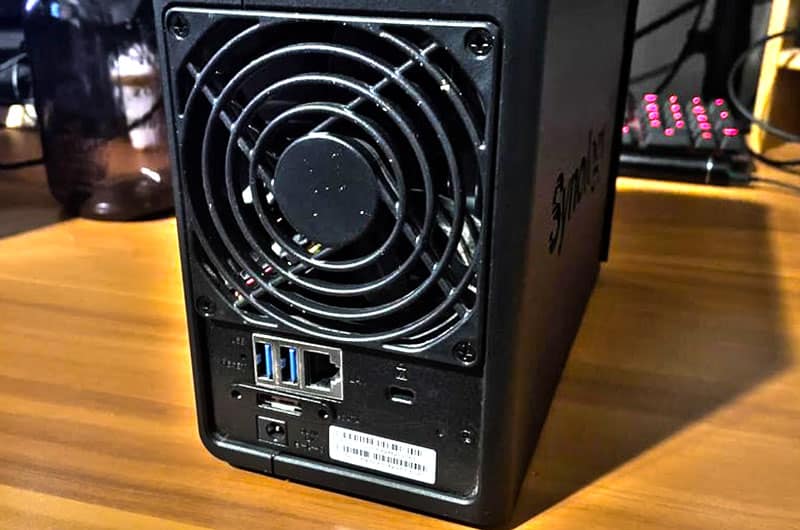 And for Synology, as it is previously discussed that DS218+ is the evolved model of ds218, the other model from sinology includes, DS218play and DS218j, and each has a capacity of 24TB. 
What's their Cloud interface like?
If you want to stream throughout the workplace and offer storage for a large number of individuals, the EX2 Ultra is an affordable solution.
The cloud EX2 ultra has a 1.3ghz dual-core Marvell armanda processor along with the 1GB memory. 
The interface is very easy to use.
The EX2 Ultra's attractive, modern design is heavily graphic.
There is a considerable amount of in-UI support and explanations on the different settings.
The homepage displays info such as free space, cloud devices list (connected with EX2 remotely), real-time network activity monitor, and much more.
The Synology DS218+ is intended for remote users or small companies looking for a simple, and dependable distributed storage options, with the ability to increase the 2 GB RAM up to 6 GB RAM to handle intense workloads.
The dual-core 2.0 GHz processor has a 2.5 GHz frequency.
Synology surveillance station is a dependable private-security system with easy video management features.
It has an attractive desktop-like interface that can handle numerous IP cameras linked to DS218+.
Surveillance Station provides an optimized live view and simplified real-time monitoring.
Its advanced analytics, including movement recognition and alert notification, keep you aware of any suspicious behavior by SMS, e-mail, or DS cam smartphone apps.
Supported OS and browsers: 
Unlike the desktop operating system, which have icons and window, my cloud EX2 ultra has tabs as well as sidebars.
It splits the storage wisely and gives you options like movies, music, photos, and many other things. 
The Users part allows simple ways to add users, set up passwords, specify who may access certain network shares, and apply disc space limits, whereas the Shares section enables it simple to create as well as configure network shares.
Each user has their id and once the user and password are set, you can easily log in either through the application or via browser.
However, while downloading files, you can only go for zip files as it does not permit downloading multiple files simultaneously.
As for the Synology DS218+, it has its OS named DSM which permits you to give access to storage from any place.
It also provides its package manager from which different applications from media to plex server can be downloaded.
Hence, it is not only for storage purposes, but it also allows entertainment. 
DSM is web-based and comes along with sinology NAS. Synology office helps you in making documents, presentations, or spreadsheets excellently.
It permits messaging via the chat plugin.
The best feature is you can convert your sinology office docs to word, ppt or excel and vice versa very easily. 
A surveillance station can be used along with this device and allows you to have a live view of what is happening at the time. 
The DS218+ provides a comprehensive media managing option regarding multimedia requirements.
The Synology NAS may allow watching movies, Television series, and other entertainment.
You may stream films to a variety of devices, including your tv, cellphone, and media player.
Which has better Backup/sharing?
My cloud EX2 ultra:
It provides various backup options.
Remote back up
Internal files or folders back up (to other NAS or attached USB files or folders)
Cloud-based back up
Apple time machine (personalized backups)
Elephant drive
Amazon s3
Through public or private links, you can simply modify sharing.
You may share your material using a public URL so that everyone can view it.
You may provide a person with restricted or complete access and secretly work with anybody via a private connection.
The max user numbers are 512 (samba), 800 (ads)
The max user groups numbers are 64 (samba), 200 (ads)
The max network sharing number is 128.
Synology DS218+
It has hyper back up which supports:
Local back up
Network back up
Data back up to the public cloud
It provides active server backup which includes:
Back up of centralized data for windows
Linux server with no installation 
Back up tools include:
macOS time machine support
DSM configuration 
Cloud station
The max user numbers are 2048.
The max user groups numbers are 256.
The max number of folder sharing is 256. 
Setting up these devices:
My cloud EX2 ultra:
Plugin NAS to your network and switch it on.
Search mycloud.com/setup.
The setup will ask you to choose a password to register your cloud account.
Once the account is created, you will have access to share on the drive. 
Synology DS218+
Connect NAS after you hear a beep followed by turning on.
Search find.synology.com or diskstation:5000 for set-up.
If the latter does not help, try installing a Synology assistant.
Click set up and then 'install now.'
Enter the asked details i.e server name, username, and password.
After clicking next, choose DSM installation updates.
S.M.A.R.T and the bad sector will remain ticked. 
Select quick connect and create an account. Copy your new URL.
Complete the wizard setup. 
What about Noise?
My cloud EX2 ultra does not produce much noise. However, if you find it making noise or getting hot, it must have a good reason for it.
Synology ds218+ makes the noise level of 19.3 dba. 
What about Warranty?
My cloud EX2 ultra has a warranty period of 3 years if it is preconfigured and 2 years if the model is diskless.
Synology ds218+ has a limited warranty period of 2 years. 
Summing Up:
The writing, as well as the reading speed of both, are excellent.
The warranty period of cloud EX2 ultra is 2-3 years while for Synology it is limited to 2 years.
Cloud ex2 ultra is less noisy in contrast to Synology ds218+. 
Back up and sharing are more effectively offered by Synology ds218+. 
Both can be browsed either through the web or can be installed via an application on smartphones.