Both options are great. But at the end of the day it depends on your needs, which one would you want to get. Let's check out these devices to find out. WD My Cloud EX2 is a two bay Network Attached Storage (NAS) device, that has a high performance and will suit the needs of a small office or home.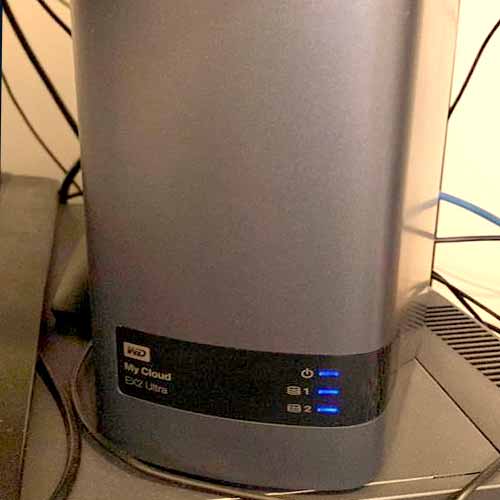 This NAS device has a 1.2 GHz processor with 512 MB memory. Both the processor and memory are reliable enough to save all files and quickly stream all the files to any device that is connected to a cloud device. 
Looking at WD My Cloud PR2100, this NAS device also has two bays.
However, it is a quad core Intel Pentium N3710 Processor along with a memory of 4GB. Together, the processor and memory allow streaming of files, access them, and store them without any lags or interruptions.
Furthermore, the PR2100 offers higher storage capacity options than EX2. This large amount of space is sufficient for professional editors and creative individuals who work on graphics, movies, or photos.
In addition, the Quad core Intel Processor is capable of handling such large files better than EX2.
Since such bulky files require a faster processor, the 1.6GHz base frequency can be upped to 2.56GHz. This speed is more than enough for even users who truly depend on NAS devices. 
Comparing both NAS Devices:
WD My Cloud PR2100
WD My Cloud EX2
Processor
Intel Pentium N3710 Quad-Core 1.6GHz Processor (2.56GHz Burst)
1.2 GHz Processor
Installed memory
4 GB DDR3L Memory
512 MB Memory
RAW capacity
0 TB/Diskless, 4 TB, 8 TB, 12 TB, 16 TB, 20 TB
0 TB/Diskless, 4 TB, 6 TB, 8 TB
Drives included

2 x 10 TB 3.5″ HDD
2 x 2 TB 3.5″ HDD
Number of bays
2 x 3.5″
2 x 3.5″
Ports
2 x RJ45 (Gigabit Ethernet)
2 x USB Type-A (USB 3.1 / USB 3.2 Gen 1 (5 Gb/s))
1 x RJ45 (Gigabit Ethernet)
2 x USB Type-A (USB 3.1 / USB 3.2 Gen 1 (5 Gb/s))
Weight
4.85 pounds
1.80 pounds
Design Comparison
WD My Cloud EX2 is portable and good enough for frequent travelers.
This NAS device is an excellent choice for small business owners, small teams, pro users, an office with 5 users, or even just for people who are serious about backing up, sharing, managing, and streaming files that will be sufficient in 8TB.
The WD EX2 model shares almost the same features as the original My Cloud and the My Cloud EX4.
The body of WD EX2 has a casing of black plastic.
There is a touch of matte that wraps from the front to the right side and holds three light indicators.
The indicators indicate the following: power, bay 1, and bay 2 status. 
The bays are located on the backside of the device.
In addition, the backside of the device has two USB 3.0 storage expansion ports, a power port for charging purposes, an Ethernet port that connects to the internet, a reset button, and a Kensington lock slot.
Besides, the WD EX2 is cooled due to the good ventilation around the top, bottom, and back.
The ventilation helps in getting rid of the excessive heat produces when the NAS device is powered on and working. 
The WD PR2100 is the right NAS device for professionals who work on bulky files, need access to their files anywhere, need to store high quality or format files on a device.
A team of a maximum of 12 individuals can make good use of a single PR2100. 
WD My Cloud PR2100 also has a black covering all over it but instead of plastic, a sandblasted metal is used.
The bays are present on the face of the device, which has no lock system but can easily be latched on and off the fixed spaces of the bays.
The latch system is effortless, occurs smoothly, and does not consume more than a minute.
However, the front grills of the bays will require dusting occasionally as dust may accumulate in the grills.
In addition to the two bays, the front face of WD PR2100 has a USB 3.0 connector port, two buttons (one touch copy and a power button.)
The one touch copy buttons function is to quickly transfer the contents of the USB attached device.
The power button shines blue when the NAS device is in use, and everything is working right.
The power button turns red when the device is either low on battery or needs the attention of some sort. 
On the backside of the WD P2100, a cooling fan, a second 3.0 USB connector port, dual gigabit ethernet. double power connectors are present.
The power connectors support abrupt power failure.
The two power connectors not only keep the data safe but also allow users to connect the NAS device to a second power source to provide protection from power supply failure.
A Kensington, external power supply, and a single ethernet cable is also present.
This model has no LCD display. 
Available Models and Space Variants
The WD My Cloud EX2 is also available as EX2 Ultra. This model of EX2 has a high performing 1.3 GHz Marvell Armada 385 processor with 1GB of DDR3 Memory.
Both the processor and memory help with multitasking. lag free streaming and managing with strong.
The storage capacity of EX2 Ultra has an addition of 12 TB, 16 TB, 20 TB, 24 TB, and 28 TB. And just like EX2 this model also has two bays. 
WD My Cloud PR2100 has another pro series model named PR4100. The PR4100 has an Intel Pentium N3710 1.6 GHz quad-core. The speed can be leveled up to 2.56GHz.
A just like the processor can be expanded the 4 GB of DDR3L is expandable to 16 GB of DDR3L.
Moroever, My Cloud PR4100 has storage starting from 0 TB/Diskless, 8 TB, 16 TB, 24 TB, 32 TB, 40 TB. Unlike the PR2100, the PR4100 has four bays instead of two. 
Cloud storage interface
For both the WD My Cloud devices; EX2 and PR2100, the storage capacity can be expanded with one simple connection.
A USB hard drive can be attached to one of the two USB ports present on the NAS device. This will instantly expand the storage capacity.
So, the plus point is, running storage on a NAS device is not a big concern, users have an option of opting for more capacity through hard drives. 
Supported OS and browsers
For both the NAS devices; EX2 and PR2100, the options of supported OS and browsers are pretty extensive. Users need to ensure that their browser and operating system works with the WD. 
WD My Cloud EX2 supports Twonky DLNA certified, 1.5 media server and has a built in iTunes server.
All these servers aid in the streaming of videos and photos.
They also connect to media players and games consoles.
Users also have the option of downloading and running third party apps such as aMule, Transmission, Icecast, Joomla! phpBB, phpMyAdmin, SqueezeCenter and more.
Backup and Sharing
Data on My Cloud EX2 can be backed up through another NAS device, RAID 1, integrated cloud backup, USB, or through LAN/WLAN backup depending on the user's needs.
For PC users WD SmartWare Pro is available and for Mac users Apple Time Machine is available.
The data can be managed and protected with multiple drive management options such as RAID 0, 1, JBOD, and Spanning. But for P2R100 RAID 0, 1 and only JBOD modes are available. 
The feature of Cloud OS 5 is present on both of the WD devices. The Cloud OS 5 has all the latest security and data privacy updates.
The My Clouds mobile and desktop app allows the user to experience an improved and advanced sharing, accessing, viewing, and uploading of photos and videos.
Users can easily transfer files from other cloud accounts to their My Cloud.
The app allows access to all files anywhere at any time with an Internet Connection.
My Cloud PR2100 has Western Digital Software Acronis True Image that offers secure cyber protection and backup with an AI-based defense against cyber threats.
The Acronis True Image backs up OS, applications, data, and files. 
Setup
WD My Cloud EX2 and PR2100 both have hardware and software that are easy and quick to set up. Users have to power the NAS device and plug it into the network they are currently using.
As soon as the device is plugged in, switch the power button on for the device.
Turn the web browser on mobile or desktop, the GUI will automatically detect the NAS and initiate the setup wizard.
Users can instantly start using the device as a backup and shared storage space.
The default settings of the WD device have three folders: Public, SmartWare, and Time Machine Backup.
The public folder is for storing public data, the SmartWare is for backups for Windows and the Time Machine Backup is for Mac.
The public is for Windows as well. 
Noise
Since the workload of My Cloud EX2 is not as much as P2100's, EX2 is relatively a silent model than P2100.
Although P2100 is integrated with a quad core Intel Processor, the bulk of the files creative professionals use and move around can cause the hard drives to overwork.
This results in sounds from the cooling fan. The sounds are comparatively the loudest from the fan when the NAS device is switched on.
However, as a couple of minutes pass by, the sounds quiet down but not enough to say that this model is not super noisy. 
Hence, because of the noisiness of P2100, placing the device can be a bit of a challenge. Quiet Work environments may not be the best place to put the device in.