Compared to QNAP TS-253D, the other variant TS-453D has more storage, making it a better choice for the users. However, it is heavy and makes more noise than TS-253D.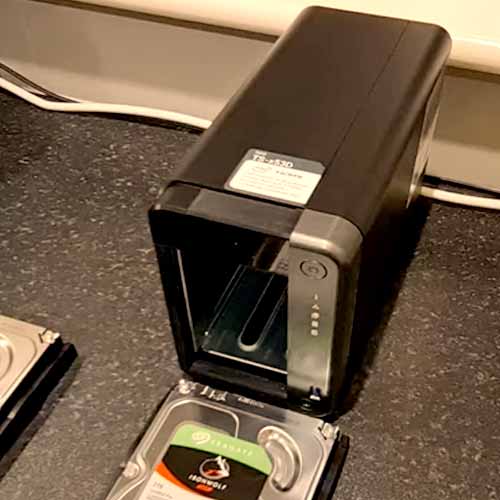 Differences and Similarities of both NAS Devices:
The QNAP TS-253D:
has 2 drive bays while other has 4.
has larger raw storage capacity.
is more cost effective.
generates less noise of 17.1 dB compared to 21.1dBs.
QNAP 453D on the other hand:
has relatively higher speed.
And has a bigger cooling fan.
QNAP TS-253 is especially designed for home users and small businesses to solve their storage problems.
With so much raw capacity, there will be no storage issues for backing up your data.
It will also keep your data safe and secure from any cyber-attack and even if you accidentally delete your data.
You can also easily share and transfer files on it by Hybrid Mount and VJBOD Cloud.
While on the other side, the QNAP TS-453D is a quad-core NAS along with a transfer speed up to 5 Gbps.
This solves storage problems for many users as it provides a safe way to backup and share the data without losing it.
AES-NI encryption enhances its performance and lets you install the SSDs for Cache to boost the storage performance.
Comparing Both Devices:
QNAP TS 453D
SPECS
QNAP TS-253D
QNAP TS-453D
CPU
Intel Celeron J4125 4-core/4-thread processor, burst up to 2.7 GHz
Intel Celeron J4125 4-core/4-thread processor, burst up to 2.7 GHz
Processor
Intel HD Graphics 600  
Intel HD Graphics 600
Installed memory
4 GB DDR4
4 GB DDR4
RAW capacity
60 TB
96 TB
Drives included
2 x 3.5-inch SATA 6Gb/s, 3Gb/s
4 x 3.5-inch SATA 6Gb/s, 3Gb/s
Number of bays
2 x 2.5″ / 3.5″
2 x 2.5″ / 3.5″
Ports
2 x USB Type-A
3 x USB Type-A
1 x HDMI Type-A
same
Does QNAP TS-453D has a better Speed? 
Both NAS devices deliver speed of up to 2.3 Gbits / sec.
They work fast and give good performance.
They have read and write speeds of 2.3 Gbits / sec.
You can transfer files at speed up to 2.5 GbE with the help of CAT5e cables, and thus it becomes very affordable for the users.
PCle also gives you the liberty to expand the NAS up to 5 GbE and 10 GbE, if you want a system with higher speeds.
Hardware and Design Differences
TS-453D is a redesign of framework of TS-453BT, TS-453Be and TS-453B while TS-253D is a redesign of TS-253B and TS-253Be.
Both are made of plastic as QNAP has shifted towards devices that are user friendly, can be used in homes too and they produce less noise.
Their design is very minimalistic yet elegant, and can sit well in any area of your home or office.
LCD panel from the front has been removed, and multiple LEDs are installed that denote the power of the NAS, the NAS status, its general activity when read or write action occurs, and the access of the drives.
Power button is placed on top of the system and a USB quick copy button is placed at the bottom right.
They have multiple USB 2.0 and 3.0 ports also that helps in transferring, syncing and sharing your files. TS-253D has 2 drive bays while TS-453D has 4 bays.
Each drive bay has a plastic tray that stores a 2.5" or 3.5" hard drive.
Metal trays are not used as they will produce a lot of noise and vibration.
Moreover, both devices have a cooling fan too.
| | | |
| --- | --- | --- |
| Physical Characteristics | TS-253D | TS-453D |
| Weight (lbs.) | 3.5 lbs | 5.0 lbs |
| Height (inches) | 8.9 | 8.9 |
| Width (inches) | 6.61 | 6.9 |
| Depth (inches) | 4.13 | 6.61 |
Available Models and Space Variants
QNAP TS-253 has three available models, and TS-253D is the best among these.
Others are TS-253B and TS-253Be.
However, QNAP TS-453 has four available models, and TS-453D is the best among these.
Others are TS-453BT, TS-453Be, and TS-453B.
Which device offers better Cloud services?
Both devices offer a smooth and user-friendly cloud storage interface.
Backup and syncing occur through Hybrid Backup Sync and then data is easily stored to a cloud storage space like Dropbox, Microsoft One Drive, Google Drive, etc.
QNAP TS-253D offers 118 surveillance, backup, business and entertainment apps while the TS-453D variant has around 100 apps available.
Supported OS and Browsers
These devices support several softwares such as macOS 10.10 or Later, Windows 7, Windows 8, Windows 10, Windows Server 2008 R2, Windows Server 2012 R2, Windows Server 2012, Windows Server 2016, Windows Server 2019, Linux, UNIX, Ubuntu 14.4, and CentOS 7.
These NAS by QNAP support browsers like Chrome, Internet Explorer, Firefox, and Safari etc.
Backup and Sharing
QNAP has great backup solution for your storage problems.
Backup replicator helps you in backing up your data of both windows and Mac.
You can store, sync and transfer data with the help of an amazing feature included in these devices i.e., HBS.
It reduces the size of your data and securely stores it.
Thus, you will not have to worry about any malware or loss of data.
How much Noise do you get with them?
TS-253D produces noise of around 17.1 dB and TS-453D produces noise of 21.1 dB, slightly higher than that of TS-253D.
This noise production is due to cooling fans and the fan of 453D is bigger in size.
| | |
| --- | --- |
| Noise Level |  Db |
| TS-253D | 19.1 |
| TS-453D | 21.1 |
How much Warranty do they offer?
Both these devices have a warranty of 3 years.
However, you can extend it within the nine months of the purchase according to the terms and conditions of the company.