Both cable modems have the same parent company Netgear and both of them do not have the facility of built-in router.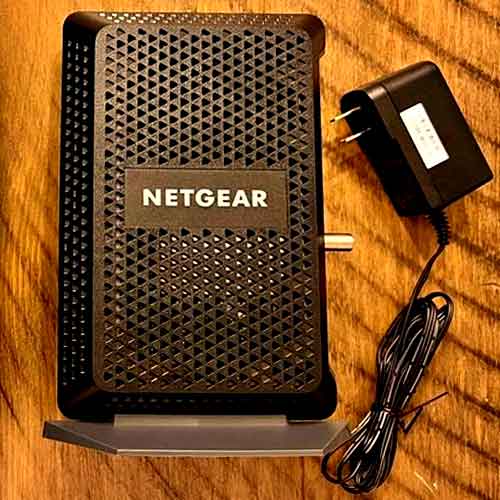 Both modems similarities/differences, put simply:
Both modems can be easily installed.
They provide identical local interfaces.
For the Netgear CM1000, the upload and download speed is higher compared to its competitor. The performance of the device is also better due to its more compelling chipset.
On the other side, the smaller size and lower weight make CM500 easier to handle. It is available at a cheaper price as compared to its peer.
Compared to CM500, the Netgear CM1000 provides a higher downloading speed, WLAN connectivity as well as an up-to-date DOCSIS version for easy and more reliable internet connection. However, it has larger size, more weight, and higher price.
Side By Side Comparison:
Netgear CM 500
Netgear CM1000
| | | |
| --- | --- | --- |
| Specifications | CM500 | CM1000 |
| Manufacturer | Netgear | Netgear |
| DOCSIS | 3.0 | 3.1 |
| Downstream channels × Upstream channels | 16×4 | 32×8 |
| Ethernet ports | 1× Gigabit | 1× Gigabit |
| Memory | 8 MB Flash 128 MB RAM | 128 MB Flash 256 MB RAM |
| Warranty | 1 year | 1 year |
Overivew of both devices:
The Netgear CM500 possesses DOCSIS 3.0 version providing 16 channels for downstream and 4 channels for upstream. The downloading speed ranges up to 686 Mbps, which is good enough for streaming HD videos and high-speed gaming.
It works with all major Internet Service Providers including Coax, Xfinity, Optimum, and Spectrum. The 3.0 version of DOCSIS provides faster speed than the conventional 2.0 version. It supports the IPv6 standard to easily access numerous web pages.
On the contrary, Netgear CM1000 contains the latest DOCSIS 3.1 version providing double downstream and upstream channels compared to its counterpart that is 32 and 8 channels respectively, to give effective and reliable internet access.
It supports a downloading speed of approximately 1 Gbps. It works with a wide range of ISPs including Xfinity, Cox, and Spectrum.
The connectivity technology of this modem includes both LAN and WLAN. Any Wi-Fi router can be connected to its Ethernet port to support any wireless device (Mobile, Laptop).
Like its peer, it has a similar internet standard of IPv6 to open several different Internet sites.
Installation and Activation of Modem
Netgear CM500 can be installed as follow:
Connect a coaxial cable.
Connect the power adapter to the modem and turn on the button.
Connect the Ethernet cable from the Gigabit Ethernet port of the cable modem to the Ethernet port of the computer.
Reboot the computer.
For activating the internet, visit the website of the cable service provider and follow the given instructions.
Netgear CM1000 can be installed in the following manner:
Turn off the existing modem and router.
Connect a coaxial cable.
Connect the power adapter with a cable modem and supply electricity to the modem by plugging it into an electric source.
Turn off the computer which is to be connected with the modem.
Use an Ethernet cable to connect the LAN port of the modem with the Ethernet port of the computer.
Turn on the computer.
For the internet activation, follow the same procedure. Visit the cable provider's official website and after following the instructions, the internet is activated.
Both modems have almost identical methods of installation. Similarly, they have identical operating temperatures and humidity.
How different are they in terms of their Hardware/Design?
Netgear CM500 has a vertical plane design so it can be effectively placed anywhere.
It has a power button, power adapter input, LAN Ethernet port, a reset button, and a coaxial cable connecter in the back panel.
The front panel contains five status lights that are for power, downstream, upstream, internet, and ethernet similarly in the top to bottom order.
Only a single Ethernet port is available for connection with other devices. The packaging contains a separate Ethernet cable and a power adapter.
The design of Netgear CM1000 is different compared to its peer. It contains a mesh type design which gives this modem a unique look. The front panel of this modem contains similar five-status LED lights.
The product label is mentioned on the side of the modem along with the serial number and MAC address and login information.
The back panel also contains a reset button, one Ethernet port, coaxial cable connector, power button, and adapter input.
It contains Ethernet connecting wire and a power adapter separately in the package.
The overall dimensions of Netgear CM500 are lower causing it to be smaller and easier to operate.
This makes it ahead of its rival in terms of handling.
| | | |
| --- | --- | --- |
| Physical Characteristics | CM500 | CM1000 |
| Weight (lbs.) | 0.62 | 0.95 |
| Height (inches) | 2.36 | 5.9 |
| Width (inches) | 7.28 | 3.4 |
| Length (inches) | 4.88 | 8.8 |
Which modem has better Compatibility?
The latest IPv6 standard is present in both these modems, allowing them to minimize the routing table sizes and provide effective and hierarchical web browsing.
Internet Service Providers (ISPs)
 Both modems work with some well-known ISPs including Xfinity, Cox, Spectrum, and some other famous companies.
Both modems can be used for Microsoft Windows 7, Windows 8, Windows 10, Vista, XP, 2000, Mac OS, or any other operating systems running a TCP/IP network.
The modems support Microsoft Internet Explorer 5.0, Firefox 2.0, Safari 1.4, Google Chrome 11.0 browser, or any higher versions.
Which device has a better overall Performance?
Netgear CM500 supports DOCSIS 3.0 meanwhile CM1000 has DOCSIS 3.1 which indicates that the latter one provides better downloading and uploading capacity.
The downstream and upstream channels of CM500 are less compared to its peer thereby this modem provides lower browsing speed.
The latency of CM1000 is also lower because of its comparatively powerful chipset.
Overall, the performance of Netgear CM1000 is superior to its competitor providing commendable performance during high-speed conditions.
| | | |
| --- | --- | --- |
| Performance | CM500 | CM1000 |
| Download Speeds (Mbps) | 686 | 1000 |
| Downstream Channels | 16 | 32 |
| Upstream Channels | 4 | 8 |
Security
The chipset present in the modem plays a very key part in providing high security.
Since the chipset present in Netgear CM1000 is more powerful thus it provides more secure web browsing compared to its rival, thus, lowering the chances of security issues.