These are budget-friendly modems for small networks with low to moderate workload. Both of these comply with DOCSIS 3.0, have RAM volumes up to 128 Mb, and carry gigabit Ethernet ports for efficient LAN connections.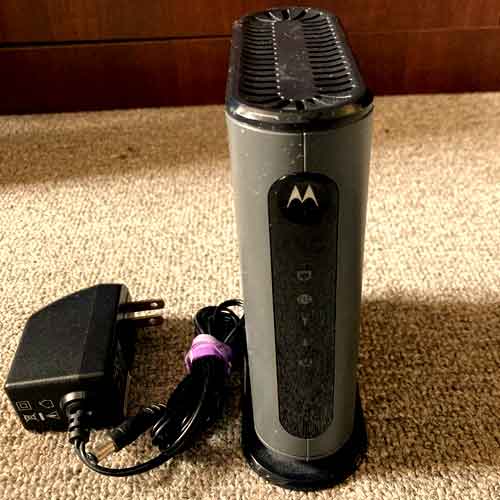 Their recognized chipsets are manufactured by Broadcom and provide consistent data streaming without latency issues.
Here the Motorola MB7420:
is a relatively lightweight and compact device.
provides faster speed for downstream functions.
and has a longer replacement warranty in comparison.
On the other side, the Netgear CM500:
has larger flash memory and shows better upstream efficiency.
costs a bit lesser than its competitor.
and shows a contemporary, clean and sleek design.
In comparison with CM500, Motorola MB7420 shows a higher downstream rate, compatibility for faster internet plans, and comes with a 2 years warranty. On the other side, CM500 offers faster upstream functions, larger flash memory, and a lower buying expense.
Side By Side Comparison:
Netgear CM 500
Motorola MB 7420
Specs
Netgear CM500
Motorola MB7420
DOCSIS
3.0, 2.0
3.0, 2.0, 1.1
Channel bonding
16×4
16×4
Ethernet connections
1× Rj-45 Gigabit
(10/100/1000)
1× Rj-45 Gigabit
(10/100/1000)
Flash memory
8 Mb
4 Mb
RAM volume
128 Mb
128 Mb
Warranty
1 year
2 year
Overivew of both devices:
Motorola MB7420 is a grey-colored, compact, and vertical modem that allows 16 downstream and 4 upstream channels for data transfer, resulting in fast operations.
It provides reliable modulation for all internet protocols as it is dual-stack compatible with the latest IPv6 as well as earlier IPv4 standards.
The Netgear CM500, on the other hand, shows a modish outlook in plain black color, it has slightly larger dimensions and weighs heavier as well
With auto-sensing one gigabit Ethernet and larger flash memory, it offers optimized LAN connectivity and ensures quick data transfer. BPI security structure provides proficient encryption, making it secure against cyber threats.
How to activate and configure?
Each of these gadgets can be set up easily through simple steps as follows;
Attach coax cable from ISP connection to the WAN port.
Connect a computer or wi-fi router with the modem through the GbE port.
Plug in the power and use your PC to get access to the activation webpage of your service provider to activate your device.
Some service providers may require you to contact them through call instead of web activation.
The user manuals of both devices enlist the contact numbers of most ISPs.
For changing the configurations of the modem according to personal choice, log in to the modem using the 192.168.100.1 IP address to access settings.
How different are they in terms of their Hardware/Design?
The outlook of Motorola MB7420 is relatively aggressive characterizing a vertical, greyish, and rounded design. It is lightweight and compact in size as well.
The front view only shows some status indicating LEDs while the power jack and switch, Ethernet port, reset button, and coax cable connector are located on the back panel of the device.
It is equipped with a BCM33843D chipset from Broadcom that enables it to provide quick processing of commands. It does not include any wifi router.
CM500 from Netgear shows a sleek, cleaner, and modish look in comparison, taking the lead for its smart layout.
It has a black, vertical, and boxed design with curved edges.
A curved base supports the main body and also adds an elegant design element.
Status indicators show up on the front side while the GbE port and other external sockets are present on the backside.
A Wi-Fi router is not incorporated into this device as well.
Moreover, its chipset is the same as that of its competitor.
These systems can work in extreme temperatures without compromising on efficiency as their range for operating temperature is quite wide.
Which device has a better overall Performance?
Both CM500 and Motorola fulfill the standards of DOCSIS 3.0.
Hence, their QAM modulation and frequency ranges for upstream and downstream channels are the same.
It means both of these provide the same bandwidth for data transmission.
Additionally, these are backward compatible with earlier versions of DOCSIS, providing a reliable facility to modulate internet from low-end service plans.
Both systems specify the same channel bonding scheme, allowing 16 channels for downstream and 4 channels for upstream signals.
These devices show differences when it comes to speed. Motorola Mb7420 has a better ability to receive and process data, thus, it shows a faster downstream rate.
But its upstream efficiency is lesser than the competitor, this property is credited to its lesser flash memory which is half the memory of its contestant.
Netgear CM500 presents relatively slower downloads but its upstream speed is measured high in comparison. Larger flash memory enables quick inputs and faster uploads.
| | | |
| --- | --- | --- |
| Possible Speeds | CM500 | MB7420 |
| Upload Speeds (Mbps) | 132 | 123 |
| Download Speeds (Mbps) | 680 | 686 |
Broadcom BCM33843 employs SoC gateway cable technology which distributes traffic over streaming channels such that there is no load over a single path instead the data is transmitted via different routes at the same time.
In this way, immediate responses are shown and download delays are minimized
Which modem has better Compatibility?
Both modems have compatibility with the latest IPv6 standards of internet protocol and show backward support for IPv4 as well.
Internet Service Providers (ISPs)
Both modulators show compatibility for Cox, Spectrum, Xfinity, and other US cable internet service providers.
The Motorola MB7420 ranks higher in this respect as it supports internet plans with speeds up to 300 Mbps for Comcast and other ISPs.
For consumers using Spectrum service, Netgear CM500 provides better efficiency by showing compatibility for 400 Mbps plans. However, its performance ranks lesser than other internet providers.
It supports Xfinity plans with up to 200 Mbps speed and Cox plans with up to 150 Mbps speed.
These modems can be operated via any device as both of them support Windows, Mac, Linux, and UNIX systems. Web surfing ability is available for all major web browsers out there.
Wifi router is not incorporated in any of these systems so, the users need to purchase an external router to build a small office or home network. Any router with Gigabit Ethernet connectivity works well with these devices.
Security
For secure telecommunication, DOCSIS 3.0 utilizes BPI/SEC mechanism. It is a protective software integration having three main components BPI+, SSD, and EAE. These systems encrypt and screen the data to prevent hacking, unauthorized access, and malicious downloads.
Warranty
The gadget from Motorola takes the lead when it comes to longevity as rounded edges make it physically more sound and robust. The company backs it with a warranty for up to 2 years.
CM500 is fairly durable, offering optimum modulation for a long time. However, it stands behind the competition as its manufacturer assures functionality only for 1 year with a replacement warranty.