Motorola MB7420 and Motorola MB7621 are powerful cable modems where the Motorola MB7420 is verified by Comcast XFINITY, Comcast Business, Time Warner Cable, and other advanced cable service suppliers and the Motorola MB7621 is validated by Comsat XFINITY along with some other prominent service providers. However, both devices lack the facility of built-in Wi-Fi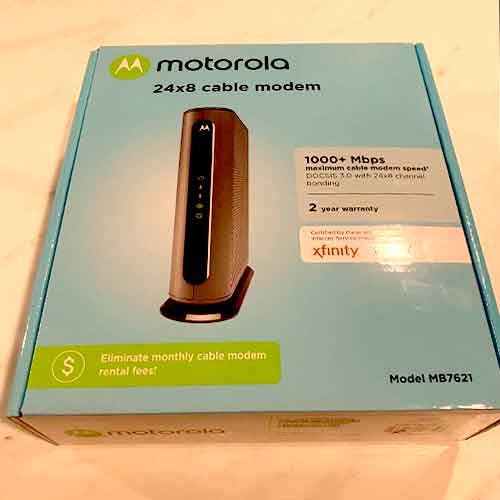 Let's start by quick run down on both of these cable modems.
First things first, both of these modem devices are very easy to installed, so no issues there.
The Motorola MB7621 provides higher upstream and downstream speed compared to its counterpart. It's performance during high-speed stress conditions makes MB7621 ahead in this regard.
The Motorola MB7420 on the other side, has a slightly compact design, so it's a little bit easier to handle. And the modem is also overall cheaper (though prices vary).
Also, both variants of Motorola come with similar warranties. The manufacturer provides a warranty of two years for both these devices.
These modems are CE-certified, therefore, are completely safe from the environmental regulation viewpoint.
Let's take a look at both of them in detail and see which out of them provides you with better value to money product overall.
Side By Side Comparison:
Motorola MB 7420
Motorola MB 7621
| | | |
| --- | --- | --- |
| Specification | Motorola MB7420 | Motorola MB7621 |
| Dimensions | 4.9×2×6.1 inches | 7.25×2.25×7.88 inches |
| Operating Temperature | 0 to 40°C | 0 to 40°C |
| Warranty | 2 years | 2 years |
| DOCSIS Standard | 3.0 | 3.0 |
| Download Speed | Up to 686 Mbps (16 channels) | Up to 1000 Mbps (24 channels) |
| Upload Speed | Up to 123 Mbps (4 channels) | Up to 246 Mbps (8 channels) |
| Application Protocol | SNMP v1/v2/v3 | SNMP v1/v2/v3 |
| Gigabit Ethernet ports | 1 | 1 |
| Chipset | Broadcom | Broadcom |
Motorola MB7420 Overview:
The Motorola MB7420 is a DOCSIS 3.0 modem providing 16 downstream modes for high speeds up to 686 Mbps. This modem also provides 4 upstream channels for speeds ranging to 123 Mbps.
The latest DOCSIS 3.0 system helps to allow 16 times faster downloading compared to the former 2.0 version.
It also aids IPv4 and IPv6 for compelling and pliable web browsing. The digital tuner of Full-Band Capture further ensures fast speed and more reliable internet.
The 10/100/1000 Gigabit Ethernet (GigE) port of LAN permits linkage with the router, HDTV, game station, or any other Ethernet-supported device.
It is also equipped with 5 status-reporting LEDs.
Motorola MB7621 Overview:
The Motorola MB7621, likewise, is also DOCSIS 3.0 supported. It has 24 channels for downstream with an impressive speed of 1000 Mbps meanwhile it gives a speed of around 246 Mbps for its 8 downstream channels.
The download speed is almost 24 times faster than the conventional DOCSIS 2.0. The modem possesses a high-tech design with Broadcom integrated circuit technology.
The QuickStart supplies fast and easy set-ups.
Just like its counterpart, it also consists of 5 status-reporting LEDs.
In comparison to Motorola MB7420, the MB7621 provides better 4K resolution video streaming, heavy file downloading ability, and more upstream and downstream channels. However, this device is heavier, occupies larger space, and is comparatively more expensive.
Side Note: It was interesting to see how Motorola 7621 performed against Arris Surfboard SB6183 modem.
What makes their Design different?
Motorola MB7420 has a tower-shaped structure. It consists of a power button, power jack and a reset button.
There is a port available for Gigabit Ethernet LAN that can be connected to the computer, game station, or any HDTV. A Coax cable connecter is also available in the device.
The built-in router facility is, however, unavailable. This modem has 5 status-reporting LEDs and a power surge circuit.
Just like its counterpart, Motorola MB7621 also contains a power jack, a power button, and a reset button.
The structure of the modem is similar to that of its peer. The advanced design of the modem is equipped with Broadcom integrated technology.
This modem lacks a built-in router and telephone call ability. It also lacks a phone jack.
The modem contains a wrench to tighten the connections of coaxial cable and also a hook and loop strap to ease its setup process. Its overall design looks quite attractive.
Differences in Hardware
| | | |
| --- | --- | --- |
| Physical Characteristics | MB7420 | MB7621 |
| Weight (ounces) | 9.3 | 16.3 |
| Height (inches) | 4.9 | 7.25 |
| Width (inches) | 2 | 2.25 |
| Depth (inches) | 6.1 | 7.88 |
The dimension of MB7420 is lower than its competitor. Its design is also compact thereby consuming less space, providing reliable performance due to its improved cooling system.
A total of four ports are available in the modem.
It contains one Ethernet port for connecting other devices.
On the contrary, Motorola MB7621 is larger and covers more space causing it to occupy more area. It also contains one Ethernet port for connection with a computer or any other device.
Its weight is also greater due to its bigger size.
Compatibility and Performance
| | | |
| --- | --- | --- |
| Features | MB7420 | MB7621 |
| Chipsets | Broadcom BCM33843D | Broadcom BCM3384DU |
| Wi-Fi Router Included | No | No |
| Number of Lan ports | 1 | 1 |
| Other ports | Coaxial | Coaxial |
| Diagnostics LEDs | Power, US, DS, Online, LAN | Power, US, DS, Online, LAN |
Both modems assist the up-to-date internet standards IPv4 and IPv6 helping them to access several different web pages. The downloading frequency and application protocol of both these devices are also similar.
The telephone port and built-in Wi-Fi facility are unavailable in both these modems.
Motorola MB7420 is tested at a high speed of 400 Mbps and concurrently ran four bandwidth-hogging applications in order to analyze its working under these stress conditions.
The performance of the modem is not up to the desired level despite its upstream and downstream speed of 123 Mbps and 686 Mbps respectively.
This puts it behind its counterpart in this regard.
The same testing and conditions when applied to Motorola MB7621, it turned out to be better.
The 4K resolution Netflix video was comfortably streamed on the modem, and three heavy game files were also easily downloaded for three different systems.
Although its maximum theoretical speed is quite high, it rarely manages to perform at its maximum speed.
So, the performance of Motorola MB7621 is ahead when dealing with a high speed of 300 Mbps and above because of its more channels enabling it to perform dominantly.