Both devices use the cables to carry data, hence they are classified as cable-type modems.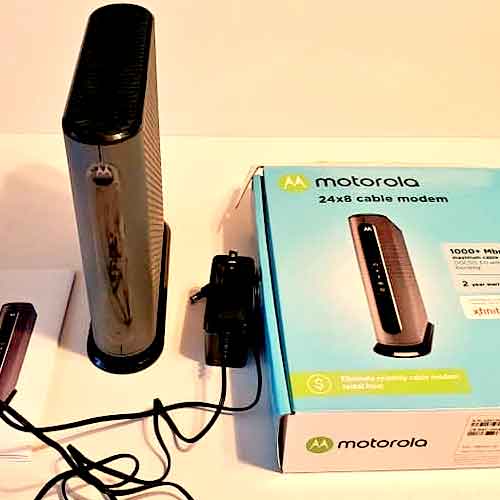 If we talk about some of the common things:
Both of these devices are classified as cable modems and do not come with built-in routers.
They are highly compatible with an equal number of ISPs.
They're easy to install, and both come with an equal number of accessories.
They are fashionable and well-designed modems with MB8600 having more features.
And both are suitable for a broad range of applications.
Here the Motorola MB8600:
offers faster upload and download speeds (while no latency issues are found in both modems).
has the DOCSIS 3.0
has a greater number of certifications (it still does not offer a higher warranty time than its partner).
has more download channels than the other modem.
Here the Motorola 7621:
has DOCSIS 3.1 security standards.
and is less expensive compared to its peer.
When compared to MB7621 (DOCSIS 3.0), the Motorola MB8600 (DOCSIS 3.1) has 32 × 8 download and upload channels in comparison to 24 × 8 of its counterpart. This along with the higher version of DOCSIS allows it to achieve greater upload and download speeds up to 3.8Gbps.
Side By Side Comparison:
Motorola MB 7621
Motorola MB 8600
| | | |
| --- | --- | --- |
| Specifications | Motorola MB7621 | Motorola MB8600 |
| Release Date | December 20, 2017 | May 17, 2017 |
| Wi-Fi Router Included | No | No |
| Telephone Jack | No | No |
| DOCSIS | 3.0 | 3.1 |
| Downstream × Upstream (SCQAM) | 24×8 | 32×8 |
Overivew of both devices:
Motorola MB7621 supports the earlier DOCSIS 32×8 protocol. 3.0 standard, which allows for good speeds up to 1Gbps.
It includes a single Ethernet connector for connecting to a router and is equipped with a highly stable chipset.
This modem is internationally compatible and has DOCSIS 3.0 security, ensuring that no personal information is compromised.
On the other side, the Motorola MB8600 supports DOCSIS 3.1. providing great speeds of 1 Gbps and greater.
To achieve very high speeds, it uses port bonding.
There are four Giga LAN ports on this device, with support for bonding to enable up to 3.8 GHz transfer rates.
It also supports Active Queue Management which cuts Internet latency dramatically.
For all Web tracks, AQM results in speedier page loading as well as significantly improves interactive apps such as gaming and video conferencing over the internet.
How compatible are these devices?
A network protocol is a collection of rules that govern how data is exchanged between equipment connected to the same network. In essence, it enables linked devices to interact with one another despite variations in internal operations, structure, or design. Both these modems are equally compatible with all the network protocols.
An Internet host that uses DHCP to get configuration settings such as an IP address is known as a DHCP client. You may use the DHCP Client to see what devices are connected to your network. Both these cable modem along with externally attached routers works as a DHCP server by default.
An Internet Service Provider, or ISP, is a firm that provides Internet connectivity just like Xfinity. Both these modems support an equal number of ISPs.
It's a tie between MB7621 and MB8600 in terms of compatibility.
How to get them installed?
Both these devices come with the same number of accessories inside their boxes since both are made by the same company.
The quick-start installation of the MB7621 takes only a few minutes.
It attaches rapidly with only three connections – power, coax cable, and Ethernet.
XFINITY services from Comcast and other providers may be activated immediately.
For installing MB8600:
Connect port 1 to a laptop via Ethernet cable after plugging in the MB8600.
On your laptop, go to the service provider setup page and input your account information to activate the modem or contact them to get your new modem activated.
After the modem has been reset, you should be able to connect to the internet via your laptop's wired connection.
Disconnect the MB8600 from the power source. Remove the laptop off the table. Connect your modem's port 1 to your router using an Ethernet wire.
Turn on the MB8600. Your Wi-Fi should now operate after the MB8600 has turned on and is operational.
Both these devices are controlled through the web interface for activation, security, event log, deactivation, or limiting our connection.
Hardware and Design Differences of both:
Both devices have a sturdy elliptic-cylindrical plastic chassis with smooth rounded edges and, although the main body is coated in a grey matte finish, the top and bottom sections are covered in a glossy black finish.
To guarantee appropriate ventilation, its right, left, and topsides are abundantly covered with cut-outs.
This is a critical step in keeping the device cool and you can view the inside circuitry via the lateral vent holes.
Both have the same sizes but the weight of MB8600 is neglectably higher than its counterpart.
| | | |
| --- | --- | --- |
| Physical Characteristics | MB7621 | MB8600 |
| Weight (lbs.) | 1.01 | 1.15 |
| Height (mm) | 200 | 200 |
| Width (mm) | 57 | 57 |
| Length (mm) | 184 | 184 |
DOCSIS differences:
The abbreviation DOCSIS stands for "Data Over Cable Service Interface Specifications," and it is a data delivery standard used by telecommunications companies.
It simply specifies how much data an IPS provider's device can transmit and receive.
DOCSIS 3.0 is used by the MB7621, limiting download and upload rates to 1 Gbps and 200 Mbps, respectively.
While MB8600 employs the DOCSIS 3.1 which allows a whopping 10 Gbps download speed and 1 Gbps upload speed.
DOCSIS 3.1 is a major mark set by the MB8600 for its competitors.
| | | |
| --- | --- | --- |
| DOCSIS Downstream | MB7621 | MB8600 |
| Frequency Range (MHz) | 108 – 1002 | 108 – 1002 |
| Modulations (QAM) | 64 or 256 | NA |
| Operating level range (dBmV) | -15 to +15 | -15 to +15 |
Channel Bonding Differences:
Channel bonding is the process of joining two contiguous channels on the same frequency band to increase throughput between devices.
The Motorola MB7621 has a restricted data transfer path, due to only 24 downstream channels, restricting its capacity to download data. However, it has a decent number of upload channels i.e., 8.
Whereas the other variant has 32 downstream and 8 upstream channels, allowing for larger data download due to the increased number of downstream channels.
The Mb8600 has eight more download channels than its peer. Both, however, have the same number of upload channels.
| | | |
| --- | --- | --- |
| Bonded Channels | MB7621 | MB8600 |
| Downstream | Up to 24 SCQAM | Up to 32 SCQAM |
| Upstream | Up to 8 SCQAM | Up to 8 SCQAM |
Is their Chipset different from one another?
Both these devices are equipped with the Broadcom chipsets, rendering an equal amount of output.
The MB8600 still outways its competitor due to the higher DOCSIS version atop this chipset.
| | | |
| --- | --- | --- |
| Features | MB7621 | MB8600 |
| Chipsets | Broadcom | Broadcom BCM3390 |
Performance Analysis
MB8600 outclass its counterpart in the race of transferring data, having DOCSIS 3.1 along with a higher number of download channels. This allows it to achieve a tremendous amount of upload and download speeds.
| | | |
| --- | --- | --- |
| Possible Speeds | MB7621 | MB8600 |
| Download | Up to 1029 Mbps | Up to 3.8 Gbps |
| Upload | Up to 246 Mbps | Up to 3.8 Gbps |
Since both these modem devices are fitted with stable Broadcom chipsets, hence there are fewer chances of lag while gaming online or doing other tasks.
What about their Security?
The Motorola MB7621 fulfills the DOCSIS 3.0 standards for security protocols which make the device quite secure whereas the other is equipped with the DOCSIS 3.1 security protocols which are harder to bypass, making the modem safer against the hacker's attacks since it has an advanced security system.
Both the modems are quite safe and secure but the advanced security system of DOCSIS 3.1 installed in the MB8600 makes it more reliable.
Whats their main Application?
The Simple Network Management Protocol (SNMP) is an Internet Standard protocol for assembling and arranging data about handled devices on IP networks, as well as altering that knowledge to modify device actions.
Both these devices support all the versions of the SNMP. It allows them to provide high-speed Internet for a computer, router, HDTV, game station, or streaming media device and to give simultaneous Internet access to many devices, plug in any router.
| | | |
| --- | --- | --- |
| Feature | MB7621 | MB8600 |
| Application Protocols | SNMP v1/v2/v3 | SNMP v1/v2/v3 |
Are they expensive?
MB7621 is less expensive. Its higher price is justified by the fact that it has more downstream channels and DOCSIS 3.1, allowing for better data transfer rates.
But MB7621 provides a little higher amount of saving per year when compared to its peer.