Both these devices fall under the domain of Cable type modems and are provided without built-in routers. They are secured by the DOCSIS 3.0 standard security.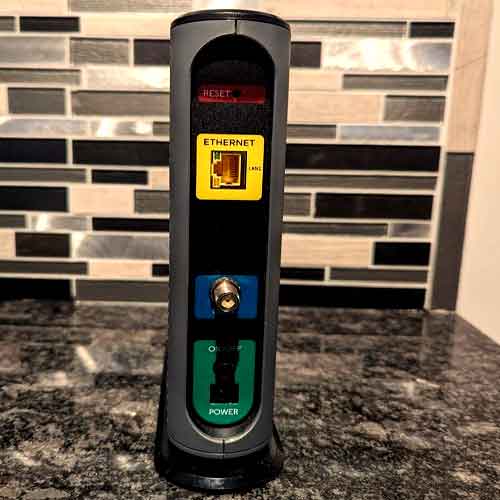 Here the Motorola MB7621:
can support a higher number of internet service providers.
provides more accessories than its competitor.
is a more stylish and well-designed device with greater functionality but is also bulkier in size.
covers a wider range of applications.
has a higher number of certifications, however, it still does not provide a longer warranty than its rival.
and is the cheap and more reliable option out of the two.
While the Arris SB6190 has 8 more download channels than the other one. And provides higher upload and download speed but due to the relatively newer chipset may cause latency problems.
When compared to its MB7621, the SB6190 has eight more downstream channels, allowing higher download speeds while the upload performance of both these modems is almost the same, owing to an equal amount of upload channels.
Side By Side Comparison:
Motorola MB 7621
Arris SB 6190
| | | |
| --- | --- | --- |
| Specifications | Motorola MB7621 | Arris SB6190 |
| Country of Origin | USA | China |
| Release Date | December 20, 2017 | October 15, 2015 |
| Type | Cable | Cable |
| DOCSIS | 3.0 | 3.0 |
| Connection | Ethernet | Ethernet |
| Ethernet ports | 1× Gigabit | 1× Gigabit |
| Warranty | 2 years | 2 years |
Overivew of both devices:
The Motorola MB7621 has DOCSIS 3.0 and can deliver decent transfer speeds, which are sufficient for a medium-sized family.
It includes a single Ethernet connector for connecting to a router and is equipped with a highly stable chipset.
This modem is internationally compatible and has DOCSIS security, ensuring that no personal information is compromised.
The Arris Surfboard SB6190, on the other hand, also features DOCSIS 3.0 but can deliver faster transfer rates because of its increased number of downstream channels. Cable, graphics, and power are its three interfaces.
However, its chipset is new, and several faults in it have been known to create a lot of latency difficulties. It is protected by DOCSIS security yet is still susceptible due to its unprotected chipset.
Which of these devices has better Compatibility?
Both of these modems support the most recent internet protocols, IPV4 and IPV6, allowing them to connect to a limitless number of IP addresses.
Internet Service Providers (ISPs)
These are companies that provide access to the internet.
They are both compatible with most of ISPs, where MB7621 is compatible with: Time Warner Cable, Xfinity, Charter, Spectrum, Cos while SB6190 supports Cox, Spectrum, and Xfinity only.
On a home computer, both function equally well with Windows XP, Windows 7, Windows 8, UNIX, and Linux connections.
They work with PowerPC or later computers running OS 10 or above.
They may be connected to your home network via a router or an ethernet connection.
The Motorola MB721 supports a higher number of ISPs, making it relatively more compatible.
Operation of these devices:
Motorola MB7621's quick-start installation takes only a few minutes.
With only three connections – power, coax cable, and Ethernet – it connects quickly.
Comcast's XFINITY and other providers' XFINITY services may be activated quickly.
For installing SB6190:
Make sure a coaxial cable is connected to a cable wall outlet or an RF splitter.
Connect the coaxial cable's other end to the SB6190's Cable connection on the back. To prevent harming the connections, tighten them with your hand.
Plug the Ethernet wire into the SB6190's Ethernet port on the back.
Plug the other end of the Ethernet cable into your computer's Ethernet port.
Connect the power adapter to the SB6190's Power connector on the back.
Connect the power adapter's other end to an electrical wall outlet that is not controlled by a wall switch.
Both these modems are easy to install and operate but MB7621 comes with more items in its package.
Differences in their Hardware and Design:
Motorola's design is sleek and stylish, so you won't have to worry about it seems out of place at home. The gadget is greyed out and has four LED displays for quick access to all settings.
Arris features a black or white casing that isn't very stylish, but it's also not particularly unsightly. It also features LED indicators across the front of the modem that highlight essential settings, as well as air ducts on the system to ensure the device's cooling.
The higher number of LED lights shows greater functionality of MB7621, and its design is also more attractive. However, its size is greater than its rivals which may pose some spatial problems.
| | | |
| --- | --- | --- |
| Physical Characteristics | MB7621 | SB6190 |
| Weight (lbs.) | 1.01 | 1.13 |
| Height (mm) | 200 | 127 |
| Width (mm) | 57 | 51 |
| Length (mm) | 184 | 127 |
Which DOCSIS do they both have?
The acronym DOCSIS stands for "Data Over Cable Service Interface Specifications," and it is a standard that telecommunication firms use to provide data to their clients. It simply indicates how much data a device can send and receive from IPS providers.
MB7621 and SB6190 both use DOCSIS 3.0, which limits download and upload speeds to 1 Gbps and 200 Mbps, respectively.
Channel Bonding in both:
The connecting of two neighboring channels on the same frequency band to boost the throughput between devices is known as channel bonding.
Motorola MB7621 features 24 downstream channels and 8 upstream channels, limiting its capacity to download data due to the limited route.
Whereas, Arris SB6190 has 32 downstream and 8 upstream channels, allowing for more data downloading due to the higher number of the downstream route.
It also has eight more download channels than its counterpart. However, both have the same quantity of upload channels.
Chipset Differences:
The Motorola has a Broadcom chipset, whereas the Arris has an Intel Puma CPU for easy management of the cable ISP networks.
One thing to keep in mind is that many individuals have reported issues with Intel's firmware upgrades and latencies, rendering the Motorola MB7621 a better prospect for most people.
| | | |
| --- | --- | --- |
| Features | MB7621 | SB6190 |
| Chipsets | Broadcom | Intel Puma 6 |
Performance Analysis
Even though both are DOCSIS 3.0, the major measure of performance is speed, which is much better in Arris SB6190 due to its higher downstream channels.
This modem's upload speed is also slightly higher than that of its competition, making its performance better speed-wise.
| | | |
| --- | --- | --- |
| Possible Speeds | MB7621 | SB6190 |
| Upload Speeds (Mbps) | 246 | 262 |
| Download Speeds (Mbps) | 1029 | 1400 |
Latency is the time it takes for data to be sent once a command is issued.
The Arris SB6190 has a larger latency due to its Intel Puma 6 chipset, which is still being tested and has a negative reputation for generating massive data transmission delays.
Therefore, Motorola MB7621 is better in terms of latency, providing smoother data transit.
Are these devices secure?
Both the MB7621 and SB6190 offer DOCSIS 3.0 security, including BPI+, EAE, and SSD security.
BPI+ is a significant requirement in each DOCSIS. It uses 56-bit DES encryption to prevent hackers from reading the subscriber's data.
EAE stands for "Early Authentication and Encryption," and it kicks in when BPI+ fails to operate. It safeguards us by preventing unauthorized CMs from accessing IP provisioning servers and ensuring that messages between CMs and CMTS are private.
The term "Secure Software Download" refers to a process that checks the download code to the CMs.
What are their Applications?
The Motorola's device connects a computer, router, HDTV, game station, or streaming media device to the Internet at fast speeds.
The Arris SB6190 is a modem with download rates of up to 1.4 Gigabits per second.
That's fast enough for numerous HD movies to be downloaded in under a minute. It will provide the quickest speeds and the most dependable Internet connection for the home network.
Motorola MB7621 supports a wider range of applications as compared to its peer.
Certifications and Warranty differences:
The MB7621 comes with a Bureau Veritas 60950-1 ITE safety certification and also provides a two-year guarantee.
Since SB6190 is CE-certified equipment, therefore, offers a two-year guarantee. To receive a CE certification, the European Economic Area (EEA) determines that the product is extremely safe and that it complies with all applicable environmental rules.