Both products provide high-speed internet streaming as they meet the standards of DOCSIS 3.1 for modulating cable internet.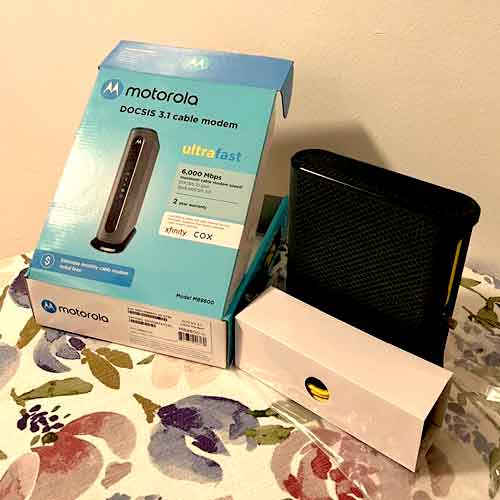 Broadcom chipset make both devices secure and efficient.
Here the Netgear CM1000 is a lightweight, smart modem with a modish artistic look.
And is more expensive but offers slower downstream rate.
On the other hand the MB8600:
offers a faster downstream rate in comparison.
has four GbE ports, offering a higher ability for local area networking.
has better latency resistance.
and has the capacity for link aggregation but the competitor does not.
As compared with CM1000, Motorola MB8600 shows higher speed for downloads, four Gigabit Ethernet ports, link aggregation ability, support for faster ISP plans, and a lesser price.
Side By Side Comparison:
Netgear CM1000 is a smart device that shows download rates up to 1Gbps.
It stands universally compatible as it supports the latest internet protocols, web browsers, and operating systems.
With the highest channel bonding schemes, it provides a very efficient modulation facility.
MB8600 is a bit heavier modem but provides faster speeds and multiple LAN connections.
Due to AQM technology, it resists delayed responses and offers quick operations, especially when playing games online.
Netgear CM1000
Motorola MB 8600
| | | |
| --- | --- | --- |
| Characteristics | Netgear CM1000 | Motorola MB8600 |
| DOCSIS | 3.0, 3.1 | 1.1, 2.0, 3.0, 3.1 |
| Downstream channels × Upstream channels | (DOCSIS 3.0) 32 x 8 (DOCSIS 3.1) 2 x 2 | (DOCSIS 3.0) 32 x 8 (DOCSIS 3.1) 2 x 2 |
| Ethernet ports | 1 ×  RJ-45 GbE | 4 × 1 GbE   |
| Warranty | one year | two year |
How different are they in terms of their Hardware/Design?
Netgear CM1000 is a black-colored, lightweight and taller device showing a hexagonal, multi-cornered design. Small triangular slits over the whole body make its outlook artistic and also serve ventilation purposes.
The front panel carries various LEDs while the power socket, ISP WAN port, and GbE LAN port are located on the rear side.
A well-reputed chipset from Broadcom has been integrated to provide lag-free internet.
Motorola MB8600 shows a tower-form, greyish and rounded outlook. It is relatively heavier than its competitor.
Just like the competitor, its front panel shows LED pointers while LAN, WAN, power ports, and reset/ power buttons are all located on the backside.
The presence of 4 Gigabit Ethernet ports makes it superior as it enables link aggregation.
It carries a variant of the same Broadcom chipset as that of Netgear's modem.
No Wi-Fi router is included in any of these modulators.
| | | |
| --- | --- | --- |
| Design features | CM1000 | MB8600 |
| Width | 89 mm | 57 mm |
| Height | 235 mm | 200 mm |
| Depth | 150 mm | 184 mm |
| Weight | 431 g | 523 g |
Which device has a better overall Performance?
These modulators integrate DOCSIS 3.1 interface for modulation of cable internet services, resultantly both of these offer a wide bandwidth. It makes them work at 10X higher speed than older DOCSIS 3.0 modems.
 Moreover, they show backward compatibility for older versions of DOCSIS as well.
Both of these modems allow efficient streaming even at the highest resolution as they utilize the maximum number of channels supported by their DOCSIS versions.
They offer 32 channels for downloading and 8 channels for uploading when modulating signals of DOCSIS 3.0 networks.
Working with DOCSIS 3.1, these products enable (2 downstream x 2 upstream) bonding scheme for OFDM channels.
Motorola MB8600 takes the lead over its contestant when it comes to download speed. It provides three times faster downloads, at the rate of 3.8 Gigabit per second.
Likewise, its uploading ability is potentially superior as multiple ports for Gigabit Ethernet connectivity allow link aggregation. In this way various paths are available to transfer data quickly.
Netgear CM1000 stands below the competitor as its download speed only goes up to 1 Gbps. Although it utilizes same GbE interface yet lesser number of ports make its transfer rates lower in comparison.
Both these devices are designed to show immediate responses and high resistance against latency.
These are equipped with established Broadcom chipsets that integrate advanced gateway cable technology.
However, Motorola MB8600 has an additional benefit from its Active Queue Management (AQM) technology that manages the traffic such that there is a lesser load over the processor.
Thus, it has a better ability to prevent latency.
Which modem has better Compatibility?
Both of these devices can modulate internet signals complying with the latest protocol IPv6.
Additionally, these carry dual-stack compatibility with prior internet protocols like IPv4.
Motorola Mb8600 can be configured and operated through devices having macOS or Windows operating systems. It also works with Media Player, game stations, Smart TV or any other Ethernet-enabled device.
Netgear CM1000 requires macOS, Windows (Vista, XP, 2000, 7, 8, and 10), or other systems compatible with a TCP/IP network. For browsing purposes, it supports Firefox 2.0, Internet Explorer 5.0, Safari 1.4, Google Chrome 11.0, or their later versions.
For home networking purposes, you need to buy an external Wi-Fi router as none of these devices has an in-built one.
Besides that, we can rank Motorola MB8600 better for local area networking as it has four GbE ports to attach multiple PCs or routers. Conversely, Netgear CM1000 has the capacity to connect only one external device.
Security System
Each of these modems utilizes an updated security system of DOCSIS to prevent damages from hacking attacks or unauthorized usage of data.
DOCSIS 3.0/higher integrates BPI/SEC structure that includes BPI+, SSD, and EAE mechanisms to encrypt data and filter the malware components from the downloaded media.
Warranty
Both modems are well built and integrate a sound chipset, providing the modulating facility for a good time.
Nonetheless, Motorola's device seems to be more durable than its competitor as its heavyweight and rounded structure is less vulnerable to physical damage.
Its longevity is confirmed by a comparatively longer warranty from the manufacturer.
If you find any defect, it can be replaced within 2 years of purchase. However, terms and conditions do apply.