Both are cable modem routers that act as both the cable ISP modulators as well as built-in Wi-Fi routers. These two models of the Nighthawk AC1900 series work with DOCSIS 3.0 standard and qualify for the latest internet protocols. Plus, these systems meet the IEEE Wi-Fi standards, offering high-speed internet consistently.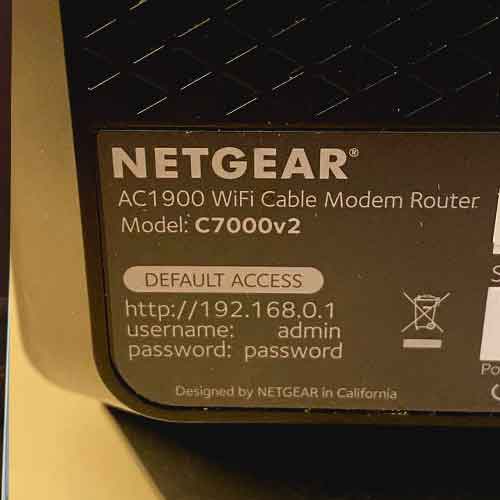 Heres what's going on with these 2:
Both devices perform cable internet modulation as well as Wi-Fi router functions.
Design and size of these tools are equivalent.
Both have four LAN ports and enable link aggregation and enhanced networking.
Both rank for DOCSIS 3.0 standard for cable internet modulation.
Wi-Fi and download speeds are also the same for these devices.
The company provides the same warranty for these gadgets.
The C7000 Works with relatively high-speed internet plans of cable internet service providers.
And the C7000 V2:
Is a hardware revision of the older model.
Shows more resistance against latency.
Comes with advanced firmware than the competitor.
Side By Side Comparison:
In comparison with Nighthawk C7000, C7000 v2 is an upgraded model that comes with a hardware revision, resists overheating, shows decreased latency, and supports ISP plans at higher speeds from Xfinity, Cox, and spectrum.
Netgear CM 7000
Overview of both modems:
The Netgear C7000 modem characterizes a geometrically designed modem router in sleek black color. Its 4 Ethernet ports not only allow more LAN connections but also provide failover support leading to consistent data transmission. This Wi-Fi modem can be used with all prominent cable service providers and supports even their high-speed plans.
Netgear C7000v2 is a revised version of the competitor and comes with the same design layout. Multiple channels allow it to work efficiently and provide lag-free responses. Its latency resistance gives it an edge over the other model. Moreover, its upgraded firmware makes it more efficient and secure.
Design and dimensions
Design wise, these models are nearly identical and specify black-colored, textured hexagonal devices.
Their sidewalls carry numerous triangular slits which add to their artistic design and also serve as ventilation openings.
The frontal bar carries LED indicators for various functions along with WPS and wifi buttons.
On the rear panel, both devices have four 1GbE ports, one USB 2.0 port, a reset button, a coaxial cable connector, and a power adaptor inlet. Multiple LAN ports allow link aggregation and provide failover support for faster operations.
The power and cable connector interfaces are the same for both tools. Plus, they have equal ability to endure temperature and humidity extreme.
One feature that differentiates these models is their associated apps, Netgear C7000 works with the Genie app while you need the Nighthawk app for Netgear C7000v2.
Among these, the Nighthawk app is a more efficient application to configure the modem router and manage tasks like data usage permissions and traffic tracking.
Chipsets, firmware, and memory
Netgear C7000 employs a well-established Broadcom chipset, an efficient processor operating at 1.6 GHz, a flash memory of 128 MB, and a 256MB RAM.
This Wi-Fi modem specifies firmware V1.01.34, ensuring proficiency of modulation and router functions with complete security.
Netgear C7000 V2 is known to be a hardware revision of the competitor model and possesses the same flash memory, RAM, and processing frequency.
Its chipset is not specified, however, it is assumed to be the same or upgraded version of the contestant's Broadcom chipset.
Besides that, this device integrates an advanced firmware V1.03.03, making it more secure and latency resistant than the competitor.
Performance
DOCSIS
Both of these cable modem routers meet the specifications of the DOCSIS 3.0 standard for cable internet modulation.
This modulation scheme enables these devices to offer 24X faster internet speeds than the earlier standard.
Plus, these tools can be used for DOCSIS 2.0 networks as well.
Channel Bonding
These modulating devices enable the same channel bonding scheme specifying 24 downstream and 8 upstream channels.
A high number of channels allows easy data transmission and results in faster download and upload functions.
With 24 x 8 bonding, there are 24 pathways available for downstream signals and 8 pathways for upstream signals.
Hence, the chances of data crowding and slow downloads are minimized.
Speed
These Wi-Fi modems come at par when compared for speed.
Both of these provide quick downloads taking the advantage of high channel bonding and high-frequency processors.
Besides LAN connectivity, these devices provide you with fast-speed internet through Wi-Fi as well.
IEEE ac support ensures that devices working on different frequencies (2.4 GHz or 5 GHz) get a high-speed Wi-Fi connection.
Latency
As these modems are actually different models of the same product, their functional abilities are virtually the same.
But C7000 specifies a previous hardware structure and its efficiency starts declining if it is used for a long time.
As a result, it gets overheated and shows lagging responses.
On the other side, V2 is a hardware revision, and its chipset though not specifically known but is thought to be an upgraded version of the Broadcom chipset integrated into the competitor device.
Hence, it sustains a consistent performance, resisting latency and providing quick responses even when used for several hours in a row and heated up.
Compatibility
Internet Standards
These router modems effectively work with the latest internet protocols and show support for both IPv4 and IPv6.
Moreover, both gadgets have four GbE ports, so, their failover features enhance their compatibility with internet protocols.
Besides that, these devices support different routing and data protocols including TCP/IP, DHCP, Dynamic DNS, UPnP, and SMB.
Internet Service Providers (ISPs)
Both of these tools are capable of modulating cable internet signals from various internet service providers in the US including Cox, Mediacom, Optimum, Sparklight, Spectrum, and Xfinity.
However, both models qualify for different speed packages for different ISPs. C7000 supports service plans with relatively high-speed internet.
Conversely, V2 provides optimum functions for ISP plans with comparatively lower speeds.
Its compatibility difference is usually 100 to 200 Mbps for different cable providers.
| | | |
| --- | --- | --- |
| Service provider | C7000 | C7000 V2 |
| Xfinity | 800 Mbps | 600 Mbps |
| Cox | 400 Mbps | 150 Mbps |
| Spectrum | 500 Mbps | 400 Mbps |
OS and Browsers
Due to the similarity of processor and other functional specs, system requirements are also the same for these two devices.
You can link these tools with any PC device operating on Microsoft Windows 2000, XP, Vista, 7, 8, 10, Mac OS, Linux, or UNIX.
For IP support and online configuration of these modems, you would need Microsoft Internet Explorer 5.0, Firefox 2.0, Safari 1.4, or Google Chrome 11.0 browsers or higher.
Home Networking
Both these devices offer the optimized capability for home networking purposes as they modulate cable internet signals and also act as powerful Wi-Fi routers.
Hence, you can build LAN connections as well as wireless networks.
Both of these have the beamforming+ feature which results in reliable and wide-range Wi-Fi service.
Also, these are dual-band Wi-Fi routers providing 5 GHz and 2.4 GHz bands simultaneously.
For Ethernet networking, both tools have four 1Gigabit Ethernet ports to connect PC devices.
Multiple LAN ports allow link aggregation, making these devices a good option for local networking as well.
Security
DOCSIS 3.0 interface comes with BPI/SEC security systems (including BPI+, EAE, SSD), making both these Nighthawk variants safe from hacking threats, unethical usage, and encryption breaches.
Alongside that, both routers are secured with multiple safety systems including double firewall protection (SPI and NAT), WPA/WPA2-PSK protected Wi-Fi access, and attack prevention through the DoS (Denial-of-service) system.
Warranty
These modulating devices are efficiently constructed by Netgear from tough casing material.
Also, their ventilation mechanisms make them durable.
From the functional point of view, durable chipsets and multiple protective features are credited for the optimized performance of these models over many years.
Plus, these Wi-Fi modems are backed by the company's warranty for up to 12 months.