Supporting DOCSIS 3.1, both of these devices allow high-speed browsing with cable internet as their highest 32 x 8 bonding scheme for DOCSIS 3.0 and 2 x 2 scheme for version 3.1 make data transmission smoother and ten times quicker than earlier devices.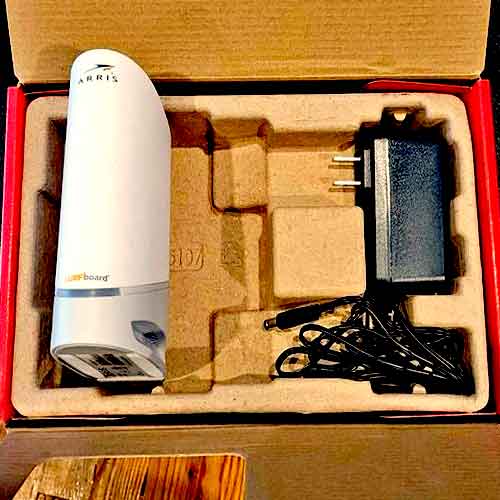 Besides that, both have Broadcom chipsets, providing non-stop video streaming and instantaneous gaming responses.Both devices support the same operating systems and internet protocols.
When we compare both devices, we get to know that;
Arris S33shows a cleaner oval-shaped look while SB8200 is box-shaped and textured. Physical dimensions are nearly identical for both modems.
Arris S33 has a superior 2.5 Gigabit Ethernet port, allowing better LAN facilities.
And it is compatible with high-speed internet service plans.
And the Arris Sb8200 on the other side has a download speed which is lesser. But the device stands economically beneficial with its comparatively lower price range.
In comparison with Arris SB8200, the S33 has better gigabit Ethernet ports, a cleaner look, and a faster downstream rate but costs a higher price.
Arris Surfboard SB8200 vs S33 Overview
The Arris SB8200 presents a textured layout and offers a good browsing experience without any lagging because the 32 x 8 QAM and 2 x 2 OFDM channel bonding scheme provide various paths for the transmission of data. Resultantly, high-speed transfers and downloads are possible. (Read on other modem below)
Arris Surfboard S33
Arris SB 8200
Arris S33, on the other side, belongs to the same SURFboard series as its competitor does but its design is contemporary and rounded. Along with that, it shows better LAN connectivity through a relatively higher GbE interface.
It also allows link aggregation due to multiple Ethernet ports. Its download speed is faster than the competitor.
Specs
Arris S33
Arris SB8200
DOCSIS
3.1
Same
Downstream × Upstream channel bonding
32 × 8 DOCSIS 3.0 2 × 2 DOCSIS 3.1
Same
Ethernet connections
1× Rj-45 1 GbE port
1 × Rj-45 2.5 GbE port
2× Rj-45 1 GbE ports  
Certification
FCC Class B, RoHS, CeC
CeC, RoHS, FCC Class B
Warranty period
Two years
Same
Hardware/Design
Both modems specify a white, tower-form look, however, SB8200 has a rugged design in comparison.
It characterizes the classic look of SURFboard modems with small oval slits over its sidewalls for ventilation.
The front portion shows four LEDs to indicate power, upstream, downstream and online statuses.
Two GbE ports, power socket, coaxial connector, and reset button are all present on the rear side.
S33 has a clean and modish-looking design, its oval-shaped body has no slits or edges.
The lower portion is greyish and has a single curved, horizontal indicator that gives different signals by showing different colors and flashing patterns. 1 GbE and 2.5 GbE ports, power socket, and ISP cable connector are located over the rear panel.
It does not carry a reset button to restore the factory setting automatically.
Both devices carry different versions of the same chipsets, thus show a similar processing efficacy.
| | | |
| --- | --- | --- |
| Physical specs | S33 | SB8200 |
| Height (inches) | 4.74 | 5.13 |
| Width (inches) | 1.8 | 1.75 |
| Depth (inches) | 5.14 | 5.25 |
overall Performance
According to the international standards for telecommunication through cable internet, these devices rank at the same level. Both of these are compatible with DOCSIS3.1 or older networks, providing wide frequency ranges for upstream and downstream signals.
Due to this enlarged bandwidth, browsing and data transfer become very quick as there are multiple wide paths for signal transmission.
Both modems show the same channel bonding scheme, offering an equal number of SC-QAM and OFDM channels to download and upload data files.
For DOCSIS 3.0 networks, these show 32 x 8 channel bonding while for DOCSIS 3.1 it is 2 x 2.
S33 shows a faster downstream speed as compared with its competitor. It can perform downloads even at the rate of 3.5 gigabytes per second.
On the other side, SB8200 takes more time to download files as its maximum downstream rate is 2 Gbps.
| | | |
| --- | --- | --- |
| Possible Speeds | S33 | SB8200 |
| Download Speeds (Mbps) | 3.5 Gbps | 2 Gbps |
Both systems utilize the SoC cable gateway tech provided by incorporated chips to show spontaneous responses and streaming experiences without lagging. As chipsets for both of these are the same, their scores for resistance against latency are also alike.
Compatibility
These modulators are up-to-date as both show compatibility for the latest version of internet standards IPv6. Moreover, they can also modulate data signals with earlier protocols such as IPv4.
Internet Service Providers (ISPs)
Both modems are compatible with all major service providers including Xfinity by Comcast, Cox, Spectrum, and others.
Arris SB8200 stands below its competitor as it only supports service plans with a maximum speed of 2 Gbps.
Arris S33 has better potential in this respect as it supports internet service plans up to the speed of 2.5 Gbps.
However, the company claims that it offers the best performance with 2 Gbps internet plans.
Arris modulating devices can work with different operating systems due to their compatibility for Macintosh 10.4 or higher, Windows 7, 8, 10, Linux, and UNIX.
These products only offer modulation services and external routers are needed for home networking. Both have two Ethernet ports, thus, allowing link aggregation for faster data transfers.
But Arris S33 shows better performance as one of its Ethernet ports has a 2.5 Gigabit interface while both ports of Arris SB8200 are 1 GbE.
Interface
Both devices employ same interface for connector cable but for Gigabit Ethernet Arris S33 includes a more efficient 2.5 GbE inlet along with a single GbE.
Security Systems
The three-tier security system integrated into DOCSIS 3.0/later versions provides protection against cyber-attacks, prevents unauthorized access to data, and removes malicious components from downloaded content. Cable gateway enabled chips to make both of these systems equally secure.
Warranty and Cost
SURFboard modems are constructed with quality material, likewise, these are equipped with well-established Broadcom chipsets and efficient processing units.
Due to these characteristics, they can competently withstand physical wear, processing malfunctions, and cyber-attacks for many years.
The company backs both of these devices with a limited warranty of up to 2 years for the product's hardware.
The warranty period for the integrated software is 90 days.
Speaking of prices, Arris S33 ranks more expensive than its competitor but superior Ethernet efficiency and high-speed downloads provide a good justification for the higher cost.
Conversely, SB8200 gives satisfactory performance and causes a relatively low strain on the wallet.
Activation procedure
The setup process for both these devices is very simple, including the following steps;
Connect the modem with ISP through a coax cable.
Attach a computer to the Ethernet port.
Plug in the power cable to turn your device on.
Use the attached system to access the online portal and activate the device
For activation, Arris S33 wins the game as it enables its users to activate their internet service by themselves through the activation webpage of their respective servers.
However, if you are using Arris SB8200 contact your service provider for the assistance in activation procedure.