Both being the product of Arris are high-speed cable modem devices with affordable prices. Here SB6183 is an older version of the surfboard.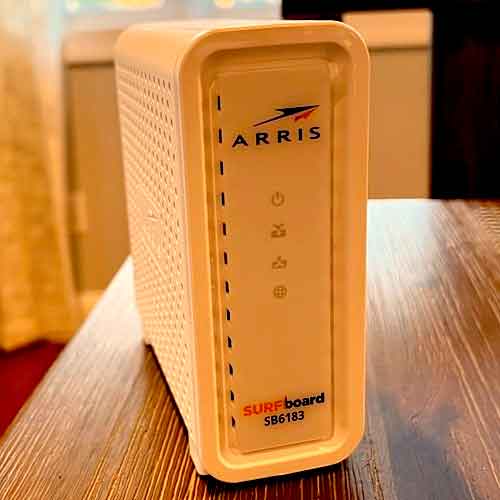 Both modems similarities/differences, put simply:
Here the Arris Sb6183
is the DOCSIS 3.0 version of Surfboard.
shows a higher latency rate.
and is lower priced.
The Arris SB8200 on the other side:
is DOCSIS 3.1 version.
provides more data stream channels.
offers a higher download and upload speed.
features two Ethernet ports (while SB6183 has only a single).
has a higher upstream and downstream frequency range.
has a higher operating temperature range and more cold storage opposition.
In comparison with SB6183, the Arris SB8200 is a much better option as it is a DOCSIS 3.1 cable modem with higher data transfer rates. Moreover, it offers two Ethernet ports and a greater frequency range but is much more expensive as compared to its counterpart.
Side By Side Comparison:
Arris SB6183
Arris SB 8200
| | | |
| --- | --- | --- |
| Specifications | Arris B6183 | Arris SB8200 |
| DOCSIS | DOCSIS 3.0 | DOCSIS 3.1 |
| Upstream x Downstream Channels | 4  x 16 | 8 x 32 |
| Ethernet Ports | 1 x Gigabit | 2 x Gigabit |
| Warranty | 2 years | 2 years |
Overivew of both devices:
Arris SB6183 is a DOCSIS 3.0 cable modem that supports 4 upstream channels with a data rate of 100 Mbps and 16 downstream channels having a data rate of 686 Mbps. It offers a single Gigabit Ethernet port and operates at a user-friendly temperature.
Arris SB8200 is a DOCSIS 3.1 cable modem, which gives its users an edge to enjoy 8 upstream and 32 downstream channels at fairly higher data rates. It has a maximum download speed of 10 Gbps and an upload speed of 1 Gbps. Moreover, it offers dual Gigabit Ethernet ports.
Setup and Operation
To setup SB6183 the following steps are to be followed:
Attach the coaxial, power, and Ethernet cables to the specified ports.
By contacting your service provider initiate it through the web.
Finally, connect a router to set up your device.
SB8200 can also be easily settled up by:
Firstly, all the cables i-e coaxial, Ethernet and power are to be connected at the defined ports.
Turn on the computer, log in and contact your service provider to activate your SB8200.
After your device is activated, open a web browser on your PC.
The installation of both devices is quite easy but SB8200 has a greater operating temperature range. Moreover, its higher cold storage opposition gives it an edge over its competitor.
Hardware and Design
When it's about design, Arris SB6183 highlights an attractive outlook. This white-colored device features 4 LEDs on its front panel. These LEDs are power, receive, send, and online indicators.
On the rear panel, 3 ports i-e coaxial cable, Ethernet, and power ports are provided. An Ethernet cable and a power supply are provided with this modem. It features a highly modified Broadcom chipset but lacks built-in routers.
Being the predecessor of its counterpart, SB8200 also features a beautiful white-colored vertical design. It also has the same 4 LEDs on its front panel. These LEDs either glow blue or green.
Its rear panel is occupied by two ethernet ports at the top which are followed by a reset button and a cable connector below them. A power port is present at the bottom of its rear panel. It has a comparatively newer Broadcom chipset but lacks inbuilt routers.
Both modem devices reflect each other in their design as both have a common manufacturer (Arris). Both differ slightly in their dimensions and weight. However, SB8200 having two Ethernet ports and some additional features leads its counterpart in hardware comparability.
| | | |
| --- | --- | --- |
| Physical Characteristics | SB6183 | SB8200 |
| Weight (Pounds) | 1.41 | 1.46 |
| Height (inches) | 5 | 5 |
| Width (inches) | 2.1 | 2 |
| Depth (inches) | 5 | 5 |
Which device performs better?
DOCSIS (Data Over Cable Service Interface Specifications) is a standard approved by telecommunication companies to deliver data to clients. It is specialized to express the maximum quantity of data; a device can transmit and receive from IPS providers.
Arris SB8200 being a DOCSIS 3.1 cable modem is much better as compared to its competitor which has DOCSIS 3.0. Moreover, the former's downloading and uploading speeds are almost 10 and 20 times higher than that of its counterpart.
| | | |
| --- | --- | --- |
| DOCSIS Downstream | SB6183 | SB8200 |
| Frequency Range (MHz) | 108 – 1002 | 108 – 1218 |
| Modulations (QAM) | 64 or 256 | 64 or 256 |
| Operating Level Range | -15 to +15 | -15 to +15 |
Channel bonding increases the work rate between the devices. This bonding occurs between two channels of the same frequency range.
Arris SB6183 provides 16 downstream channels and only 4 upstream channels which offer greater hindrance to the data transmission as the path is leaner.
On the other hand, Arris SB8200 supports 32 downstream and 8 upstream channels which allows a greater data transmission as the pathway is broader.
Arris SB8200 having a double number of send and receive data streams offers higher data transfer as compared to its counterpart.
One of the most demanding features in cable modem devices is speed which is much higher in Arris SB8200 as it offers DOCSIS 3.1. Its maximum internet speed roams around 2000 Mbps.
On the other hand, Arris SB6183 featuring DOCSIS 3.0 has limited upload and download speed due to its lesser number of upstream and downstream channels. 
| | | |
| --- | --- | --- |
| Possible Speeds | SB6183 | SB8200 |
| Upload Speeds (Mbps) | 131 | 10000 |
| Download Speeds (Mbps) | 686 | 1000 |
The measure of pause that occurs before the transfer of data is called latency. It is associated with every cable modem device but varies with their DOCSIS and models.
Arris SB6190 being an older version features Broadcom BCM33843D chipset which offers greater delays in transferring data.
However, the Broadcom BCM3390 chipset of SB8200 is specialized to allow multiple gigabits per second with a lower latency rate.
Are they compatible?
In the case of internet standards, both devices support IPV4 and IPV6 standards which enables them to permit an unlimited number of addresses.
Internet Service Providers (ISPs)
Both of these devices are compatible with all ISPs including some common ones in America like Cox, Spectrum, Xfinity, MediaCom, and many more.
Both modem devices are equally compatible with Windows XP, window 7, window 8, UNIX, and Linux connections on a PC.
Both are agreeable with power PC or later while SB6183 supports OS 10 or higher. On the other hand, SB8200 supporting OS 10.4 or higher is dominant.
Both can be easily attached to your home network by an Ethernet port or a router.
Security
Security standards of cable modem devices include the security of the router and of the device which is connected to the network via a router.
Arris SB6183 offers DOCSIS 3.0 security which is not as good as DOCSIS's 3.1 security of SB8200.  Both security standards involve BPI+, EAE, and SSD security systems. BPI+ is associated with each modem device that secures your data from hackers by using 56 bits DES encryption.
Moreover, the highly efficient Broadcom chipset of SB8200 secures it better as compared to its counterpart.
Warranty
Long-term warranties are always offered by Arris, especially in the case of cable modem devices.
Both devices are almost equally reliable and offer a manufacturer's warranty of 2 years.
The users can claim their product if they are not satisfied with its performance just by following a few policy steps.