Both are multi-Gigabit cable modems that are specially designed to provide a great experience of virtual reality gaming and 4k HD streaming.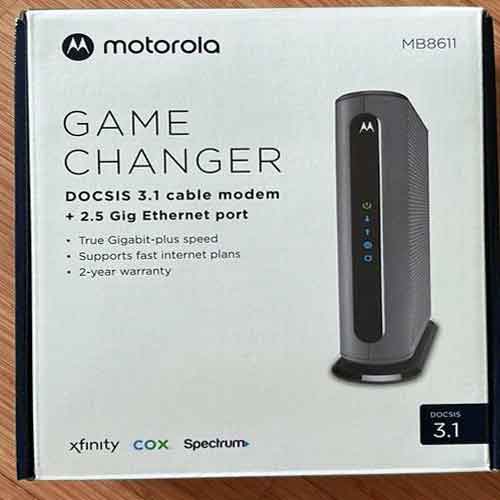 They not only support the DOCSIS 3.1 standard but are also compatible with DOCSIS 3.0 standard as well. And both of the competitors are comprised of the same chipset in them, which is Broadcom BCM3390.
Differences & Similarities of Both Modems:
A Broadcom BCM3390 core chipset is being installed in both the contenders.
Here the Motorola MB8611:
has only one 2.5-Gigabit Ethernet port.
delivers 2.5 Gbps downloading and 800 Mbps Uploading Speed. But can be upgraded to provide 6 Gbps.
and is cheaper.
On the other side, the Arris SB8200:
has two 1-Gigabit Ethernet ports.
delivers 2 Gbps downloading speed but can provide up to 10 Gbps upon getting upgraded.
is to be preferred from a hardware point of view.
and is a better choice from a design perspective (we think).
Both of these modems offer 2 years of warranty.
Compared to Arris SB8200, the Motorola MB8611 delivers relatively more downloading speed. But SB8200 would provide a relatively high data rate after both of them get upgraded. Both of them are durable since their core chipset is the same.
Is their Price Worth It?
Motorola MB8611
Arris SB 8200
| | | |
| --- | --- | --- |
| Specs | Motorola MB8611 | Surfboard SB8200 |
| DOCSIS Standard | 3.0/3.1 | Same |
| Download Speed | Up to 2.5 Gbps | Up to 2 Gbps |
| Downstream channels × Upstream channels | 32 SCQAM / 2OFDM × 8 SCQAM / 2OFDMA | Same |
| Ethernet ports | One 2.5-Gigabit Ethernet LAN port | Two 1-Gigabit Ethernet LAN port |
| Chipset | Broadcom | Same |
Overivew of both devices:
The Motorola MB8611 is a Motorola cable modem with only one 2.5-Gigabit Ethernet LAN port with no built-in router. It delivers a downloading speed up to 2.5 Gbps but can be upgraded to provide 6 Gbps.
Its Multi-processor Technology and Active Queue Management lower its latency and enhances its page loading speed respectively. It can be effortlessly connected to any Wi-Fi router and PC.
On the other hand, like its competitor, the Arris SB8200 also does not have any built-in Wi-Fi router. But it has two 1-Gigabit Ethernet LAN ports to deliver up to 2 Gbps of downloading speed.
But if being upgraded, it can provide up to a maximum downloading speed of 10 Gbps. To connect both LAN ports for enhanced data transfer, a link aggregation system is being installed in it.
Design and Hardware
Both of them are vertical-shaped cable modems but MB8611is more curved around the edges than its competitor. The base of the modem is also elliptical while its competitor's base is straight with sharp corners.
The Arris modem is white in color but has grey shading around the central area. And the other one has dark grey color but its base and the central area are pitch black which gives it a shiny look.
Arris has made its modem relatively smaller in size but still heavier in weight.
The front panel of both cable modems has diagnostic LEDs which show the different statuses of the cable modems. The Online LED shows if the connection between the cable modem and internet service provider is being established or not.
And on which DOCSIS standard the cable modem is working. The DS/US LEDs show the data transfer and are the data is being transferred over single channels or multiple bonding channels.
There are 2 additional LEDs present on the rear panel as well. They are right beside each LAN port to represent if the data rate is more or less than 1 Gigabit.
None of them are equipped with a built-in Wi-Fi router and telephone jack. And their core chipset is Broadcom BCM3390. MB8611 has only one 2.5-Gigabit LAN port while its competitor has two 1-Gigabit LAN ports.
The rest of the buttons and ports are pretty much the same; one reset button, one power port, a single coaxial cable connector, and one ON/OFF button.
The design of Motorola MB8611 is much more attractive due to its rounded edges and shiny grey and pitch-black color combinations.
From a hardware perspective, Arris SB8200 is superior because of having an extra port and also a link aggregation system to join the two ports.
How compatible are these devices?
Both of them are compatible with all the major cable service providers including some famous names like Comcast Xfinity, Charter Spectrum, MediaCom, and Cox.
They are compatible with computers that run Windows 10, 8, and 7 (Only Service Pack 1), Linux and UNIX systems, Macintosh, and other devices that operate TCP/IP.
They support the latest internet standards such as IPv6 to enhance secure networks and IP addresses.
Which device performed better?
Besides being compatible with DOCSIS 3.1 standard, both contenders are backward compatible with DOCSIS 3.0.
It is just their difference in the quantity of Ethernet ports and size which makes Arris SB8200 slightly slower than its competitor. This modem delivers up to 2 Gbps downloading speed and can provide the same uploading speed if being upgraded.
Its upgraded version can deliver up to 10 Gbps.
On the other hand, the Motorola MB8611 provides 2.5 Gbps downloading and 800 Mbps uploading speed. But it can provide up to 6 Gbps data rate if being upgraded.
Both of them have a core chipset of Broadcom BCM3390 installed in them. It is the reason of their capability to provide multi-gigabit per second
Even though both of them have the same number of bonding channels in both DOCSIS standards, MB8611 can deliver more data rate compared to its competitor.
But if both of them go through the upgrade process, then SB8200 would have the advantage.
Differences in Warranty
Motorola offers two years of warranty for all of its products including MB8611. It is certified by the FCC (Federal Communications Commission).
Motorola would not be accountable for any defects that result from an inappropriate operation, misuse, maintenance, accident, contact with water, extreme humidity, or any physical damage.
ARRIS also provides a limited warranty of 2 years for SB8200 and it also provides a 90 days warranty for the software that comes along with the product.