Both these modems are equally compatible with several different OS and web browsers. A similar chipset installation in these devices allow identical safeguarding from any malicious attacks.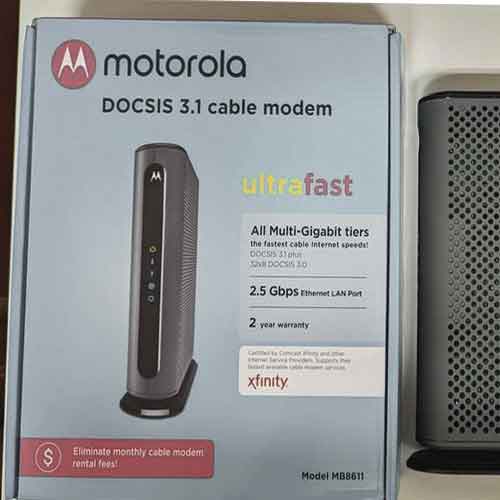 These modems are certified by some prominent Internet Service Providers. And their setup methodology is also quite familiar and easy.
A quick run down about these devices:
The Arris S33 occupies lower space due to its more compact design.
The downloading speed of Motorola MB8611 is greater than that of its counterpart.
The lower pricing of Motorola makes this modem more economical.
In comparison to Arris S33, the Motorola MB8611 provides greater downloading speeds, is available at a much cheaper price, and is light weight. However, S33 is more compact in design allowing it to cover less space, and contains two Gigabit Ethernet ports for connecting multiple devices simultaneously.
Side By Side Comparison:
Motorola MB8611
Arris Surfboard S33
Specifications
Motorola MB8611
Arris S33
DOCSIS
3.1
3.1
Downstream channels × Upstream channels
32 × 8
32 × 8
Ethernet ports
1 × 2.5 Gigabit
1 × 1 Gigabit
1 × 2.5 Gigabit
Downloading Speed
Up to 6 Gbps
Up to 3.5 Gbps
RAM
512 MB
512 MB
NAND Memory
128 MB
128 MB
Warranty
2 years
2 years
Overivew of both devices:
The latest DOCSIS 3.1 available in the Motorola MB8611 allows this device to provide one of the fastest internet speeds.
There are a total of 32 channel bonds for downloading and 8 uploading channels allowing this modem to deliver a high speed of up to 6 Gbps for downloading and 800 Mbps for uploading.
It supports IPv4 and IPv6 internet protocols to access several internet websites.The compelling chipset protects from any hacking or other kinds of cybercrimes.
The Active Management Queue (AQM) facility available in this modem gives faster loading of web pages and further enhances the speed for online gaming and video conferences.
On the other hand, the Arris Surfboard S33, just like its peer, possesses a new 3.1 version of DOCSIS for fast-speed internet.
It has 32 and 8 channel bonding for downstream and upstream respectively.
The downloading speed of this product is quite satisfactory and ranges up to 3.5 Gbps.
The smaller size makes this modem one of the most compact modems available.
The Broadcom chipset present in this device helps to protect it from any kind of malicious attacks and allows lower latency rates.
Multi-Gig ports of 2.5 Gbps and 1 Gbps allow multi connections at a time.
The device supports Auto-MDIX and Auto-Negotiate providing better wire connectivity minimizing any bottlenecks.
Setting up these modems:
The following steps are required for setting up both devices:
Attach the coaxial cable with the modem. Also, attach the power cable to the power jack.
Online activation of the modem can be done by contacting the cable operator.
After completing the activation of the modem, connect it with another device like a Wi-Fi router or computer through an Ethernet cable.
So, the setting procedure of both modems is similar.
The working conditions of both these modems are also alike. However, Motorola MB8611 can function in marginally higher relative humidity conditions compared to its rival.
How different are they in terms of their Hardware/Design?
The Motorola MB8611 has a plastic body with a tower-shaped design having soft circular corners. Its sidewalls possess a mesh-type structure for cooling down the device.
The device's front side contains five LEDs for ethernet, upstream, downstream, online, and power.
The backside of this product exhibits a reset button on the top side, a power button plus a power jack on the bottom side, and a 2.5 Gigabit Ethernet port along with a coaxial cable connector in the middle.
Arris S33 on the other hand consists of matte finishing enclosed in a white plastic casing giving a very elegant vibe.
The edges of this modem are rounded with the top containing holes for proper air movement to ensure the cooling of the device.
The company name is mentioned on the front panel.
Two ethernet ports, one 2.5 Gbps and one normal 1 Gbps are available on the rear panel.
A reset button along with a power jack is also present on its backside as well as a coaxial cable connector.
The size of the Arris S33 is smaller and more compact compared to its twin allowing this device to cover lower space. However, the handling of Motorola MB8611 is better due to its much lower weight.  
Which modem has better Compatibility?
Both IPv4 and IPv6 standards are supported by these modems allowing them to have access to numerous web pages.
Internet Service Providers (ISPs)
Some prominent cable service providers support these cable modems including Cox, XFINITY, Spectrum, and several other dominating cable operators.
Several operating systems are required for the proper functioning of these devices like Windows 7, Windows 8, Windows 10, and MAC operating systems.
Performance Comparison:
These modems provide faster internet speeds as both of them have the latest DOCSIS 3.1 version.
In terms of channel bonding, they both have a similar number of channels providing a higher transfer rate because of broader pathways.
The downloading speed of Motorola MB8611 is greater providing it a slight edge over its peer.
The latency rate of these modems is lower as both of them share the same powerful Broadcom chipset allowing faster web browsing.
| | | |
| --- | --- | --- |
| Performance | MB8611 | S33 |
| Download Speeds (Gbps) | 6 | 3.5 |
| Downstream Channels | 32 | 32 |
| Upstream Channels | 8 | 8 |
Security
The security of the cable modem is decided by the chipset installed in it.
In this case, both modems possess identical authoritative chipsets Broadcom BCM3390 thereby allowing similar shielding against data hacking and other cyber-attacks.