Well, both drives' comparison is going to be so tricky as Samsung and Crucial are performing side by side in presenting the best drives possible. 980 pro by Samsung and P5 plus by Crucial share a lot of features in common and are hardly differentiated from one another.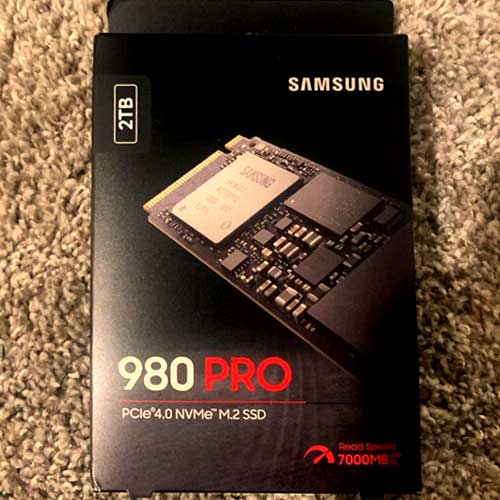 You might know or not, but both drives belong to the 4th Generation of the belonging company.
In fact, these drives are the very 1st product of the new Gen 4 that crosses the Samsung 970 pro and Crucial P5 of Gen 3.
Let's check out both of these devices side by side, and see which one provides better value to money.
Comparing Samsung 980 Pro vs Crucial P5 Plus
Crucial P5 Plus
Samsung 980Pro
If we look up the purpose, both drives are specially introduced for PS 5, to support heavy games, and for other huge-sized files. As these are SSDs (Solid-state drives) so they perform much better than hard drives with SATA interface.
As narrated earlier, both drives have a lot in common. But still, some differences make one drive better in some way than the other drive. In this article, we'll have a clear eye on how the drives react toward the features, performance, and other considerable things when tested.
Form Factor:
That's something both drives share in common with each other. You get the drives in M.2 or 2280 size in a form of a chip. As the drives belong to the modified Gen, almost everything is tried to keep advanced in them(regardless of NAND) and so is their form factor.
NAND:
Unfortunately, both companies kept their drives with the previous TLC (triple-level cell) NAND flash. As for Samsung, they had MLC(multi-level cell) NAND in the 980 pro's predecessor from Gen 3. Being the 1st product of the modified Gen and the Pro series, this drive would have also comprised MLC. In case you don't know, the more the cell count, the more will be the transfer rate.
Interface:
Both companies' Gen 4 is introduced with a modified interface of PCIe (Peripheral component inter-connect Express) NVMe (non-volatile memory express) that ensures the fastest data transfer than the SATA interface in hard drives.
Controller and Encryption:
Samsung presents a modified controller called "Elpis" in this drive. While drive 2 comes with a Micron controller.
In the case of Encryption, both drives come with AES 256-bit encryption that keeps the data safe and controls it in case the data is lost in any case.
Capacities:
Well, that stands the concern of most people looking for a perfect M.2 SSD for their systems. In this regard, Drive 1 with more capacities including 250 GB, 500GB, 1TB, and 2TB secures a point over the other drive that comes with 500GB, 1 TB, and 2 TB of capacities.
More options offered are always better for the user. A user who might be looking for an SSD below 500 GB of storage will have an option of Samsung's drive over the Crucial one.
Cache Memory:
Cache memory stands as another major concern as it serves as a saver side while reading, writing, or transferring data that is often used.
The cache of a drive drops with a drop in its capacity. The higher the capacity is, the higher will be its cache memory.
Samsung's 250 GB and 500 GB come with a cache memory of 512 MB while the Crucial's 500GB drive has 1 GB of it. For both companies' 1 TB and 2 TB drives, the cache comes with 1 GB and 2 GB of memory.
We see that drive 2 with 500 GB of capacity has a higher cache memory of 1 GB than Samsung's one.
Mean time before failure (MTBF) rate:
MTBF of any drive serves as a vital factor as it is directly concerned with the reliability of the drive. Drive 2 comes with an MTBF of 2 million hours that are 500 thousand hours more than the 1.5 million hours of drive 1.
The lifetime of Crucial's drive is claimed to be more than the other drive.
Performance:
You must be waiting to reach this section from the beginning of this article. Well, that's the most important part of comparison while choosing between this or that. Let's see what the companies claim to offer in their drives:
Read speed: Drive 1 comes with an exceptional read speed of 7000 Mb/s that makes almost 400 times better than the read speed of 6600 Mb/s in the other drive.
Write speed: Both drives share almost a common write speed of 5000 Mb/s. But the 500 GB Crucial drive is a little slower with 4000 MB/s of it.
But that doesn't end here. Things might be different when come to the benchmarks. A series of experiments were performed and showed up with almost equal read/write speeds of both drives. But in most cases, Crucial drive lags over Samsung's in reading speed. As there's a difference of almost 400 Mb/s that is unbeatable for the drive 2 to some extent.
In short, performance is not a big problem when choosing any one of these drives but there are some other things that matter.
Endurance:
Both drives share a mutual endurance of 5 years but the TBW (total bytes written) vary among them.
For a 250 GB drive, Samsung offers 150 TBW before MTBF. And for a 500 Gb drive- it's 300 TBW, for 1 TB- it's 600 TBW, and for 2 TB- it's 1200 TBW before failure. The same goes for the other drive (except the 250 GB drive that isn't available in p5 plus).
That's what the company offers to its users. But when things come practically, Crucial has proved to be more reliable for some users than Samsung. Well, this experience varies from user to user as it also depends on the use, like for which purposes the drive has been used and what is the transfer rate per day.
Which drive is best for PS 5?
Both companies tried well to offer as much in their products as they could. Both are designed for PS 5 but unfortunately, the p5 plus fails at it somehow. The reason for that is this drive doesn't come with a heatsink that fails it for PS 5 or PCIe 4.
Getting heat is a common thing in a drive. To overcome this thing, a drive must have thermal compatibility to cope with the heat produced due to heavy load. That's why heatsinks are introduced in a drive. If the drive is used in PS 5 (that is a modified form), it can reach the alarming stage with no heatsinks.
While Samsung procure their drive with heatsinks introduced. And for their 980 pro drives with no heatsinks, there's a place where you can connect a spare heatsink yourself. A nickel coating is made on these drives that help to cool them down by 7%.
So, if you are truly looking for the best PS 5 SSD, that is good for gaming and compatibility with huge files, Samsung 980 pro is a go for you.
Price Range:
Some users are so cost-concerned that they even look for the price before looking at the actual thing in a drive. In the case of price, Samsung's drive is a little more expensive than the other one.
Well, there are reasons for that, and if you're concerned about whether it's worth it or not? It's a Yes. It is worth it.
The reason for this is Samsung has proved to be more performance-oriented as compared to the other drive. Also, it comes with a heatsink, unlike the Crucial drive. So, it has much more to offer even if it costs slightly more than the other drive.
Conclusion:
Being a member of the same advanced Gen, both drives have a lot in common. Also, there's slight to no such difference noted in the performance of both the drives so it is safe to say that you can go for anyone among them with fewer concerns about the performance.
With more MTBF of Crucial drive, it's better to stay on the safe side. It would not be wrong to say that Samsung's drive is perfect for those who aren't much concerned with the price because this drive will surely catch the show when it comes to the real world.
While, for high-end to normal users, Crucial has equipped its drive with several important things they need. For people being conscious of the cost and want to grab the best Gen 4 SSD in the market, Crucial p5 plus isn't a bad option. But one thing that usually degrades it over the other is its unavailable heatsink.
Recommendation:
Although the Crucial drive is cheaper than Samsung's one,  it's still expensive with no heatsink as per the competition in the market. If you are spending more money on a drive with no heatsink, you can have better options in the market like XPG Gammix S70. It's even cheaper and good at performance with no heatsink.
Note: these drives perform their best in PCIe 4. They can also work in PCIe 3 but the results/ performance will be slower. If you have the 3rd version PCI and you're not planning to change it anytime soon, you can avail better and way cheaper drives for PCIe 3 in the market.