In comparison with Synology DS1819+, the other variant, DS1821+ variant has a high frequency quad-core processor and presents faster read-write speeds. However, internal memory unit of DS1819+is more reliable and it costs lesser money as well.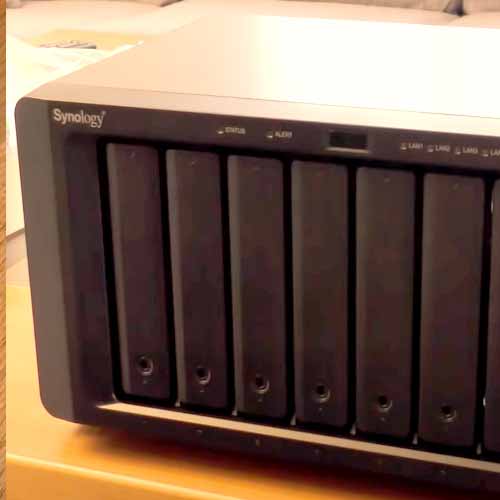 Differences and Similarities of both NAS Devices:
Both tools characterize a similar look and carry the same weight.
Both devices allow GbE link aggregation and have the same file sharing ability.
Durability and warranty duration is also identical for both these NAS.
Both devices produce similar noise.
The Synology DS1819+
has more reliable RAM in comparison.
and has faster read and write speeds.
While the DS1821+
has a faster processing unit than its competitor.
Synology DS1819+ is an earlier version which is now discontinued by the manufacturer. It operates with a quad-core processor and an efficient ECC RAM. With swappable drives, it stands user-friendly and durable.
Synology DS1821+ resembles its predecessor in outlook and various functions.
However, its processing frequency is higher and sequential speeds are faster.
With Synology drive and collaboration suite, it provides hassle-free, reliable backup and networking services.
Comparing Both Devices:
Synology DS1819+
Synology DS1821+
| | | |
| --- | --- | --- |
|   |  Synology S1819+ | Synology DS1821+ |
| Processor | Intel Atom C3538 quad-core 2.1GHz | AMD RyzenTM V1500B quad-core 2.2 GHz |
| Installed memory | 4 GB DDR4 ECC | 4 GB DDR4 Non-ECC |
| Compatible drive types | 8 x 3.5" or 2.5" SATA HDD/SSD   2 x M.2 2280/2260/2242 NVMe/SATA SSD3 | 8 x 3.5″ or 2.5″ SATA HDD/SSD   2 x M.2 2280 NVMe SSD   |
| Interface | SATA III | SATA |
| Ports | 4 x USB 3.0 port 2 x eSATA port 4 x Gigabit (RJ-45) Ethernet 1 x 4-lane x8 slot | 4 x USB 3.0 port 2 x eSATA port 4 x Gigabit (RJ-45) Ethernet 1 x 4-lane x8 slot |
CPU and RAM
Both of these systems have quad-core CPUs, having an optimized processing ability even for handling four different processing functions at the same time.
But Synology DS1821+ shows better performance as its processing unit works at a faster frequency of 2.2 GigaHertz.
Similarly, both devices have the same installed memory of 4GB but the RAM of DS1821+ is DD4R non-ECC which stands below ECC memory units in terms of reliability and data crash prevention.
In contrast, Synology DS1819+ has a relatively low frequency CPU so it shows a bit slower performance. It operates with a processing frequency of 2.1 GHz.
Nonetheless, its RAM has a better interface because it utilizes error correcting code (ECC) mechanism that removes errors in stored data automatically and increases the reliability of the memory unit.
Design of both devices:
Both devices have identical design layout and show a sleek, black hardware with dimensions 166 x 343 x 243 mm.
Both of these weigh about 6 kilograms.
On front side, 8 drive bays are visible along with a thin upper bar carrying indicators and power button and a USB 3.0 port is also present on bottom right corner.
Rear view shows two fan exhausts, reset button and ports specified for power, Ethernet GbE, eSATA, USB 3.0 and PCle expansion.
Two system fans are built-in for keeping the NAS cool and safe from heat damage.
The only difference in their hardware specifications is the compatibility of PCle slot.
Synology DS1821+ supports larger capacity 10/25GbE network interface cards while Synology DS1819+ is only compatible with 10GbE cards.
Both gadgets can be stored in extremely high or low temperatures but they must be used within 40°F to 104°F for optimized operations.
Their resistance against environmental humidity span a wide range.
| | | |
| --- | --- | --- |
|   | DS1819+ | DS1821+ |
| Height (mm) | 166 | 166 |
| Width (mm) | 343 | 343 |
| Depth (mm) | 243 | 243 |
| Weight (kg) | 6 | 6 |
Which device offers better Cloud services?
Both tools rank the same for the efficiency of creating a private cloud.
You can increase the storage capacity according to your needs because these devices allow massive storage volume with 8 disks bays.
You can efficiently manage your cloud network with Synology collaboration suite which includes Synology Drive, calendar, MailPlus and chat.
These web-based services allow cross-platform synchronization, making your personal portal unified and up-to-date
Moreover, you can sync your data with third-party cloud services like
Onedrive, Dropbox, Google Drive, MegaDisk, OpenStack and numerous others.
Which NAS has a better Speed?
Taking advantage from its fast processing frequency, DS1821+ allows working at better sequential speeds.
It has an ability to scan the database quickly and provide spontaneous responses as it reading speed reaches up to the level of 2.3 GBs per second.
Similarly, it can quickly analyze big chunks of the data that its user fed in, store them upon the database within seconds because its writing speed is also in Gbps range.
It specifies 1.15 Gbps sequential writing ability.
The older system Synology DS1819+ shows lesser read-write speed, the reason is its low frequency processor.
It takes more time to respond according to the commands as its reading speed is lesser than its competitor ranking at 2.045 Gbps.
Likewise, its position is below for writing ability because it only provides writing speeds up to 656 Mbs per second.
| | | |
| --- | --- | --- |
|   | DS1819+ | DS1821+ |
| Read (Mbps) | 2.045 GB | 2.3 GB                |
| Write (Mbps) | 0.656 GB | 1.15 GB |
Supported OS and browsers
Members can collaborate through these NAS without any restriction of specific operating systems because Windows, Linux, and macOS all these operating systems are compatible with these Synology devices.
For Windows these support 7 or higher versions while for macOS 10.12 or higher versions are supported. iOS and Android are also supported for tabs and smart phones.
Web-based DSM functions, Synology drive and collaboration suite can be accessed using Google chrome, Safari, Firefox or Internet Explorer.
Backup and Sharing
Being high capacity NAS, these devices also integrate competent backup and sharing mechanisms.
Both local and remote backups are enabled on each of these.
With 8-drive bays, these have four disk fault tolerance and RAID modes up to RAID 10 allow sound backups through mirroring function.
Synology hyper backup, active backup suite and snapshot replication allow easy data retrieval from remote databases in case of accidental loss.
File sharing capabilities of both systems are same with 512 shared folders and up to 1000 concurrent connections.
Setting up these devies:
These storage systems can be conveniently set up as all eight drive trays are hot swappable. Following easy steps are involved in the procedure:
Press on the drive tray and grasp the popped handle.
Pull it out from the drive bay.
Insert hard disk onto tray, use screwdriver to fix the disk if needed.
Slide the loaded tray back into empty drive bay.
Power up the device and sign in into web assistant.
Access DSM (Disk Station Manager) of Synology through web assistant and configure your device.
Noise Differences
As layout features are identical for both devices and they carry cooling fans of same size.
So, they produce similar mechanical noise.
Sound level for both these models is recorded at 22.2 decibels.
Warranty Differences
Both these products are well constructed and are equipped with efficient processing and memory units. Thus, you can expect an optimized performance for a long time.
Synology offers 3-year warranty for both of these devices, offering replacement in compensation for a faulty equipment.
Price Differences
Synology DS1821+ is priced comparatively higher due to the reason that it provides faster read-write speeds and utilizes a high frequency CPU.
On the other side, DS2819+ costs lesser money to buy and yet offers a reliable storage and backup capacity.